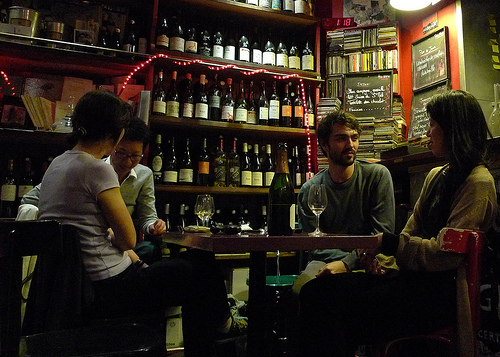 Wine Bars
All of the wine bars in our listings, by arrondissement. Scroll down for our selection of wine shops where you can buy a bottle to go.
75001
Lavinia
Le Garde Robe
Le Rubis
Willi's Wine Bar
Verjus Bar à Vins

75002
Coinstot Vino
Frenchie Bar à Vins
Legrand Filles et Fils
Le Rubis
Ma Cave Fleury
75003
75005
Bar à vin A.T.
Café de la Nouvelle Mairie
Le Porte-Pot
Maison Claudel Vin et Whisky

75006
Freddy's
L'Avant Comptoir
L'Avant Comptoir de la Mer
La Crèmerie
75007
75009
Artisan
Buvette
Autour d'un Verre
Le Pigalle
Le Vin au Vert
75010
75011
Au Deux Amis
Au Nouveau Nez
Aux Deux Cygnes
La Buvette
La Cave du Paul Bert
Le Dauphin
L'Entrée des Artistes
Martin
Retro'bottega
Septime Cave
Yard Wine Bar
75012
Le Baron Rouge
Le Siffleur de Ballons
Les Caves de Prague
Les Caves de Reuilly
75016
75017
75018
75019
La Cave de Belleville
Quedubon 

75020
Wine Shops
Below you'll find all of our wine shop listings, including closet-sized boutiques, a wine superstores, plus plenty of caves à manger and wine bars that do double duty, selling bottles at retail, or for drinking on the spot.
75001
Des Mets Des Vins
Juveniles
Lavinia
Le Garde Robe

75002
75003
75004
Chapitre 20
Les Caves du Marais
L'Etiquette
75005
Caves du Panthéon
La Fontaine aux Vins
Le Porte-Pot
Le Vin Qui Parle
Les Papilles
Maison Claudel Vins et Whiskey
Paris Terroirs
75006
Bacchus et Ariane
Cave at La Grande Epicerie
La Dernière Goutte
La Quincave
75007
75008
Caves Augé
Les Caves Taillevent
75009
La Cave du Lafayette Gourmet
Le Vin au Vert
75010
75011
Au Nouveau Nez
Crus et Découvertes
Jeanne A.
La Cave du Daron
Le Cave
Le Vin de Bohème
Paris Terroirs
Retro'bottega
Septime Cave
Squatt
75012
Des Mets Des Vins
Le Siffleur des Ballons
Les Caves de Prague
Les Caves de Reuilly
75013
75014
75016
75017
75018
Cave du Miroir
La Cave des Abbesses
75019
La Cave de Belleville
Ô Divin Epicerie
75020