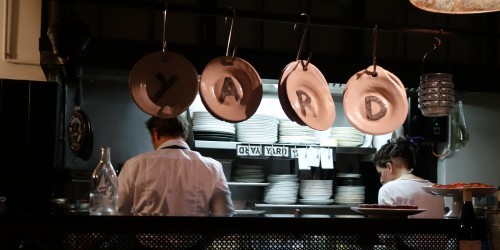 Each month we collect the reviews that interest us most, add excerpts to the pages collected in Our Guide to Paris Restaurants (and shops) and present you with a summary. We update it continuously throughout the month, with the newer reviews appearing at the top. For serious restaurant geeks only.
Restaurant Reviews
New & Newish Openings
Yard (75011) – Aaron Ayscough paid a visit to this five year-old bistro that has been given a new lease on life since the arrival of Shaun Kelly (ex-Au Passage) and Eleni Sapera (ex-Bones) in the kitchen. He (and our editor Meg, who shared the table) loved the small plate starters, especially a dish of octopus, potato, and fresh peas, and a "comically violent murder scene of superb squab." The buzzing scene on Friday night was "a testament both to how much [owner] Drotter got right with Yard in the first place, and to the transformative power of a certain circle of young foreign chefs in Paris." Jerome Berger, on the other hand, called it "une cuisine de façade" more pretty than sharp, but found it charming and enticing for its low prices. Read more on our guide page for Yard.
Will (75012) – Jerome Berger found some of the "bistrotières asiatico-esthétisantes" plates to be missing some panache and generosity but "séduit les arty et oisifs du quartier; joliesse, technicité et vins nature obligent." John Talbott reported that the new bistro "has been knocking the critics dead" including himself as it "sure hit the sweet spot." Emmanuel Rubin got flowery when describing Will as "Une table comme une fenêtre ouverte sur le printemps… Il était enfin une cuisine dans l'élan, manière et matière d'ici et d'Asie, légère, fauviste, désaltérante." Alexander Lobrano suggested it as a good last minute option for diners hoping to get into Spring, Verjus or Septime as "with friendly and alert service, this was a very good meal, and my only reservations about this place are the short wine list, which will hopefully grow longer and more interesting, and a wish for a more extensive selection of cheeses…" More information available on our page for Will.
Penati Al Baretto (75008) – Baretto's been around for years, but Nicholas Lander found it pleasantly refreshed under the influence of chef Alberico Penati who has been at the helm for a month. "Penati's menu is quintessentially Italian too, and full of colourful ingredients. Paccheri or small pasta tubes, stuffed with diced scorpion and a spider-crab sauce, were a deep orange; a Genoese fish stew with olive oil combined pink prawns, green mussels and gleaming white squid… a clementine sorbet, enlivened by a small stick of liquorice, combined the brightness and freshness of this fruit."
Restaurant AT (75005) – Beware the 4€ self-filtered house water, but John Talbott had an otherwise pleasant meal and recommended that if "you liked Sola, Kei, Aki, etc., you'll love AT." Emmanuel Rubin spun a familiar tale of a young Japanese chef, trained in the large French houses, who creates a cuisine "imposant l'hypercréatif en même temps que le menu unique, l'addition cinglante et le décor ascétique." He declared it "pas facile de suivre sauf à verser dans la pédanterie car il arrive que, sous couleur de cérébral, sous couvert d'esthétique, la cuisine n'échappe pas au maniérisme" but despite all that, Atsushi Tanaka is still "un chef nippon de plus."
Le Servan (75011) – John Talbott declared Tatiana Levha's new spot to be "the best prix-qualité ratio of the year 2014" for its 23€ lunch of "merlan coated with an incredible flavorful concoction and acidulated purple spinach and big, fat frites which were not the usual Paris/Metro junk." The interminable wait between courses detracted from the overall experience for Not Drinking Poison in Paris, but it was worth it as ultimately "almost every component of my meal at Le Servan was sterling, a tour de force of talent and good taste."  Read more on our page for Le Servan.
Cantine California (75003) – The burger & taco truck has put down some roots and opened up a stationary location in the Marais. Emmanuel Rubin said "le banc un peu raide mais bon…"
The Green Goose (75011) – Not Drinking Poison in Paris called the brand new bar "a magnificent welcoming Irish pub that effortlessly transcends the conventions of the genre" because they offer "every day of the week, a solid pub menu, every insanely underrated O'Hara's beer on tap, and the inimitably frank hospitality of a proper Irish pub."
Pizza dei Cioppi (75011) – The beloved Caffé dei Cioppi has opened a pizza outpost round the corner. Emmanuel Rubin recommended getting their slices to go and chowing down in nearby Square Trousseau. More information available on our page for Pizza dei Cioppi.
Mangetout (75006) – Emmanuel Rubin reported that Alain Dutournier is done at Pinxo Right Bank "et lui préfère cette auberge nettement plus frontale, gasconne et franche du col. Au passage, nous aussi!" He particularly enjoyed a "tourtière landaise: addictive."
Blue Valentine (75011) – Not Drinking Poison in Paris took a strong stance against the new bistro, calling it a "clumsy attempt to ride contemporary restaurant trends without understanding any of them. Cocktail service, a magnum-only, mostly natural wine list, rock music, and a market menu helmed by a Japanese chef… The result is a pitifully inauthentic experience, one of the most embarrassing meals I've had in years. I felt like the intended target of seduction by a college freshman." Lindsay Tramuta, on the other hand, found that the chef is doing classic cuisine in an innovative way as "otherwise recognizable bistro favorites – roasted pigeon, gigot d'agneau, etc. – are elevated to a more inventive register. The chef plays up pedigreed market-fresh ingredients from top purveyors like Terroirs d'Avenir and Coq St. Honoré for a meal of both unassuming elegance and refreshing originality." Read additional reviews on our page for Blue Valentine.
Le Rubis (75002) – Not to be confused with beloved wine bar Le Rubis in the first, the café that replaced L'Hédoniste was found wanting by Emmanuel Rubin who wrote "Las, l'assiette besogne trop pour emporter conviction et enthousiasme."
Postiche (75001) – Emmanuel Rubin put the emphasis not on the drinks but on the eats at this cave à boire with "bulots mayo aillés: impec'. Planche de charcuterie: judicieuse sélection à penchant sudiste (Italie, Espagne) dont une épatante cecina. Burrata des Pouilles: gonflée à bloc."
L'Auberge du Roi Gradlon (75013) – Caroline Mignot found that the new restaurant played "tous les codes bretons (beurre, cidre, sarrasin, homard, langoustine, cochon, galette) à travers une cuisine goûteuse et raffinée." Thierry Richard applauded the bravery of the two Breton chefs who would dare to open up an upscale restaurant focused on hearty country cooking from Brittany on boulevard Arago. "Les deux compères remettent à l'honneur des plats de mémoire… ou des saveurs bretonnes peu communes à l'intérieur du périphérique…" but "ce qui nous a fait trembler le palais d'un bonheur enfantin, fut le Kouign Amann servi en un rouleau vertical, tentateur, accompagné de sa petite casserole de caramel tiède au beurre salé. Un pêché absolu de gourmandise, croquant, moelleux, sucré et beurré comme jamais." Additional info on our page for L'Auberge du Roi Gradlon.
Lockwood (75002) – Emmanuel Rubin doesn't know how to categorize Lockwood "Selon l'heure à laquelle on veut bien s'y perdre, un post-café de la nouvelle rue parisienne, une cantine des pas pressés, un coffee shop hipster ou un cocktail machine" but he enjoyed it all the same as "toujours une bonne énergie à activer les en-cas." Read more reviews on our guide page for Lockwood.
Le Bon Georges (75009) – Georges continued to be bon for John Talbott who returned and will continue to do so "just for the côte de boeuf you can be sure." Find more reviews on our page for Le Bon Georges.
La Table d'Arthaud (75002) – Emmanuel Rubin was able to overlook the hokey décor and had a fair experience at "l'adresse touche à cuisiner plats de famille et frais maison."
Filakia (75002) – Hipsters in Paris cautioned that the gourmet souvlaki stand is "quick and reasonably healthy fare that has been made with top ingredients by people who can cook. But it is in no way Greek – you have been warned."
Aux Enfants Gâtés (75014) – Alexander Lobrano was spoiled by "the precise modern bistro cooking with beautifully sourced and vividly fresh produce" and finds it to be the "perfect retort to the ongoing kerfuffle about whether French food is still good anymore or needs to be saved or some such. If the menace of industrialized cooking is a global plague for anyone who loves to eat as much as I do, Paris remains blessedly truffled with outstanding little neighborhood restaurants like this one, where I couldn't help by being moved by the deep desire to please and nourish that so clearly motivates the admirably proud, hard-working and hospitable Bidaults." Read more on our guide page for Aux Enfants Gâtés.
Not New, but Noteworthy
Ô Divin (75019) – Franck Pinay-Rabaroust approved of the sincerity and vivacity of the chef Mathieu Moity whose cuisine has "une très belle cohérence. Rien ne vient briser ce sentiment d'harmonie qui émane dès que l'on entre : service amical, rapide et précis, vins nature à gogo et assiettes pleines de saveurs, franches et fraîches." Read additional reviews on our page for Ô Divin.
MandooBar (75013) – Alexander Lobrano adored the "excellent Korean comfort food" a.k.a two kinds of dumplings at a "brief, relatively inexpensive and hugely satisfying meal." Find more reviews on our page for MandooBar.
Juveniles (75001) – Nicholas Lander found positive changes at the long-established Juvéniles with chef Romain Roudeau in the kitchen. 'Too many French chefs see vegetables as second-class – but not 26-year-old Romain Roudeau" who "kept certain dishes from the previous menu, notably the Macsween haggis and a couple of English cheeses" but also "composed an intriguing, great-value menu." Read more reviews on our page for Juveniles.
Café des Musées (75004) – Caroline Mignot applauded the classic café for their "excellente préparation des légumes, plutôt rare dans l'univers bistrotier." Read more reviews on our page for Café des Musées.
Lazare (75008) – Once again, the kitchen is praised for quality while the reception was… lacking. Nicholas Lander wrote "Colas's food is very good, particularly a whole mackerel en gelée, and Tuesday's special, a fricassée of chicken with vin jaune. Only frosty receptionists let down another young, enthusiastic and talented team." See additional reviews on our page for Lazare.
Bizan (75002) – After a few slip-ups with past chefs, Thierry Richard declared that Bizan is better than ever. "On trouve ici ce qui fait la quintessence des meilleures tables japonaises : décor d'une épure soigneusement entretenue, produits d'une fraîcheur exemplaire (poissons et crustacés triés sur le volet, tofu soyeux), assaisonnements millimétrés (chaque sushi l'est individuellement avec un pinceau), très belle sélection de saké, présentation ultra-soignée, vaisselle de belles céramiques et service diligent."
Au Bœuf Couronné (75019) Hipsters in Paris extolled the meaty virtues of the historic slaughterhouse where "the real showstoppers come from the the grill – rump, sirloin, chateaubriand, ribsteak, côte de bœuf, all sourced from Normandy – served with potatoes three hundred different ways and plump pots of sauce béarnaise" Find more information on our page for Au Bœuf Couronné.
Café des Abattoirs (75001) – The meat and potatoes hit the spot for Alexander Lobrano who declared it "good, solid and simple feed at a reasonable price in pleasant surroundings." Read more on our page for Café des Abattoirs.
Ito (75009) – Mina Soundiram called the tiny izakaya a "boui-boui chic nippon" and recommended hitting it up for whiskey and "petites assiettes nipponnes printanières et joliment apprêtées comme les omusubis -sortes de petits onigiris au crabe avec une mayo-miso- ou les aubergines dengaku." Read more reviews on our page for Ito.
Ze Kitchen Galerie (75006) – John Talbott's last meal of choice? Ze Kitchen Galerie as "If I die tonight, I'll die happy.  With William in the kitchen and Cedric minding the front, what more could one ask for? This place has managed to both get it down pat and keep changing – a wonderful combo." Read additional reviews on our page for Ze Kitchen Galerie.
Hangari (75002) – David Lebovitz wasn't overly impressed "with the kal bi bbq beef or their banchan, the little plates of pickles and so forth. But for a quick lunch, with prices of €11-€15 for a few dumplings, a couple of rounds pa jeon, and a beverage (one choice is a 25cl of wine, about one-third of a bottle!), it wasn't bad."
Le Lulli (75001) – John Talbott continued to be disappointed that it hasn't received a Michelin star as  it "has become a favorite of ours in the very short time it's been open. It's elegant but inventive and the staff… are stupendous."
Le Meurice (75001) – François-Régis Gaudry got to sample a new dish before (gasp) Alain Ducasse. It was five spears of asparagus that were "sacrée", as one might hope when the plate cost (gasp) 90€. Find more reviews on our page for Le Meurice.
Hai Kai (75010) – John Talbott doesn't care whether it's filled with hipsters or bobos or anyone else because it's "good product, well-cooked and prepared." For more reviews, see our guide page for Hai Kai.
Bistro Bellet (75010) – Hipsters in Paris believes this modern bistro is "the closest thing to serviceable perfection currently available in the Paris restaurant scene… The food makes sense (classic French, top ingredients), the décor makes sense (sparse but functional), the service makes sense (the service is excellent), and finally we have a place where we can walk-in for dinner until 11pm. The menu is unassuming, but the quality is mindblowing. It is all the French classics tasting exactly the way they taste in your dreams." Read additional reviews on our page for Bistro Bellet.
Le BAT (75009) – John Talbott wrote that "last month it was spectacular… as warm, welcoming and innovative as any place in town" and finds it much the same upon a return visit to the tapas bar near Grands Boulevards.  Find additional reviews on our page for Le BAT.
Frenchie To Go (75002) – The spice is right for John Talbott who enjoyed the "pulled pork sandwich that was spicy like no normal French person would make, some burrata and toasted bread that our friends up the street said was the best ever, and a weird, in a nice way, cold slaw." Overall,  he found it "pretty damn good." Read more reviews on our page for Frenchie To Go.
Fragments (75003) – David Lebovitz continued to make the coffee rounds and appreciated how "owner Youssef Li carefully concocts filtered coffees and espresso drinks in spartan surroundings. I had a quick espresso and two tiny madeleines, which were light and delicate." Find more reviews on our page for Fragments.
Les Enfants Rouges (75003) – John Talbott returned and found that despite "that dreadful article on how Paris cuisine was saved by non-French chefs" that the ruinous "curse of the New York Times has not yet fallen on Dai and Tomoko Shinozuka" and the cuisine remains excellent and the dining room unspoiled by "fellow Yankees". Read additional reviews on our page for Les Enfants Rouges.
In the Shops
Casitalia (75020) – David Lebovitz wandered into an Italian mini market and found it pleasantly different because "unlike other Italian épiceries in Paris that are not self-service, and have more high-end products, this little grocery store is stocked like a small supermarket in Italy, carrying medium-end items, and everyday foodstuffs."
We're not sure we can trust any rankings of Jambon Beurre sandwiches that do not include a contender from Caractère de Cochon… but Le Figaro published their list of top picks for buttery pig sandwiches. CheZaline came out on top.
L'Autre Boulange (75011) – David Lebovitz revealed that one of his "all-time favorites is L'Autre Boulange… Their breads are wood-fired and although I'm a big fan of their grainy, hearty Germanic-style loaves, their pain aux céréales is my new crush. The oval loaves have a bit of whole wheat flour baked into them, so instead of being airy and light, they're rich and hearty. The bakery also makes low-gluten breads, for those sensitive to gluten, and a nice variety of snacks, like spice cookies, fruit tartlets, and other goodies."
Want More?
To read about past months' food and wine buzz, check our Word of Mouth archives.