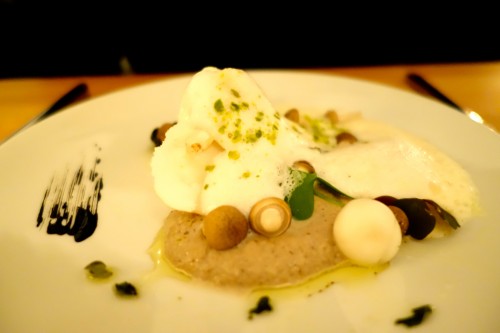 Each month we collect the reviews that interest us most, add excerpts to the pages collected in Our Guide to Paris Restaurants (and shops) and present you with a summary. We update it continuously throughout the month, with the newer reviews appearing at the top. For serious restaurant geeks only.
Restaurant Reviews
New & Newish Openings
Blue Valentine (75010) – Alexander Lobrano found it to be a sweetheart of a spot (open on Sundays!) with charming service, pedigreed ingredients and the "cooking was so precise and unassumingly original that it would probably have seemed even more impressive in a fancier setting…"
Hai Kai (75010) – Everything's coming up roses for the new canalside joint from Amélie Darvas. John Talbott said "it's about time a quality place came to the Canal St Martin to make up for the loss of Garance."  Le Fooding stated that it's "la révélation des bords du canal." Sophie Benkemoun for Paris Bouge gushed that "C'est ici que l'on peut manger une des meilleures burrata de la capitale, assaisonnée comme nulle part ailleurs, que l'on déguste de l'épaule d'agneau aux carottes et à l'orange accompagnée d'un excellent écrasé de pomme de terre…Bref, de l'or en barre au bord du canal." Emmanuel Rubin found it to be a "belle surprise d'une cuisine nettement moins attendue, pleine de jus et de jugeote." Read more reviews on our page for Hai Kai.
Dessance (75003) – Alexander Lobrano, Emmanuel Rubin and Caroline Mignot all checked out this new dessert oriented restaurant. Lobrano explained that Dessance "offers a small but intriguing collection of dishes that can be eaten as both desserts and main courses, including, for example, a surprising combination of violet-colored vitelotte potato purée with raw and poached apples, arugula and marjoram granité." Mignot believes that "le menu ne se substitue pas à un repas (à moins qu'il y ait des adeptes), mais se déguste comme un moment à part, après un plat salé dégusté ailleurs…" Rubin stated that "plutôt convaincante à prouver, par un jeu de compositions biseautées, que l'idée du repas en mode sucré ne se réduit pas au final d'un repas." Read more reviews on our page for Dessance.
Hai Kai, John Talbott
Coretta (75017) – Patricia Wells raved that the "super contemporary, approachable, just-good-food bistro that's totally right for the times" is "a win!" François-Régis Gaudry for L'Express found it to be "une cuisine vibrante, juste et déliée, qui a fait l'incroyable succès du bistrot Neva. Sa soeur des quartiers nord prend déjà le même chemin…" Emmanuel Rubin declared it "parmi les premières belles séquences de la nouvelle année, celle-là, comme on les aime: inattendue, pudique, frémissante à bien faire et d'une saine audace à se poster, là où personne ne serait venue la chercher." Jerôme Berger for A Nous Paris wrote that "L'assiette suit, comme à la maison mère : bourgeoise nouvelle vague… Le plaisir est là, ici, presque partout (carte des vins un peu courte au verre)." Find additional reviews on our page for Coretta.
Restaurant David Toutain (75007) – François-Régis Gaudry for L'Express crowed that "Retenez le nom de ce chef surdoué: il va faire le tour du monde."  François Simon visited and found the food "cocasse, intéressant, poétique, audacieux" but still isn't sure that he would return as "

Je ne sais pas car j'aime bien être avec mes amis à table, et non avec les plats du chef." 

Additional reviews are on our page at Restaurant David Toutain.
Lockwood (75002) – Hipsters in Paris praised the new bar as "a haunt for Italy's finest digestifs and liqueurs, the range and the spread during aperitivo is reason in itself to make the visit. By day, it's a reputable coffee haunt with cafe food and beans from Belleville Brulerie. From 6.30–8 it's Aperitivo time with antipasto and cold cuts to soak up the spritz. From 8pm onwards you can descend into the cocktail bar for some late night debauchery, or maybe munch on a fried chicken sandwich to the sound of excellent rock, soul and blues." Find additional reviews on our page for Lockwood.
La Maroquinerie (75020) – We're having a hard time imagining it, but Charles Patin O'Coohoon for L'Express wrote that the formerly disgusting restaurant at the divey concert hall has been transformed and is now using Annie Bertin vegetables and other prestige ingredients. "Le bistrot de la salle de concert mythique risque de vous laisser sans voix avec ses assiettes bien orchestrées."
La Ferme Saint-Simon (75007) – A longtime restaurant near the Musée d'Orsay, has been redesigned – both in the kitchen and the dining room.  John Talbott and by Jerôme Berger from A Nous Paris both visited. Emmanuel Rubin found the "table un peu lasse, maison rangée d'un VIIe qui ne l'est pas moins…Très belle opportunité de menus à 29 et 35 €., midi et soir. Carte plus attendue à 50€." Read additional reviews on our guide page for La Ferme Saint-Simon.
6036 (75011) – Not Drinking Poison in Paris wrote that "6036 bills itself as izakaya, or Japanese bar food, but this is a ruse: it's actually a modest and sincere gastronomic experience, helmed by chef Haruka Casters, formerly sous-chef at 10ème arrondissement tasting-menu destination Abri." Find more reviews on our page for 6036.
Balls (75011) – Jerôme Berger for A Nous Paris visited the unfortunately named meatball-specific resto and calls it "une vraie surprise. En premier lieu, donc, une salle-comptoir brute de design, remplie de fashionistas et de mobilier industrialo-vintage. Déjà vus. La suite, en revanche… Des boulettes par cinq, comme s'il en tombait : bœuf (persil plat, oignons), poulet (estragon, citron), porc (fenouil, paprika)… Fraîches, parfumées, voire addictives." Read additional reviews on our page for Balls.
Caluc (75010) – Caroline Mignot tasted the green galettes (made with spinach, shallots and fresh herbs) and said "j'aime bien cette idée de concevoir une idée autour d'un produit régional et d'en faire une adresse de restauration rapide de qualité."
Liberté (75010) – Hipsters in Paris were surprised by the "humble Madeleine chocolat that has captured our stone-cold-savoury hearts, and the better-than-average baguettes stuffed with crudites, cold cuts, cheese or chicken. For just a few centimes more than your local bakery, this is lovingly-made calorie-laced goodness not to be missed." Read additional reviews on our page for Liberté.
Not New, but Noteworthy
Viola (75017) – Alexander Lobrano was shocked to find a good, modern Italian restaurant near Batignolles. While he didn't "agree with the gastronomic logic of everything [the chef] did during this meal, he's clearly a talented chef with a large future in front of him, and I'll happily return to this pleasant little restaurant to experience his well-grounded imagination again."
Lazare (75008) – Alexander Lobrano found that the abysmal service has improved at Lazare and now matches the quality of the food. He believes it's "a perfect choice when you want good solid French feed instead of a creative performance from a young chef, it's especially pleasant on Sunday nights, when it's become a go-to address for Parisians returning from weekends in Normandy or their country houses, the only caveat being that it's necessary to book at least a week ahead of time to land a table at this deservedly popular restaurant. " Read additional reviews on our page for Lazare.
Holybelly (75010) – David Lebovitz tucked into a large American style breakfast "and with a generous cup of filtered coffee (made with water they purify beneath the shop), my eggs came out perfectly cooked along with toast, made from bread baked just up the street. The Échiré, French-made butter for the toast was hard not to smear directly on my tongue, and the little cubes of marinated sheeps' milk cheese gave me the little bit of salt that I remembered from my breakfasts in Israel and Lebanon." Read additional reviews on our page for Holybelly.
Le Tagine (75011) – Not Drinking Poison in Paris called it "an overlooked gem of a restaurant that boasts stupendous service and solid soulful Moroccan cuisine alongside its well-priced wine list."
La Gazzetta (75011) – François-Régis Gaudry found that "Même sans Petter Nilsson, la Gazzetta, ça gaze!" Luigi Nastri has taken over the kitchen and "L'autre jour, au déjeuner, dans une stupéfiante formule entrées et plat à 19 €, le garçon a montré qu'il avait plus d'un tour dans sa botte." Read additional reviews on our page for La Gazzetta.
Il Brigante (75018) – Despite the comparison of the pizza crust to bed sheets, Not Drinking Poison in Paris found the best pizza he's had yet in Paris at Il Brigante where he recommends "the white pizzas, which, at the best of times, are fulsome and brittle-soft, like a new cotton duvet. Chef-owner Salvatore Rototori's dough seems to misbehave slightly under red sauce, remaining lean and unimpressive." Read additional reviews on our page for Il Brigante.
Le Nemrod (75007) – David Lebovitz recommended the casual café as a good Left Bank spot for "a salad or a plat du jour, and carafe of vin du mois served by a snappy French waiter, and sit back in your rickety chair and enjoy the spectacle that is a Parisian café."
Le Coq Rico (75018) – François Simon declared "Antoine Westermann et Thierry Lébé ont réussi leur coup en accompagnant le courant bistrotier actuel et les produits de qualité du terroir. Pas d'ambition gastronomique, ni touristique, ils correspondent à l'esprit du quartier avec un plat culte, trop souvent galvaudé." You can find additional reviews on our page for Le Coq Rico.
Allard (75006) – François Simon had a pleasant enough meal at Allard declaring "Elle était à la ramasse, elle est à présent revenue au bercail grâce à une vision plus classique et solidement technique. Plus de virage dans le fossé, de volailles déchiquetées, de rendus approximatifs. Là, ça ne rigole plus et c'est même bon. Une jeune femme est en cuisine, histoire de remettre la maison rails, à savoir une cuisine de femme, de tête et de mémoire…si on a les moyens, oui. Sinon, dans le genre, il y a mieux un peu partout (Chez la Vieille, par exemple)." Read additional reviews on our page for Allard.
Caillebotte, Lindsay Tramuta
Miznon (75004) – John Talbott visited the Israeli falafel hotspot and found it "the wackiest, weirdest, wonderful "food experience" of 2014." Caroline Mignot enjoyed the famous cauliflower and "Je n'arrive pas à savoir si c'est l'harmonie de tous les ingrédients (frais, chauds, crus, cuits, sésame), le pain pita incroyablement moelleux et élastique, les doigts et le menton qui luisent, mais ce sandwich procure quelque chose d'inédit: je me régale, je suis ailleurs et j'utilise un maximum de serviettes." Foodbox liked the "pitas maison, moelleuses, garnies avec generosité de kebab d'agneau, fin, non gras et savoureux, ou de poisson épicé comme chez ma maman, des choux fleurs entiers grillés servis avec de l'huile d'olive et de la fleur de sel, des patates douces rôties doucement, mais aussi des plats à l'assiette comme le surprenant bœuf bourguignon." More reviews can be found on our page for Miznon.
Caillebotte (75009) – Lindsay Tramuta praised "the unbeatable lunchtime value (two courses for 19€) makes this spot worth the advanced booking. Request a spot at the bar to keep your eyes on the kitchen or one of the tables closest to the window for stunning light." Read additional reviews on our page for Caillebotte.
L'Ours (75010) – Les Grands Ducs tried out the cocktails and enjoyed "l'atmosphère chaleureuse, tranquille, pas frimeuse qui s'y déploie dès le soir venu. Car cet ours là n'est pas sauvage: il accueille en son sein une belle clientèle, plutôt jeune et enthousiaste, qui vient profiter d'un bon moment d'afterwork à prix mesurés. L'Happy Ours qui se déploie de 17h à 21h (bravo) envoie en effet ses cocktails pour 6 petits zeuros seulement. C'est la belle affaire du moment. Pas bêcheuse et franchement vivifiante."
Terroir Parisien at the Palais Brongniart (75002) – François Simon was disappointed by "Viande valable se laissant faire sans ciller, température un peu basse, mais ça passe tant on économise ses bouchées pour ralentir le repas. Ce qui n'est pas sot en soi: les nouveaux régimes passeront par ce genre de dos d'âne gastronomique. L'île flottante procède du même rétrécissement et conclue un dîner convenable (la salade verte avait beaucoup de conversation) mais banal… Alors, faut-il y aller? C'est clair, non?! Non." Read more on our page for Terroir Parisien at the Palais Brongniart.
Fondation Café (75004) – For Lindsay Tramuta, the "espresso bar has become a second home, of sorts. I oscillate between his filtered coffee – soft with a punch (a very simplistic way of describing the experience) – and his café crème and always save room for a bowl of granola. Rarely do I walk out without one of the oatmeal chocolate chip cookies he stocks, baked by local food purveyors Emperor Norton." Find more reviews on our page for Fondation Café.
Bones
Bones (75011) – Hipsters in Paris called the €10 pig sandwich at Bones "the ultimate no brainer. No reservations, no pretentions, grab a stool in the bar and indulge in €10 worth of Paris's finest suckling pig, smashed into a Sandwich bành místyle. For €2 extra you can wash it down with a beer." More reviews can be found on our page for Bones.
Verjus Café (75001) – Lindsay Tramuta returned for the full tasting menu at Verjus and writes that "as a non pork eater (among other things), I greatly appreciate restaurants who are willing to accommodate. Even better when they do so with a sunny disposition… I've also found myself dreaming of the clementine cake he served for dessert." You can read additional reviews on our page for Verjus.
Café des Musées (75003) – Hipsters in Paris heralded their "favourite Steak Tartare in Paris by a long long stretch, this glistening plate of protein arrives with everything to do-it-yourself. Generous as it is fresh, you aren't going to need dessert if you eat all your frites." Read more reviews on our page for Café des Musées.
In the Shops

Meert, Lindsay Tramuta

Belleville Brûlerie (75019) – The local roaster has turned espresso hound David Lebovitz into a filtered coffee convert. "The three owners; Thomas, David, and Anselme, do everything in the shop, from presiding over the roasting of the beans, to tending the tasting bar. I'll be heading up there more Saturday mornings…" More details on our page for Belleville Brûlerie.

RAP Épicerie (75009) – David Lebovitz said that he hasn't "seen such a varied and curious selection of products all together outside of Italy since, well – ever… including unusual chocolates, citron soda, and pure, unadulterated pistachio spreads."

Meert (75003) – The shop "known primarily for their small, thin waffles (gaufres) and chocolates" lured Lindsay Tramuta in with "the robust galettes displayed in the window. The shop always offers the traditional recipe, which features almond cream (frangipane), but I made a beeline for the chestnut cream & pear variety – rich but not overly sweet; a real marvel."

Le Comptoir Belge (75009) – Caroline Mignot tasted her first Liège waffle and found "cette gaufre se rapproche d'une texture de brioche très dense (bien loin des gaufres fines et fourrées du Nord). La cuisson (assez longue, ce qui explique l'attente) donne une gaufre cuite à cœur, bien dorée à l'extérieur et fondante à l'intérieur. Pour tout vous avouer, à la première bouchée, je pense au kouign amann… Un côté intensément sucré (caramélisé par le sucre perlé, ces morceaux de sucre typiques des gaufres de Liège qui fondent à la cuisson et collent aux dents à la dégustation)."

Down the Hatch

Lone Palm (75011) – 52 Martinis visits the new laid-back bar from the guys behind Tiki Lounge and finds that they are "ticking all the (now standard) boxes with bitters, freshly squeezed juices, a variety of spirits and so on. But they still manage to blend into the Bastille bar style with a low-key attitude along with low-key prices (7 to 10 Euros)."

Want More?

To read about past months' food and wine buzz, check our Word of Mouth archives.