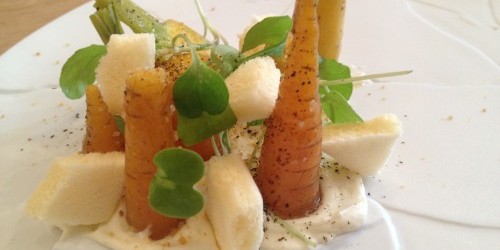 Each month we collect the reviews that interest us most, add excerpts to the pages collected in Our Guide to Paris Restaurants (and shops) and present you with a summary. We update it continuously throughout the month, with the newer reviews appearing at the top. For serious restaurant geeks only.
Restaurant Reviews
New or Newish Openings
Restaurant David Toutain (75007) – David Toutain has returned to great fanfare with Patricia Wells remarking that "David Toutain is a cerebral chef. Nothing is accidental and when you enter his brand new 7tharrondissement restaurant you are subject to his rules and his way of thinking. Yet you never feel as though your arm is being twisted. This is not a restaurant for a casual meal, but rather one that is meticulously planned and thought out, and begs for, yes deserves,  your attention. And it's well worth your time." Philippe Toinard for A Nous Paris raves "Reconnaissons à ce trentenaire sa capacité à tout maîtriser, les différentes cuissons, la transformation des produits bruts en mille et use textures… et ce sens de l'association osée." Additional reviews are on our page at Restaurant David Toutain.
Terroir Parisien at the Palais Brogniart (75002) – Yannick Alleno added a second address of this upscale locavore bistro near the old Bourse that our trusty contributing editors selected it as one of our top picks for 2013. More recently, Philippe Toinard for A Nous Paris experienced a few blunders saying "Dommage, après le Terroir parisien de la Maison de la Mutualité, rive gauche, la rive droite avait l'occasion de s'encanailler autour des recettes franciliennes qu'Alléno, le local de l'étape, connaît sur le bout de la langue… Tout cela est bien pensé, mais encore faut-il que ce soit rodé." Caroline Mignot found it a suitably efficient and delicious lunch for suits saying  "Dans ce quartier en quête d'adresses « affaire », rodées, sérieuses et efficaces, Terroir Parisien fait le plein." Read additional reviews on our page about Terroir Parisien at the Palais Brongniart.
Coretta (75017) – A new restaurant from Beatriz Gonzales (Neva Cuisine) has opened in the 17th. John Talbott, who is a fan of her previous restaurant, says that it needs improvement. François-Régis Gaudry in L'Express is more breathless in his adoration. "Vous aimiez Beatriz Gonzales chez Neva cuisine, l'un des bistrots gastronomiques les plus emballants de Paris ? Vous allez l'adorer chez Coretta, sa seconde adresse!"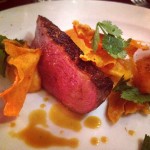 Juveniles (75001)- In his last review for Le Figaro, François Simon visits Juveniles and finds it pleasantly refreshed after Tim Johnson handed over the reins to daughter Margaux and her fiancé. "La maison a juste reçu un petit coup de plumeau. On a rangé les étagères, retapé la cuisine avec une bonne nouvelle pour le fan-club de l'adresse : dorénavant, on y mange plus que bien." Check out additional reviews on our page for Juveniles.
Clint (75011) Le Fooding reports "il y a bien du coffee…et une petite shop…il y a aussi une vraie cuisine avec un vrai chef, Romain, venu du Royal Monceau. Simple, brute, bonne et pas chère."
Café Pinson 2 (75010) – Emmanuel Rubin of Le Figaroscope found the second vegan café stylish but somewhat wanting with a risotto that was "plus un riz cuisiné qu'un risotto mais pas désagréable. Galette de pomme de terre, épinards, pesto de kale: sans grande finesse." Read additional reviews on our page about Café Pinson.
Paradis (75010) – John Talbott called it "a pleasant enough place but it has some kinks to work out."
Not New, but Noteworthy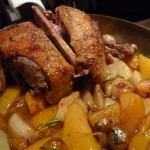 Semilla (75006) – François Simon says "on se surprend à découvrir des assiettes bien calées à l'instar du Tartare de Pierre (Gagnaire) associant boeuf, tête de veau et hareng; le dos de lieu jaune avec sa crème de céleri et le jus de rôti pivote bien et laisse l'appétit grand ouvert." Read more reviews on our page for Semilla.
Dessirier (75017) – Alexander Lobrano called it "one of the best seafood meals I've ever eaten in Paris…"
Freddie's Deli (75011) – Not Drinking Poison in Paris finds that "Frederick's cheesesteak is leaner, with too much bread, and not enough flavor…Freddie's Deli doesn't seem to aim to make the best version of anything. Who has time to perfect one regional sandwich, when you're trying to cover them all?"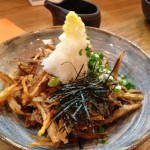 Kunitoraya (75001) – Caroline Mignot does not recommend bringing a baby stroller, or anyone, to Kunitoraya as "Le service se fait pressant, il faut vite commander, le plat arrive, l'addition aussi…je m'aperçois que j'ai envie de quitter les lieux et d'ailleurs, je sens comme un soulagement une fois la porte laissée fermée derrière moi." Read more reviews on our page for Kunitoraya.
Table (75011) Caroline Mignot writes "A la carte, les prix sont tout de suite plus élevés. Il y a les sublimes produits d'artisan comme le jambon sec de vache blonde d'Aquitaine de Polmard, la tomme des bois noirs de Mons… bref, rien que de très beaux produits pour une addition qu'il faut compter aux alentours de 60 € (entrée, plat et dessert)." Read more reviews on our page for Table.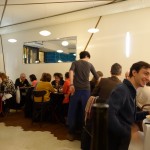 Bistro Bellet (75010) – Jerôme Berger for A Nous Paris finds that "Les traditions créent la surprise…les voilà qui s'enthousiasment devant une carte affichant terrine de campagne, moules marinières, noix de Saint-Jacques et endives…" Read more reviews on our page for Bistro Bellet.
Les Enfants Rouges (75003) – David Lebovitz writes that "The terrines and cured sausages here are some of the best you'll have in Paris" and "The excellent baba au rhum with a generous drizzle of Saint James and a fleurette of whipped cream was a nice send off from this charming little bistro." Read more reviews on our page for Les Enfants Rouges.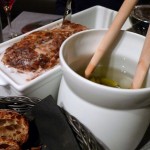 La Régalade (75014, 75010, 75001) – Not Drinking Poison in Paris calls trips to all three Régalade establishments "a course in restaurant archaeology. Somewhere, amid the incompletely obsequious service and the fossilized wine lists and the scattered décor, lay the bones of a pioneering restaurant concept." You can see reviews on our pages for La Régalade – Saint Honoré, La Régalade Conservatoire, and La Régalade.
Issé (75001) – Caroline Mignot revisits Issé and declares "Ce que j'aime aussi chez Issé, c'est la qualité des ingrédients à chaque étape. Le riez avec ses grains fermes qui se détachent un à un comme des perles est délicieux."
Napoleone (75008) – Jerôme Berger for A Nous Paris reports that "Grâce à Etchebest, les Champs s'encanaillent et au tartare de bar à la mangue, yuzu et fleur de sel succèdent des plats plus populaires dans le bon sens du terme. Des plats rassurants qui font la part belle à la tradition comme ces champignons marinés dans lesquels le jaune d'un œuf mollet vient se réfugier, ou cette épaule d'agneau confite escortée d'une polenta aux olives, le tout justement dosée." More reviews are available on our page for Napoleone.
Restaurant Jean-François Piége (75007) – Les Grands Ducs writes that "on retrouve ici ce qui faisait tout le talent de Jean-François Piège au Crillon, une réflexion soigneuse et sensible sur les accords de saveurs… une vision contemporaine des classiques français non pas « revisités » mais adaptés à la sensibilité du chef et sa recherche permanente de nouveauté sans extravagance." More reviews available on our page for Restaurant Jean-François Piége.
Muxu (75011) – John Talbott visits again and declares "clever chef; clever combinations."
Les Jalles (75002) – Les Grands Ducs declares "Après un départ un peu chahuté, des ambitions d'étoiles complexes et un changement de chef, voici Les Jalles revenues à ce que Magali sait faire de mieux : un bistrot chic et gourmand, balayant avec esprit le répertoire de la cuisine bourgeoise remise au goût du jour. Read additional reviews on our page for Les Jalles.
Le Cercle Rouge (75017) – John Talbott calls it "a happening place in a weird location."
Franck Enée (75001) – Franck Enée is "high dining at an affordable price without a Michelin star" according to John Talbott.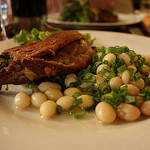 Café des Musées (75003) – David Lebovitz praises their steak frites. "The meat is seared so it gets a nice crust, rather than some of the ropey-dopey steaks you come across, and the French fries are freshly made from real potatoes and cooked until crisp and brown. The portion is so generous that you can afford to share them with tablemates." See additional reviews on our page for Café des Musées.
Roca (75017) – "If you like breakout, edgy, pushing-the-envelope food with wonderfully strange combos that work – go!" declares John Talbott. Check out more reviews on our page for Roca.
Le Dépanneur (75009) François-Régis Gaudry in L'Express was disappointed by stale industrial chips, saying they were "impossible de s'en saisir avec les doigts, ils se cassent, se délitent, aucune souplesse, un goût de carton… De deux choses l'une : soit ce sont des tortillas industrielles soit ce sont des faits maison… mais alors il y a 10 jours!" See additional reviews on our page for Le Dépanneur.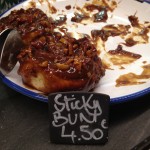 Lindsay Tramuta wrote about her favorite spots for Breakfast in Paris for Bon Appétit magazine, including Frenchie To Go, Holybelly, Claus, Bob's Juice Bar, and Fondation Café.
BAT (75009) – John Talbott writes that "Our first dish – shared – was seafood (mussels, razor clams, clams, cilantro, leaves of this and that and the sort of spices and herbs one loves at ZKG/KGB, were there) and it was the highlight of our meal.  But not shabby were the plates of lightly smoked carpaccio of monkfish with radishes and tartare of veal." Read more reviews on our page for BAT.
En Vrac (75018) – David Lebovitz was pleased by En Vrac as he "loved the charcuterie, especially the meaty, fatty rillettes smeared on bread from Thierry Breton, and the excellent cheeses, served perfectly ripe. All but one of the wines that day were red, and since I'm a white wine drinker, my choice du jour was limited. But for €3 a glass if drunk in-house, there's not much at stake if you get a clunker."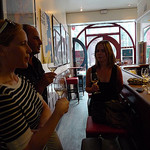 Willi's Wine Bar (75001) – Not Drinking Poison in Paris lauds the remarkable Rhône wine list but finds the wine bar menu "a bit odd, reminiscent of middling French-themed restaurants in London or New York. It contains croque monsieurs, a burger, and some pitifully amateurish crab-cakes, alongside more identifiably Parisian staples like duck breast and Charolais steak. Check out additional reviews on our page for Willi's Wine Bar.
French Beer Factory (75002) – Emmanuel Rubin in Le Figaroscope is unimpressed by "Service qui n'y croit déjà plus" and finds the prices "franchement gonflés! Formule à 21 € (déj.). Env. 35-45 € à la carte. Saumon à l'unilatérale, endives braisées: délavé, dépité. Choucroute classique: avachie."
In the Shops
Brut (75016) – Les Grands Ducs reports on a new wine shop from Akrame Bennal (of Akrame restaurant) which has "une sélection d'une centaine de références ne laissant aucune région dans l'ombre et faisant la part belle aux vins bios, natures ou raisonnés" as well as cheese "affinée par Rodolphe Le Meunier, varie sans cesse, du Comté 40 mois au Stilton en passant par le meilleur du Livarot et du Saint-Nectaire et s'adoucit d'une motte de beurre Bordier à se damner), petits paniers de charcuteries estampillées Eric Ospital, le trublion du cochon basque."
Maison Castro (75009) – David Lebovitz visits the tiny shop where "it's obvious that this isn't the place to find just the standard sandwich jambon-fromage. Instead, you'll find a slew of interesting options…You can also request a made-to-order sandwich on excellent baguettes from Julien bakery, with everything from artichoke cream, Pata negra and lomo Ibérico (black-footed ham and pork tenderloin from Spain), Buffalo mozzarella, and honey from Crete, to Corsican sausage, English cheddar, and Italian air-dried beef." See more reviews on our page for Maison Castro.
Sugarplum Cake Shop (75005) – Caroline Mignot liked the "Chocolat chaud très, très chocolaté et délicieux, jus d'agrumes fraîchement pressés et gâteaux simples et bons." Read additional reviews on our page for Sugarplum Cake Shop.
Want More?
To read about other months' food and wine buzz, check our Word of Mouth archives.