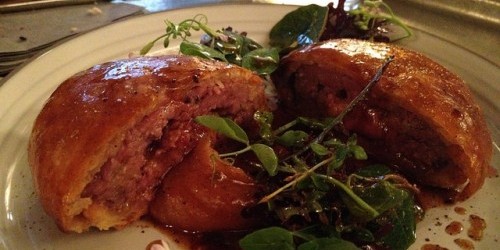 Each month we collect the reviews that interest us most, add excerpts to the pages collected in Our Guide to Paris Restaurants (and shops) and present you with a summary. We update it continuously throughout the month, with the newer reviews appearing at the top. For serious restaurant geeks only.
Restaurant Reviews
New & Newish Openings
Dix-Huit (75017) – Dix-Huit has only been open for a few weeks but already Caroline Mignot has declared that she'll never get bored there as "voici un lieu où l'on ne s'ennuie jamais et même où l'on s'impatiente de connaître la suite. J'aime ce rythme soutenu en cuisine, où ça monte dans les aigus, puis ça s'arrondit rond et devient gras, ça reprend en toute légèreté et où ça sonne toujours juste."
L'Agnone (75016) – Emmanuel Rubin lamented the replacement of Brasserie de la Poste with this Corsican table that is "plutôt légère dans les choix de sa carte et carrément balourde dans l'exécution. Paresseux!"
Su Misura (75007) This new Italian eatery was a pleasant experience for Emmanuel Rubin, particularly given its Eiffel Tower adjacent location.
Clown Bar (75011) – Alexander Lobrano visited the longstanding bar that is now under new management from "a dream team that includes Sven Chartier and Ewen Lemoigne from the restaurant Saturne, plus Xavier Lacaud" and found that "it's suddenly better than it's been for many years." He approved of "[Sota] Atusmi's short produce focused menu, which changes often, runs to intriguing small plates, which are easily composed into a pleasant and very satisfying meal." John Talbott declared it "a great resuscitation of a grand old lady." Emmanuel Rubin will be returning soon for "une jeunesse autour de tapas de haute percussion et de vins bien dans la veine nature." For more info, see our page on Clown Bar.
Yard (75011) – Caroline Mignot can't quite put her finger on it, but there's something unusual in the atmosphere at the recently refreshed bistro. She adored the peas with favas and yogurt, perfectly cooked black mullet, and a strawberry rhubarb crumble tart. Read additional reviews on our page for Yard.
Aux Enfants Gâtés (75014) – John Talbott expects it to filled with even more "pesky yankees" as word gets out about the new bistro, but he thoroughly enjoyed his meal regardless. Read more reviews on our page for Aux Enfants Gâtés.
Not New, but Noteworthy
Le Bon Georges (75009) – Alexander Lobrano lives in the quartier and declared it a "pretty much perfect neighborhood bistro" with "good, solid, simple food." Read additional reviews on our page for Le Bon Georges.
The Green Goose (75011) – Hipsters in Paris has thrown down the gauntlet and declared that the Irish gastropub has the best brunch in Paris and that the menu of sweet and savory pancakes, eggs, toast, yogurt and beverages is "€22 of excessive overindulgence of the best kind." Read additional reviews on our page for The Green Goose.
Bread & Roses (75006) – François Simon gulped down the excellent sticky toffee pudding "les pâtisseries ont du coffre (le sticky toffee pudding était scélérat à souhait)" but had a bit of sticker shock at the high price (26€) of his salad. Find additional reviews on our page for Bread & Roses.
Gyoza Bar (75002) – Caroline Mignot enjoyed the toothsome dumplings at this bar that serves little else. "Le reste de la pâte est moelleuses, la farce assez goûteuse, à base de porc et de je ne sais quoi. Je la trouve peut-être un peu moins nuancée que lors de ma première fois (que je vous encourage à aller regarder, je trouve qu'ils n'ont pas trop la même allure). Ils sont cependant bien agréables à manger et à tremper dans la sauce assez acidulée et différente de ce que l'on connaît (rien à voir avec une simple sauce soja, ici c'est un mélange de différents ingrédients et de parfums d'agrume)." Read additional reviews on our page for Gyoza Bar.
Le Bon Georges (75009) François-Régis Gaudry extolled the virtues of the pedigreed products and talented team at this lovely bistro declaring it "un vrai bon plan… Le Bon Georges, le bistrot qui a (presque) tout bon!" Read additional reviews on our page for Le Bon Georges.
Le Richer (75011) – Lindsey Tramuta thinks Le Richer is the only place worth mentioning "in the category of modern bistros that offer a market-fresh menu and non-stop service as of 8am" because they are "consistently good (I had the best, most tender suprême de volaille I've ever had in this city), the service is alert and
Huîtrerie Régis (75006) – Oyster season may be over, but John Talbott still had an excellent meal at this oyster specialist.  He called them a one trick pony, but what a trick it is. Read more reviews on our page for Huîtrerie Régis.
Boucherie Les Provinces (75012) – "While you likely won't find Les Provinces listed in restaurant guides as a place to cross town for" David Lebovitz cannot "think of a better way to spend a day in Paris than strolling around the Aligre market, rifling through boxes at the flea market (after I've gone through them, of course…) before checking out the fruits, vegetables, French cheeses, dry goods, and sparkling fresh fish at the stands, before diving into a couple of steaks while knocking back a few glasses of red in the convivial atmosphere of boucherie Les Provinces." We can't either.
Le Relais du Parc (75016) – The outdoor courtyard was spectacular in contrast to the somewhat boring meal for John Talbott who declared it was "nothing disastrous but nothing special."
Down the Hatch
Ma Cave Fleury (75002) – "Ma Cave Fleury, with its casual, communal terrace on a street known for porn and grit, is, in turn, a rarity in Paris: an unpretentious and egalitarian venue in which to enjoy France's most famous luxury product," said Aaron Ayscough who enjoyed the Champagne cave both for its central location and "for the central role its proprietor plays in the city's natural wine scene. Morgane Fleury is like its fairy godmother, her unpretentiousness and warmth constituting an antidote to the conservative that typifies the public faces of most Champagne houses."
UC-61 (75017) – UC-61 takes the speakeasy trend to a new level with a submarine themed bar complete with captain's quarters in the old le 25eme Heure space. Forest Collins paid a visit to bartender Anaïs Teulier and found that though "the menu doesn't diverge from what you will find in a lot of the better cocktail bars in town: a good range of base spirits, a nice selection of brands, 15 or so cocktails on offer, ranging from 12 to 15 Euros. Anaïs seems to bring something quieter, and (dare I say it?) more feminine than many of her contemporaries."
In the Shops
Chambelland Boulangerie (75011) – Gluten-free goods that actually taste great? Lindsey Tramuta found them in her neighborhood at a brand new bakery from a biologist who spent 8 years developing his gluten-free recipes. The co-owners serve "moist, fiber-dense breads and sweet tartelettes that easily rival their gluten equivalents" and are made from rice & buckwheat flours that the bakers mill themselves.
Noglu (75002) – Caroline Mignot reported that the gluten-free restaurant now has a take-out counter for cheesecakes, sandwiches, salads and other treats.
Want More?
To read about past months' food and wine buzz, check our Word of Mouth archives.