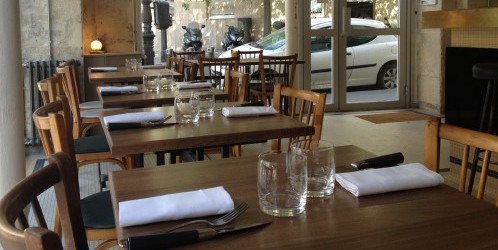 Each month we collect the reviews that interest us most, add excerpts to the pages collected in Our Guide to Paris Restaurants (and shops) and present you with a summary. We update it continuously throughout the month, with the newer reviews appearing at the top. For serious restaurant geeks only.
Restaurant Reviews
New & Newish Openings
Yard (75011) – Shaun Kelly's recent installation as chef brings all the boys to the yard including James Henry and John Talbott who declared it "another great prix-qualité joint." Charles Patin O'Coohoon trumpeted it as a successful Ango-Gallic mix and highlighted the Kate Mousse – an orgasmic blend of French chocolate mousse with the meringue and strawberries of an Eton Mess. Read more on our page for Yard.
L'Eclectic (75015) – Le Figaro reported that the décor (from British designer Tom Dixon) is the true success at this new brasserie in the Beaugrenelle mall and not the food.
Cuisine (75009) – Unpretentious charcuterie, nice natural wine, and inexpensive Aperol spritzes are on offer at this new cuisine according to Irène Platet of L'Express.
Le Servan (75011) – Emmanuel Rubin got rather breathy when describing the exotic and unexpected dishes at Le Servan. He found Tatiana Levha's plates "en malice tectonique, des compositions «fric-frac» pleines de touches et d'habiles épices qui vous font en bouche ces fameux «baisers pointus comme un accent aigu»". Caroline Mignot was put off by the thundering noise in the dining room, but otherwise enjoyed the sweet service, great wine, excellent coffee, and perfectly cooked fish at Le Servan. Alexander Lobrano held up Tatiana Levha as a paragon of new talent in Paris who "jolts the idiom of contemporary French cooking with regular references to her Philippine background" and  "the lucid way she composes her dishes is based on a clear love of the produce she cooks with and the impressive battery of technical skills that inform her cooking, which becomes personal and original when she sautés cockles in pungent fish sauce and garnishes them with fiery bird peppers and basil." François Simon named it as his "coup de coeur du mois" calling it "un vrai coup de gong! Nourritures frontales, vives, sexy…" Read additional reviews on our page for Le Servan.
Les Déserteurs (75011) – Giovanni Passerini's Rino has "been redecorated out of existence" according to Alexander Lobrano and in its place stands Les Déserteurs. He called it "a perfect example of the new generation of neighborhood bistros that have been renewing Paris's gastronomic credentials during the last ten years." Emmanuel Rubin chimed in in agreement with "cette adresse, parfaite à comprendre ce qui fait le nouveau magister gastronomique parisien" which he defined as "radicale à ne pas charger le maître produit, épurée jusque dans les cuissons, savante à traquer l'herbe rare, soucieuse de rappeler ses sobres influences (la touche nordique, le twist nippon)." Laura Vidal was back in town briefly and felt compelled to write up a brilliant lunch in "a comfortable environment where quality is obviously more valued than quantity: one service, no turning tables and making customers have to arrive or depart at a certain time, no-fuss service but an in-depth knowledge of wine from Alex who by the way, put together one of the best wine lists I have ever seen in Paris or anywhere." John Talbott doesn't think it will be long before the New York Times features this new bistro calling it "Hot, smoking hot, New York Times hot!" For more info, see our page for Les Déserteurs.
Le Dix Huit (75017) – John Talbott declared the food from Filipino chef Aaron Isip at the new contemporary bistro in the 17th (not the 18th) to be "absolutely innovative and inventive". Isip, who previously cooked at Ze Kitchen Galerie, Apicius, Drouant and Pan, creates a cuisine that is "one of a kind and not what you're thinking."  Emmanuel Rubin declared that the Filipino touches  "exciter les classiques néobourgeois. Avouons là l'idée d'une cuisine eurasienne."

Les Vinaigriers (75010) – That charming little neighborhood bistro you've been searching for? Aaron Ayscough found it at Les Vinaigriers. The prime piece of corner real estate near the canal passed his test for "friendly service, bargain comfort food, and potable wine." If you're looking for  "a wholesome and mostly unfussy weeknight meal" then "this summer it's set to be every canalside apero-sipper's back pocket standby when Le Verre Volé is complèt."
So (75002) – So long So for Emmanuel Rubin who found the new brasserie to be overly expensive and cliché with boring, sanitized food.
Café Smörgas (75010) – Emmanuel Rubin tried out the new café attached to the home goods shop La Trésorerie and found the Swedish tartine joint to be bobo-packed.
Le Repaire de Cartouche Bar à Vin (75011) – Where most other wine bars fail, Aaron Ayscough finds the revamped Le Repaire de Cartouche Bar à Vin succeeds with "a small, responsive menu of shareable items, a long, cornered bar you can actually use, an open door to the street for standing and smoking… Le Repaire de Cartouche Bar à Vin has three striking advantages… Rodolphe Paquin himself, his bistrot's national-treasure wine list, and his lauded terrines, which latter are among the greatest examples of France's original bar food." Read additional reviews on our page for Le Repaire de Cartouche.
Chez Monsieur (75008) – The Royal Madeleine has changed over to become Chez Monsieur, but Thierry Richard reported that the polished charm, warm welcome, and 1940's bistro chic décor remain intact.
Villa Sophia (75016) – Emmanuel Rubin recommended avoiding this new Italian joint at all costs because of the high cost of the pitiful courses which included a "chewed gum" mozzarella.
L'Ardoise du XV (75015) – Three cheers for the 15th arrondissement! An ex-chef from Robuchon has opened up a stylish new bistro near Boucicaut according to Emmanuel Rubin who called it "une vraie bonne cuisine de clocher."
The Grilled Cheese Factory (75011) – Emmanuel Rubin tried out several of the "Yankee-style croque monsieurs" a.k.a grilled cheeses. Horrifying menu items include a grilled cheese stuffed with macaroni & cheese.
Not New, but Noteworthy
Alexander Lobrano compiled a list of 7 restaurants, old and new, where you're guaranteed to easily get a reservation and have a stellar meal. His top picks included Auberge Pyrenees Cevennes, Bistrot Belhara, Citrus Etoile, Les Déserteurs, Prunier, Le Saint James, and Will.
La Pointe du Grouin (75010) – Caroline Mignot enjoyed a boozy evening at the Breton tapas bar and returned to actually partake in the food at a later date. She enjoyed the artichoke with hazelnut oil, strawberries in cider, and hopes to return yet again to sample the breton butter cookies of her youth (along with more cider). Read additional reviews on our page for La Pointe du Grouin.
Café de la Nouvelle Mairie (75005) – John Talbott asks the hard questions like "How can you not go to a place if you're staying/living in the neighborhood that has the down and dirty bistro food of your youth and a Turkish toilet?" He found the simple, seasonal food to be "good solid bistrot chow." Read more reviews on our page for Café de la Nouvelle Mairie.
Hai Kai (75010) – Caroline Mignot visited the trendy canalside spot and felt the serving size of the lunch was somewhat sparse and would have been willing to fork over a few more euros for more asparagus. Otherwise, she had a pleasant meal. Hai Kai's "bistrochicool" ultimately won François-Régis Gaudry's heart but not before a few notable missteps including a burnt fat smell in the air, poor service with a long wait between courses, and high noise levels. For more reviews, see our page for Hai Kai.
Le BAT (75009) – Caroline Mignot found her dishes alternately over and underseasoned, but with a bit more precision, she'd be happy to return again and again to the packed tapas/tartare bar. For additional reviews, see our page for Le BAT.
Café Varenne (75007) – Patricia Wells enjoyed "a superb dish of ultra-tender and meaty tendrons de veau (breast of veal)  tossed with fresh pasta, carrots, and slivers of Parmesan cheese" and declared that "the food just gets better and better."
Allard (75006) – Alain Ducasse took over this historic kitchen earlier on in the year. Caroline Mignot had to put her pencil down and pause while interviewing the chef because the buttery pâté en croute was so sublime. For more reviews, see our guide page for Allard.
Clamato (75011) – François Simon destroyed the maple syrup tart in seconds flat and wishes you luck in getting a table at the no-reservations seafood spot from Bertrand Grébaut. He found the food "abécédaires, plaisantes, ailées. Sans détours" and the scene had an "ambiance de foodies embastillés, service allègre." Find more reviews on our page for Clamato.
In the Shops
Wanna go organic? Emily Dilling compiled a list of her favorite certified biologique shops including Le Carillon d'Olivier, Le Retour à la Terre Rive Gauche, Bien L'épicerie, Les Nouveaux Robinson, and Canal Bio.
Want More?
To read about past months' food and wine buzz, check our Word of Mouth archives.