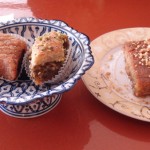 Forget macaroons and truffles for a moment, forget the millefeuilles and éclairs.  La Bague de Kenza is a Parisian pastry shop of a different kind.  It's Algerian.
Sticky honey, rich nuts, the crunch of semolina, the perfume of orange and roses, chewy dates, rose:  These are the themes upon which the the variations of Algerian sweets are built.  And they are sweet:  The honey in some of them is dizzying, toothache-inducing.  I mean that in a good way.
A friend who used to live in the Oberkampf neighborhood introduced me to La Bague de Kenza when I was in Paris last month.  We talked over lunch, a sort of savory crèpe called m'hadjeb that was filled with tomatoes and onions.  But the small lunch was really just a formality, a sensible precursor to the sweet main event:  We shared date-filled maqrout, baqlawa pistache (that's baklava to you and me), and qualb elouz, a semolina and almond cake drenched with honey.