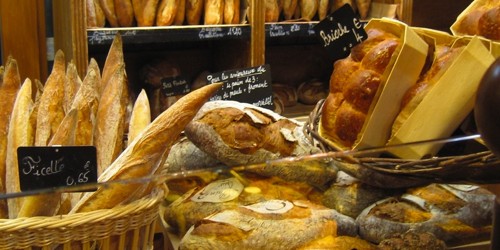 Le Grenier à Pain in Montmartre wins 2015 Best Baguette Contest
Félicitations to Djibril Bodian of Le Grenier à Pain Abbesses for winning First Prize in the 2015 Grand Prix de la Baguette de Tradition Française de la Ville de Paris,  a.k.a. The Best Baguette in Paris Competition. If Bodian's name sounds familiar, it's because the Senegalese born, second generation baker also won the top prize five years ago. His bakery will be providing bread for President Hollande and the Elysées Palace for an entire year, just as he did for Sarkozy back in 2010. 
You can now expect even longer lines than usual at his 38 rue des Abbesses location in the 18th arrondissement. Montmartre has long been the home for some of the city's best bread with first prize winners in the competition in 2007, 2008, Bodian's victory in 2010, 2011 and 2012.
Paris' Top Baguettes in 2015
#1 Djibril Bodian of Le Grenier à Pain Abbesses, 38 rue des Abbesses, 75018
According to Rémi Heluin of the excellent bread blog Painrisien, out of the 231 participants, 113 baguette entries were thrown out for not meeting the weight & length requirements or having unregulated cuts on the crust.
Thanks to @painrisien for taking time to live report the results in between bites of baguette!
Update: We mapped all of Paris' Best Baguettes. All of the 2015 winners plus the Top 10 wands dating all the way back to 2007 are marked. You're never too far from good bread with this map in hand.
Additional Reading