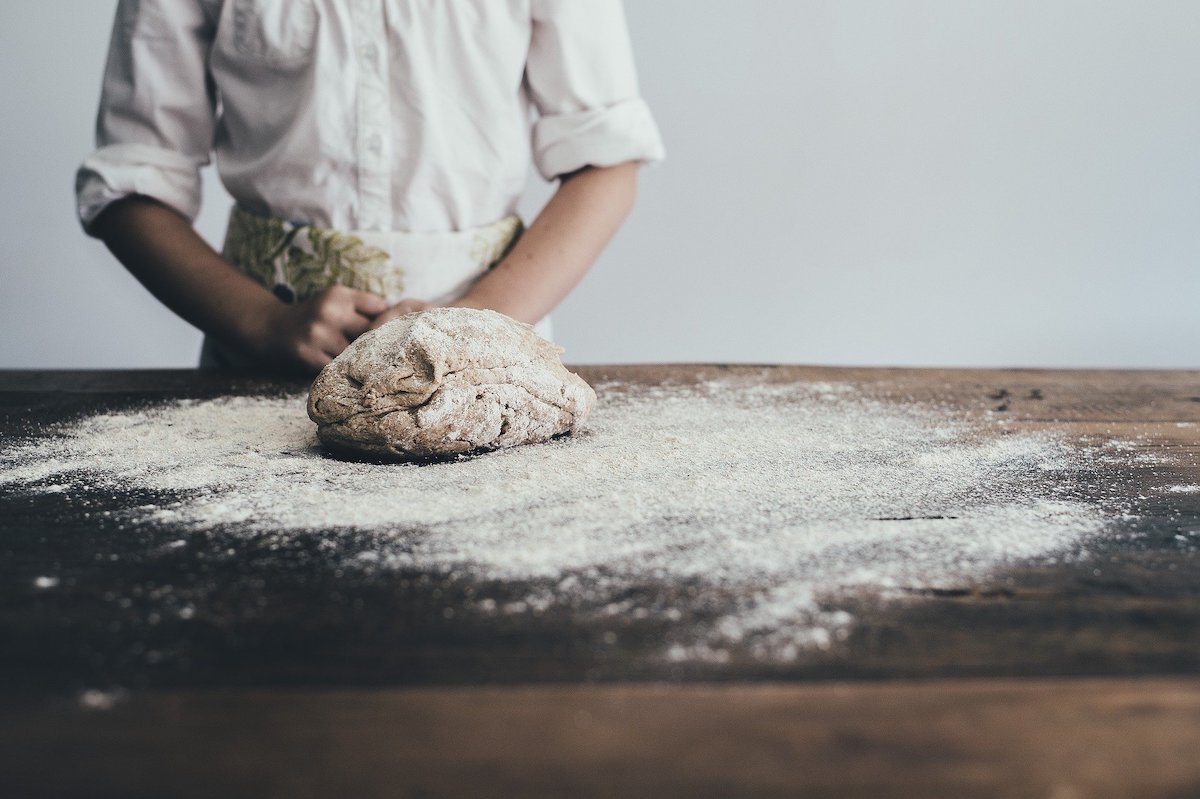 23 Parisian Chefs Taking to Instagram During Quarantine
On March 14, President Emmanuel Macron demanded restaurants in Paris shutter until further notice to help contain the spread of COVID-19. As a result, Parisian chefs – like the rest of the capital's population – are stuck at home. Several of them have taken to social media, not just to pass the time but to inspire folks at home to cook with easy-to-follow recipes. Here are some of our favorites.
1. Jean-François and Elodie Piège
The chef-owner of La Poule au Pot and A l'Epi d'Or has been using his Instagram feed to share some of his favorite comfort food dishes. These range from a simple orange cake to a "très gourmand" vinaigrette with soft-boiled egg, balsamic, and red wine vinegar. After offering his faves on his feed, he uses his stories to reshare photos shared by those attempting the recipes at home.
Jean-François' wife and partner Elodie is sharing some culinary adventures of her own via ephemeral Instagram stories. Luckily, she had the bright idea of archiving her gorgeous recipe for Basque chicken, so it's still accessible to home cooks.
2. Thomas Coupeau
Carbón's Instagram stories are some of the most beautiful we've seen, with gorgeous step-by-step images and instructions (in English) to help you create the recipes depicted in the restaurant's Instagram feed. The recipes themselves are ultra-creative and so far feature vegetarian celeriac tacos and endive salad with blue cheese and popcorn.
3. Taku Sekine
The chef of Dersou and Cheval d'Or has been taking a little sous-chef under his wing. His Instagram stories detail an absolutely adorable (and very relatable) series of kitchen experiments with his toddler. The recipes are then posted (along with a gorgeous shot) on his feed. So far, the daily recipes have included spaghetti alla grigia, fried lentil rice balls, pork biryani, and one of the most drool-worthy bowl of noodles top with leftovers we've ever seen.
4. Simone Tondo
What Simone Tondo's Instagram recipes lack in ease of execution they more than make up for in artistic cinematography. The chef of Racines has filmed himself whipping up dishes like luxurious orange crème anglaise or creamy risotto, setting the videos to instrumental musics. The close-up shots (and lack of ingredient lists) make the recipes almost impossible to recreate. But in confinement, who knows? Maybe you've got the time to experiment until getting it right.
5. Yann Couvreur
Home bakers, you're in luck! Pastry chef Yann Couvreur is using his Instagram story to share a daily step-by-step recipe before posting the finished product on his feed. So far, the simple treats have included a tender vanilla cake and hazelnut-dusted meringues.
6. Bruno Verjus
Bruno Verjus of Michelin-starred restaurant Table has been sharing springtime recipe inspiration via his Instagram. One video showed followers how to properly slice a leek into delicate ribbons. Another offered tricks for tabbouleh-style lentils. The recipes may be tough to follow if you're not a Francophone, as Verjus mostly films himself speaking and shares the recipe in French. That said, his Gallic sense of humor makes him worth a follow regardless.
7. Akrame Benallal
The chef-owner of Akrame has been sharing loads of recipes on his Instagram, including whole roasted cauliflower with tahini sauce and apple tart with black lemon. He also shares ideas for using up leftovers, in order to help folks get inspired even while staying inside. In one such recipe, he serves eggs scrambled with arugula over toasted day-old baguette. It may sound simple, but it looks phenomenal.
8. Stéphanie Le Quellec
The chef-owner of La Scène has shared a few gorgeous recipes via her Instagram feed, including harissa-roasted fennel and creamy sweet pea soup. She even keeps kids in mind, sharing her dressed up version of chicken nuggets. The recipes themselves are given in text format, making them easy to translate from French to recreate at home.
9. Marine Gora and Romain Tellier
The co-owners of Gramme have been sharing gorgeous images (and a few recipes!) on the coffee shop's Instagram feed, including buckwheat granola and house-made peanut butter. This account is worth it for the food porn alone, but the duo has also archived a few tasty, easy-to-follow recipes via their stories.
10. Ava Farhang
The owner of the plant-based Abattoir Végétal has been sharing gorgeous photos of vegan dishes like spiced cacao almond milk or parsnip hummus tartine with caramelized apples. Accompanying recipes in French make these healthful dishes easy to recreate at home. She's also sharing videos of home cooking via her stories. One (archived!) recipe offers a vegan gnocchi tutorial made with her daughter.
11. Maria Bonnici
Maria Bonnici of La Bête Noire has been cooking up a storm on Instagram, sharing recipes for everything from cheese and leek naan to suppli made with leftover risotto. The Maltese import to Paris is also posting all of her recipes in English.
12. Christine O'Sullivan and Chris Wilson
The Anglophone team behind Broken Biscuits Pâtisserie is sharing a wealth of recipes via Instagram, including chocolate cake with dulcey and cocoa nib glaze and an easily adaptable leftovers quiche. Since both of the shop's owners are Anglophones, all of the recipes are in English. They're divided into easy-to-follow steps and archived so you can consult them again and again.
13. Hideki Nishi
The chef behind 15th-arrondissement Neige d'Eté is sharing all sorts of delicious recipes at home, including a dressed-up bolognese, shabu shabu, and steak tartare in a potato haystack nest. For the moment, his recipes are only in his stories and therefore disappear after 24 hours, so check back often!
14. Thibault Sombardier
Michelin-starred chef Thibault Sombardier is showing the reality of cooking at home. As he shares recipes for dishes like quesadillas or asparagus with mayo on his Instagram, he also puts his young sous-chefs center stage. A music video featuring the chef moonwalking and his daughter alternating between kneading bread dough and "making it rain" with Monopoly money is must-see entertainment.
15. Cathy Closier
The founder of Season shared her famous pancake recipe on Instagram after folks were clamoring for it. She even launched a challenge to recreatte the pancakes at home. Now, home cook share their versions of the fluffy stacks on Instagram, and Closier reshares them on the restaurant's story. The recipe – and versions from home cooks – are all archived. Maybe it's time for another Season challenge?
16. Julien Duboué
The chef from B.O.U.L.O.M. and A Noste has shared a few recipes, tips, and tricks on his Instagram account, including a delicious-looking recipe for homemade sourdough and another for a gorgeous grapefruit tart. He's also posting his home cooking experience via his stories. He spent one afternoon making smiley sandwich cookies with his adorable young daughter. It's worth noting that B.O.U.L.O.M. is remaining open during confinement and is offering lunch to medical personnel free of charge.
17. Anna Trattles, Alice Quillet, and Anselme Blayney
The co-owners of Ten Belles have been sharing all sorts of things on their Instagram since confinement began. When they first decided to close, they took to the platform to inform Parisians they could come fetch their very own sourdough starter to tide them over until the bakery could reopen. Ever since, their story has been rife with reshares from home bakers showing off their successes. More recently, the team shared a recipe (in English!) for Anna's very own five-ingredient, gluten-free orange-almond cake.
18. Frédéric Anton
The Pré Catelan chef isn't posting full recipes on his Instagram, but we're loving his immaculate before-and-after shots of French comfort food dishes like beef bourguignon and pot au feu.
19. Pierre Sang
This Former Top Chef candidate and owner of several eponymous restaurants in Paris has been sharing his token Franco-Korean fusion recipes via Instagram. His kimchi-mushroom tart video was so popular, the chef followed it up with herb-encrusted soft-boiled eggs with cheese sauce and sesame.
20. Christophe Michalak
This popular pastry chef has shared a few comfort food delights on his Instagram, including a revisited banoffee pie and a rich, creamy chestnut cake with apple. He's using his story to share successful home bakers' attempts to recreate his recipes at home.
21. Benoit Castel
Benoit Castel has posted a few tasty recipes on his Instagram feed, including a beautiful apple tart and a simple lemonade. He's also resharing photos of successful home bakers making his recipes at home.
22. Thomas Darenne
Freddy's is planning to post a recipe a day during confinement from one of its family of restaurants. The first is from chef Thomas Darenne of Semilla: Greek-style cauliflower with puntarella and coriander. An image of the finished dish is posted on the restaurant's feed, while the recipe itself is posted as text in the story and archived for later use.

23. Juan Arbelaez
Juan Arbelaez, chef-owner of Plantxa and Vida, hasn't just shared his lemon sugar cookie recipe via his stories, archiving it for future use. He is also sharing full recipes on his feed, including a video recipe for chocolate chip cookies and text recipes for mac and cheese and a delicious-looking butternut squash gratin.
Did we miss any of your favorites? Let us know in the comments!