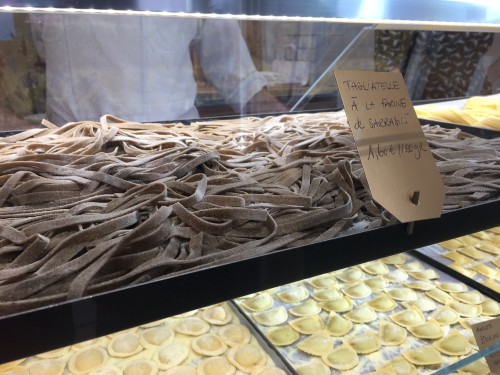 A Pasta Shop for Giovanni Passerini
Giovanni Passerini, the Roman chef behind the beloved and now-closed Rino, has today opened a fresh pasta shop near the Marché d'Aligre at 65 rue Traversière, 75012.
Pastificio Passerini will make fresh pasta daily to cook at home and sell everything needed to make it into a meal, including various jarred ragus and sauces, fresh herbs to infuse into butter, Parmigiano Reggiano cheese, cured meat, and a handful of high-end Italian grocery products.
On opening day, the chef had fresh pappardelle, taglioni, and tagliatelle (fresh and buckwheat), plus three stuffed pastas including Taleggio cheese and seaweed ravioli, ravioli with pumpkin, brown butter, pistachios, and bergamot ricotta, and an agnolotti with mortadella, chicory, pork and veal. Prices for the fresh pasta are astoundingly low for the quality, with plain versions selling for €1.90 per 150 grams and stuffed pastas for €3.90, with roughly 150 grams suggested per person.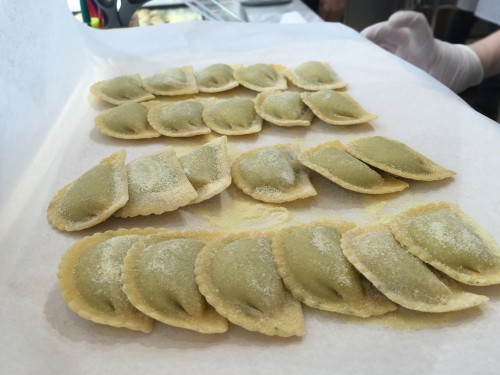 To shorten wait times, you can call ahead and order in advance. Orders for the next day should be placed from 3-5pm the night beforehand. Printed recipes for how to cook and sauce the pastas will eventually be available, too.
Those who wish to have their pasta cooked for them can look forward to the chef's new restaurant, Restaurant Passerini, which will open just next door sometime mid-2016. It's still under construction but Passerini promises table-side garnishes and refined Italian comfort food.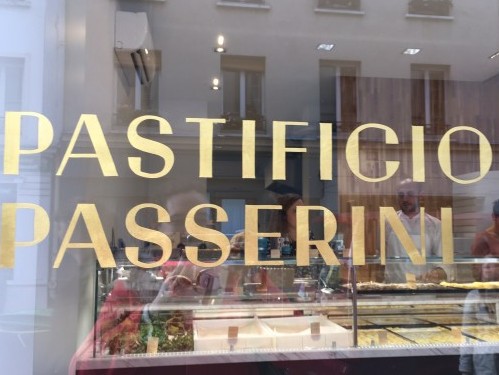 For practical info and hours on the pasta shop, check out our guide page for Pastificio Passerini.