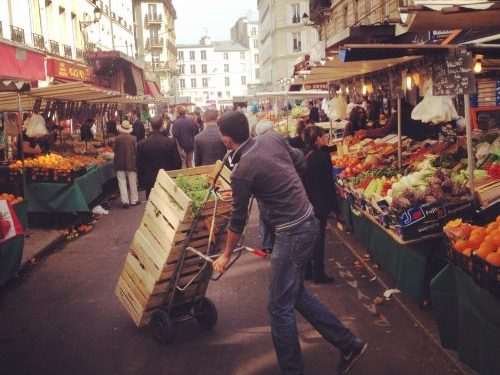 The Marché Aligre is a true neighborhood market — so vibrant and bustling that it's worth even a crosstown trek. Open six days a week, the produce is affordable, the selection diverse, and the vendors highly engaging.
The outdoor stalls that fill the Place d'Aligre and rue d'Aligre are only open in the mornings from 9am-12:30pm. Come afternoon, the streets will be swept clean and you'd never know a market had been there. Fruit, veg and flower prices increase slightly on Saturdays and Sundays, as do the crowds, and the market expands to include vendors on various side streets.
Don't miss the covered indoor market Marché Beauvau just next door on Place d'Aligre. The prices inside are slightly higher, but you'll find a range of options including wild game, poultry, cheeses, craft beer and even horse meat. Beauvau is open both in the morning and in the afternoons from 4-7:30pm.
Pre-Market Breakfast & Coffee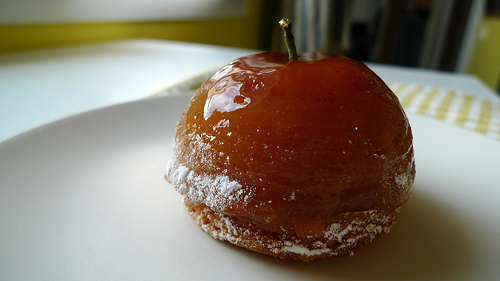 Blé Sucré – One of our absolute favorite croissants in the city. Fabrice Le Bourdat makes some of the most beautiful — and acclaimed — desserts & viennoiserie. You can grab coffee to accompany your baked goods and sit at one of the handful of candy colored tables on the sidewalk outside, or on a bench in the leafy Square Trousseau across the street.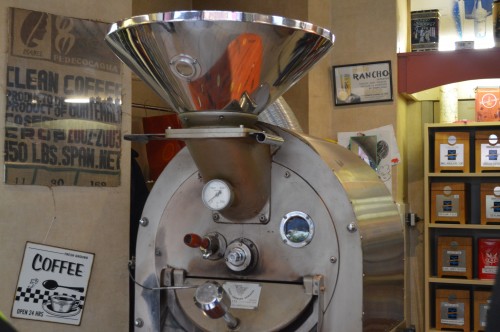 Café Aouba – Follow the smell of roasting coffee up the rue d'Aligre and elbow your way to the counter at this standing room only café. One of the few local roasters in town, their beans tend to be very darkly roasted and smokey. They have beans, teas, and a variety of jams and honeys for sale, too.
Outdoor Market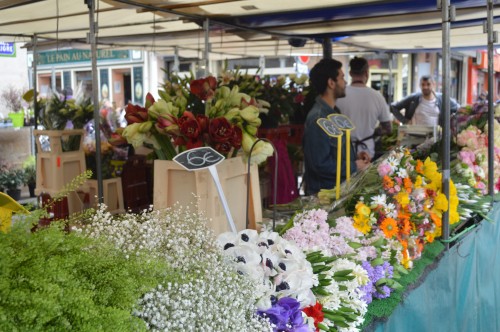 Pezzali Flowers – Located on the corner of Place d'Aligre, right in the center of the market, this flower stall is almost impossible to miss because of the riotous color. Bouquets are reasonably priced and tend to run in 4-10€ range, but prices rise for the weekend market.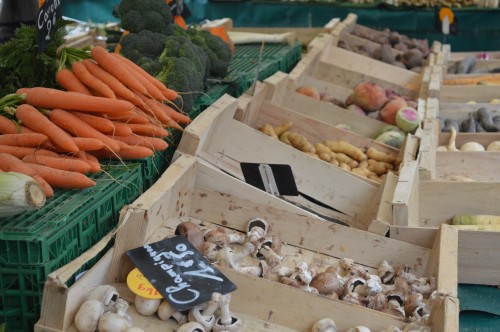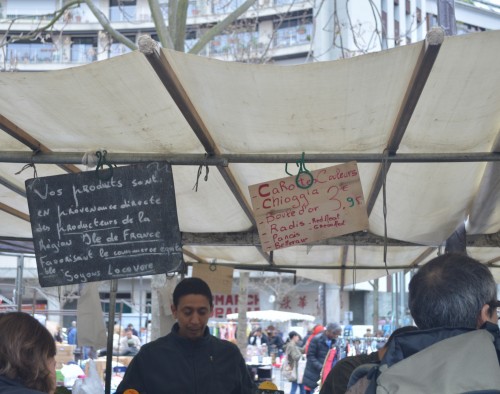 Dridi – Dridi often shows up late and offerings can be sparse during shifting seasons, but the products are entirely local. They usually have a particularly great range of flavorful salad greens including mustard, beet, ficoïde glaciale and l'ail d'ours.  You can find them near the corner of Place d'Aligre just in front of the flea market. Look for the chalkboard that says "Soyons locavores."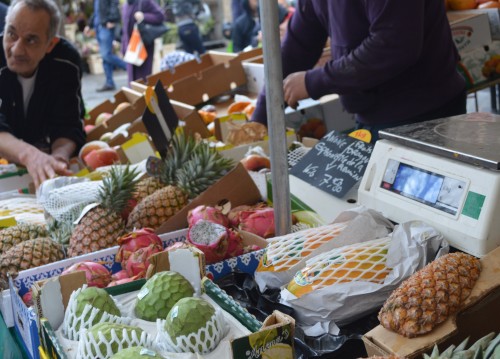 Bounabi – The vendors at this exotic fruit stand are wonderfully gregarious, not to mention generous with their samples. The quality is usually quite good.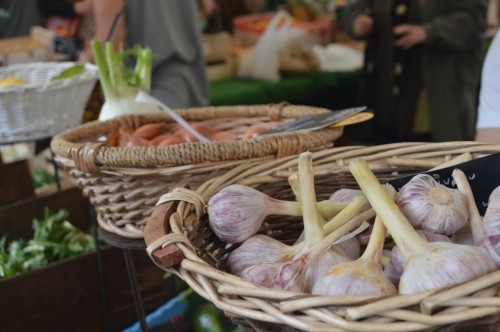 Aux 4 Saison d'Aligre – You'll recognize this stand when you see Monsieur Flauhaut, the white haired gentleman with the moustache, hamming it up for the crowd. And there's usually a crowd.  Look, but don't touch, and wait your turn for their excellent produce. He's located just in front of the covered Marché Beauvau.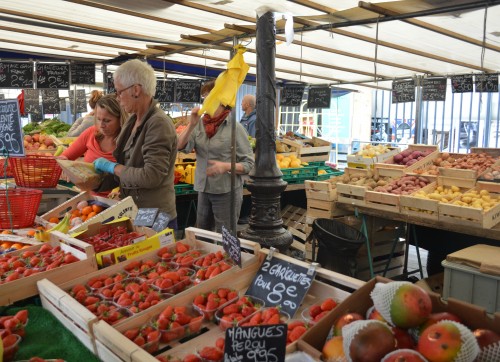 Sybille and Remy Costaz – One of the largest stalls in the market that, coincidentally, almost always has the longest line. The produce is displayed like jewels, but wait your turn to be served by the friendly family running the stall. They always have a great selection and very high quality. They are located just in front of the covered Marché Beauvau.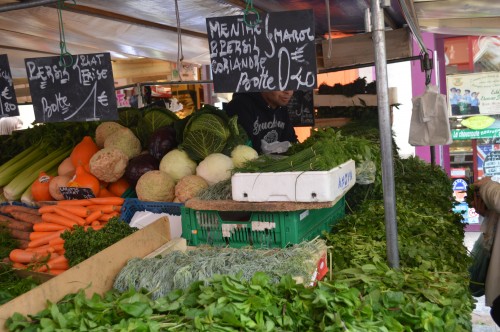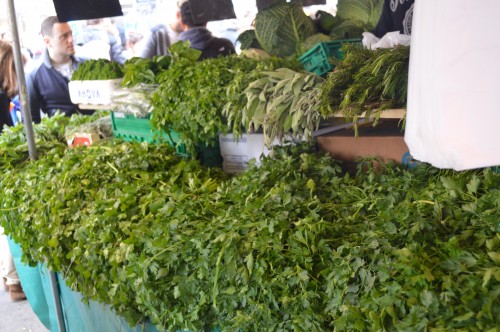 Herb Vendor – The fruits and veg here are "correct" and displayed nicely, but the true draw are the overflowing bunches of herbs available for only 40 centimes. You can locate them directly in front of Le Garde Manger (17 rue d'Aligre, 75012).
Marché Beauvau (Covered Market)
NOTE: The indoor market suffered a fire on July 6, 2015, and many vendors still have outdoor kiosks while renovations are being completed.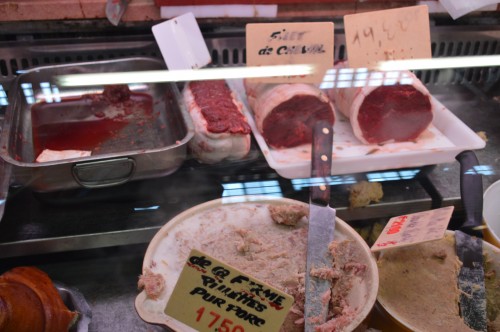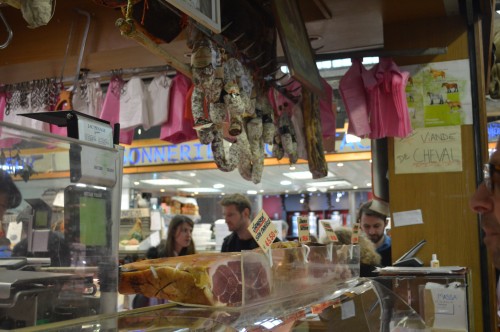 Michel Brunon – Look for the long line, the sign that says "Ici on viande de cheval" or the giant gold horse's head on the corner of this butcher shop to get your cut of fresh horse meat. A variety of non-equine meats are available as well, alongside roasted chicken rillettes, sausages, and terrines.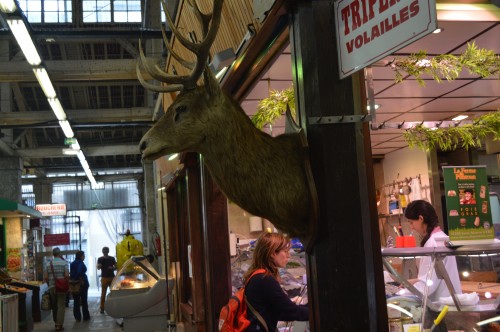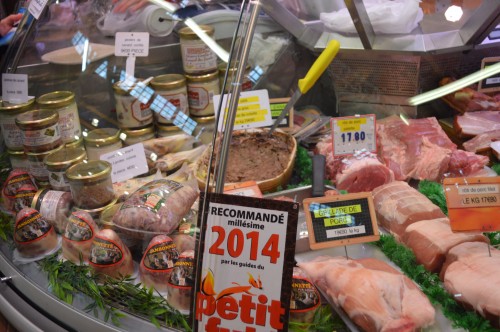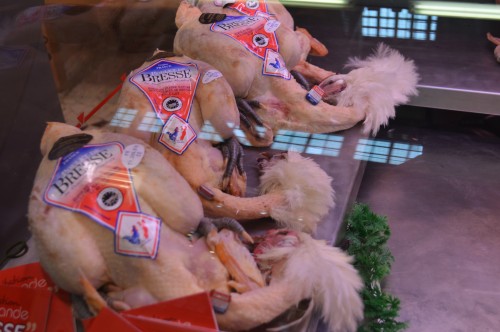 Au Chapon d'Aligre – The giant set of antlers is a good clue as to what this butcher offers– wild game, and lots of it. In winter, the hooks on top of the stall are heaped with game birds. You can always count on a variety of bunnies and a perennially good selection of boutique poultry.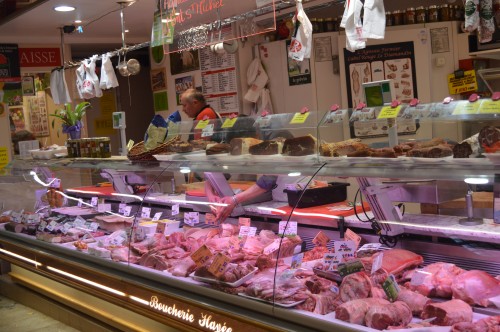 Boucherie Hayée – Patrick Hayée specializes in pork products, and in particular, suckling pig. We could stand here all day to watch (and smell) the piglets turn round in the giant rotisserie.  You can order one in advance for a party, or occasionally the roasted pig is available by the piece.
Marilou – A charcuterie stand with a riotous range of pâtés and terrines (we like the pâté aux figues and terrine de foie gras aux girolles), air cured ham from Bayonne, Corsica and other corners of France, plus many other regional cured delights.
La Marée Beauvau – It's always a good sign when you can stand right next to a poissonnerie but cannot smell the fish. The seafood is fresh here and the selection wide. They also offer a traiteur counter with an array of smoked fish, taramas, and cold seafood salads to take home.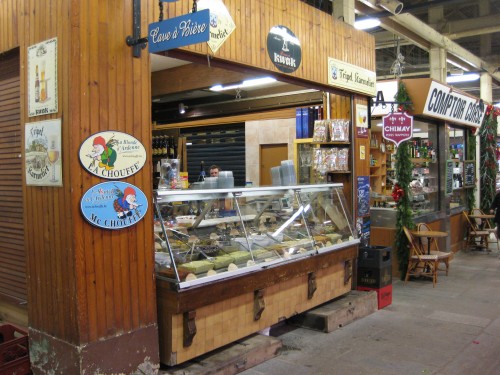 Photo by Camille Malmquist
Pommier – Located just inside the entrance to the covered market at Place d'Aligre, this little beer shop has a solid assortment of Belgian, German, and French craft beers at very low prices.
Sur les Quais – A sweet little épicerie with a good selection of olive oils sold in bulk, jams, spices, charcuterie and some apéro-ready snacks.
Shopping Around the Market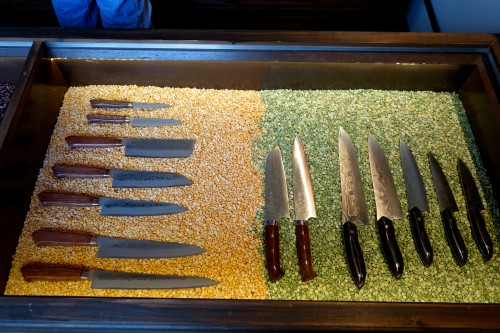 Japanese Knife Company – After 16 years in London, where it was hailed as a "shrine to the knife", JKC established its first Paris shop in May 2014. It's already become a magnet for chefs to browse and buy knives and for restaurants to get their kitchen and table knives sharpened.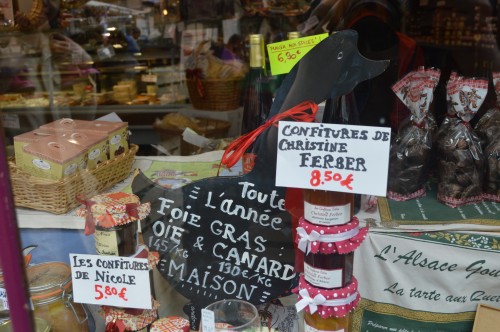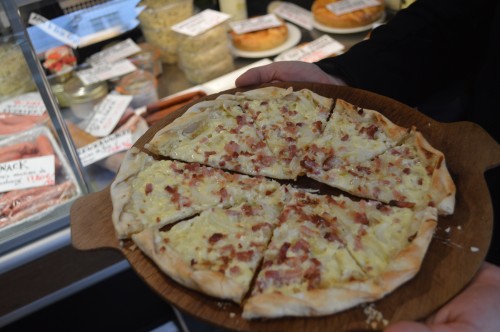 Le Garde Manger – Visit this lovely Alsatian épicerie at the marché Aligre for specialties like homemade foie gras, choucroute, bretzels, exquisite small-batch jams from Christine Ferber,  plus regional wines and beers. Owner Anne-Françoise Toussaint will happily bake a flammekueche to order (it takes 15 minutes) or send you home with a frozen one to bake yourself.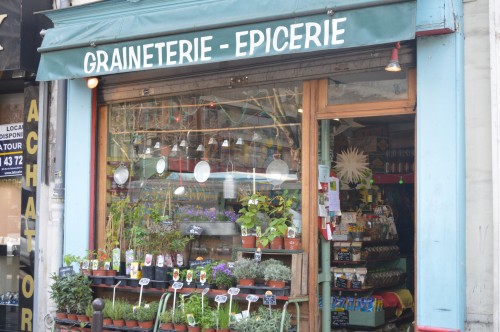 La Graineterie du Marché – The oldest shop in the neighborhood has grain for humans in the front room and grains for birds in the back room. Plus, they keep a few cages of parakeets in the back room alongside garden tools and antique kitchen equipment.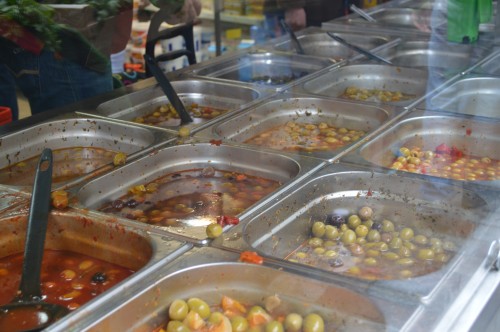 Sabah – This corner shop at the edge of the outdoor market (behind the potato vendor) has an inexpensive and wide selection of North African & Middle Eastern products (spices, cheeses, dried fruits, nuts, a variety of pulses/legumes, flatbreads) plus a giant olive bar. 30 rue d'Aligre, 75012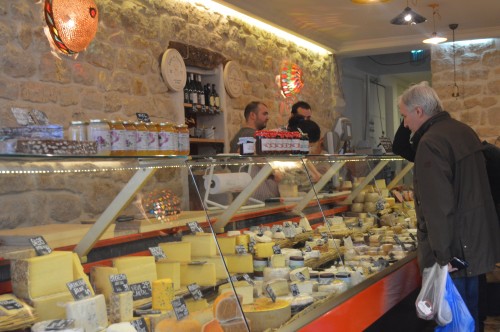 Au Coeur du Marché – This small affineur can sometimes get hidden by the all the hustle and bustle of market life just outside, but duck in. The quality is high, the service is friendly (and bilingual), and they will happily sous-vide (vacuum seal) your cheese for travel. Notable offerings include a wide selection of foreign cheeses (quite rare in Paris), goat milk yogurts, and a good variety of butters.
Post-Market Sips and Snacks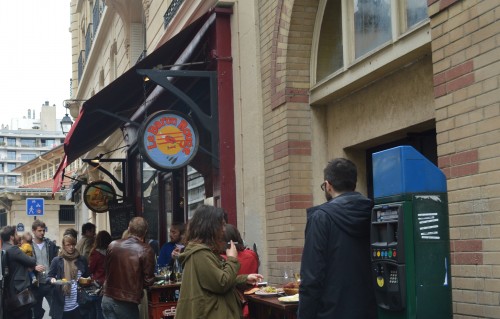 Le Baron Rouge – Join the rest of the neighborhood here on Sunday afternoons for a post-market glass of wine (direct from the barrel), an inexpensive plate of cheese or charcuterie or, in winter, a dozen oysters. Plan to use a car roof or recycling bin as a table if you stay, but carafes or giant plastic containers of wine are available to go, too.
Septime Cave – A bottle shop from the boys behind Septime. Snack options, for those lucky enough to snag a stool or a piece of counter, include pancetta di Colonnata, house-smoked duck breast, anchovies with ricotta, foie gras with smoked eel, with prices ranging from €4-14. This isn't a restaurant, a place for large groups, or a substitute for Septime, but it is a perfect spot for a high-quality/low-key apéro. Dead cheap glasses from €3-5.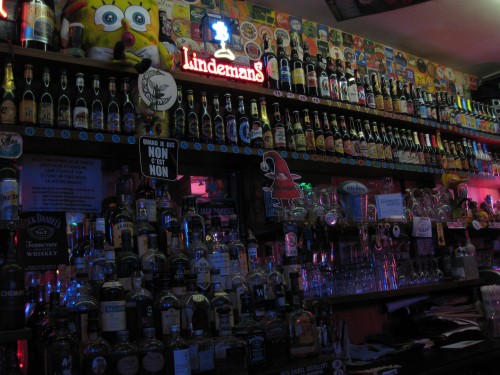 Troll Café – Swing by to sample one of over 100 beers (mostly Belgian and bottled) at this relaxed and reasonably priced bar.
Lunch
Boucherie les Provinces – A butcher shop just behind the market where you can purchase meat to take home, or even better, linger onsite to have it cooked to order and served up alongside market fresh sides. No reservations so come early on the weekends or be prepared for a lengthy wait.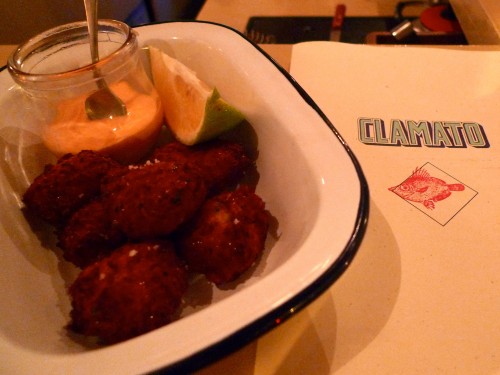 Clamato – Small plates seafood is the name of the game at this no reservations joint from Bertrand Grébaut. Open only for lunch on Saturdays and Sundays.
Capucine – Hearty Italian plates at this sweet restaurant tucked away in an alley.
Will – A brand new restaurant from globe trotting chef William Pradeleix who has worked in London under Hélène Darroze, in Bora Bora with Jean-Georges Vongerichten, and most recently, headed up the kitchen at Manger. His precise, Asian-inflected cuisine is a draw.
Table – Writer Bruno Verjus' restaurant features a limited menu of excellently sourced meat, fish, and produce that is roasted simply on a spit. While the prices at dinner have raised a few eyebrows, the "menu express" at lunchtime is a great value for 29€.
Les Déserteurs – Service is painfully slow at this new place in the old Rino space, and it's more of a splurge at lunch for 35€, but the modern, product focused cuisine is delicious.
La Gazzetta – Revamped after Petter Nilsson's departure with a new chef recently arrived from Rome, the lunch menu remains an excellent value at 19€.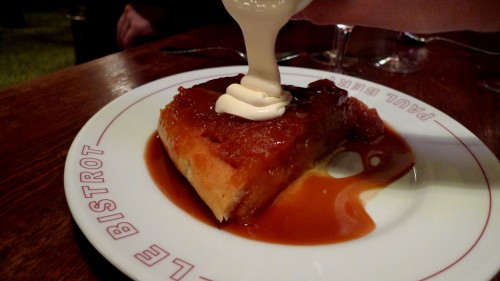 Bistrot Paul Bert – The menu at this perennial favorite is seasonally-minded, and a carnivore's paradise. Not for the faint of heart, or appetite.
Le 6 Paul Bert – This spot from Bertrand Auboyneau is just a few doors down from his Bistrot Paul Bert, but it's a world apart in terms of cuisine. The emphasis on good product remains, but Le 6 has small and modern plates (shaved vegetables, raw and marinated proteins, creative use of dairy).
Retro'Bottega – This little Italian épicerie-à-manger, run by the former sommelier at Rino, has four tables — two in and two out — where you can eat surrounded by exquisite spices, olive oils, and stacks of wine.