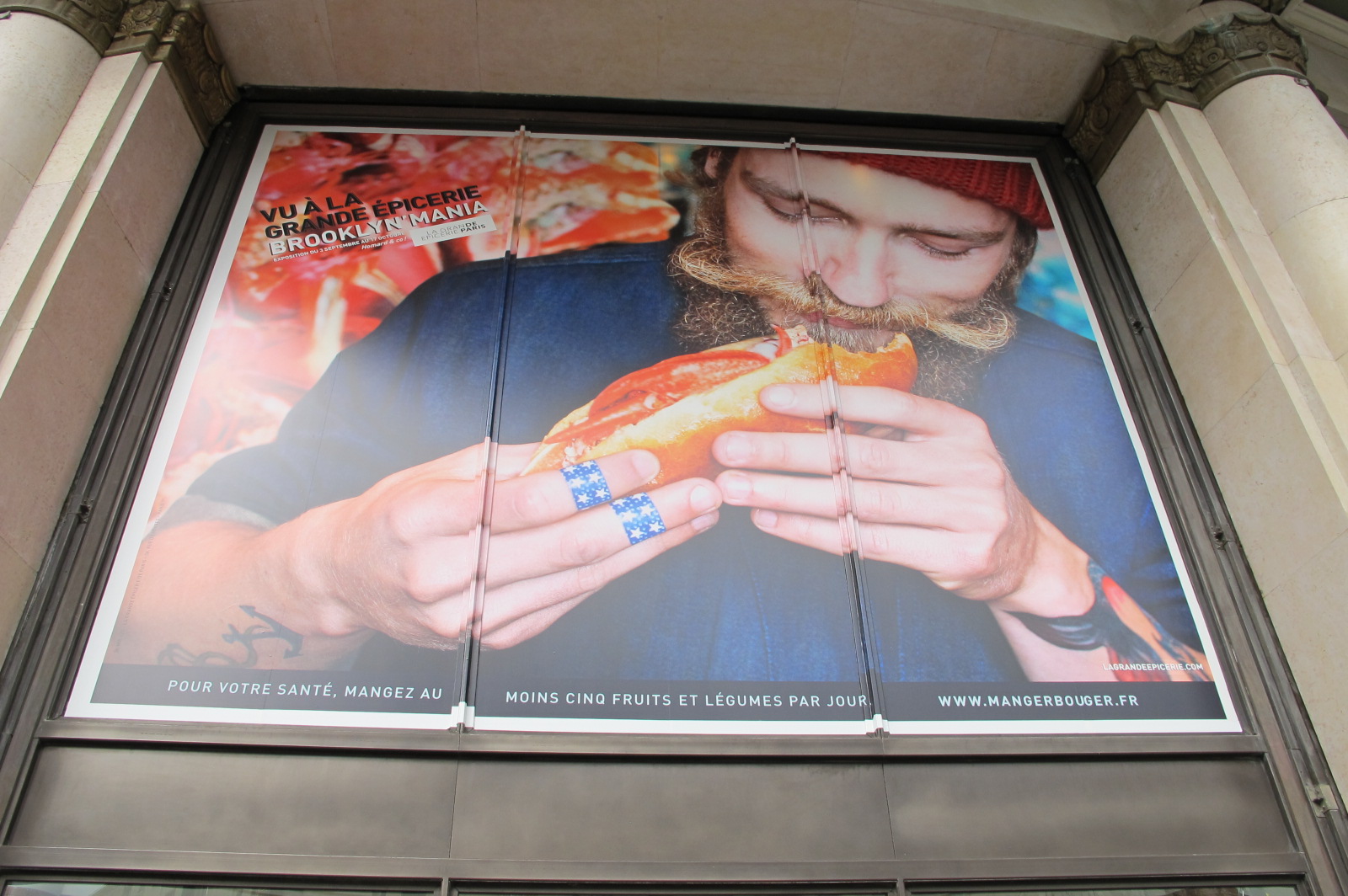 Beards, beanies & bacon jam: Brooklyn arrives at Le Bon Marché
Hovering fifty feet above the corner of Sèvres and Babylone is the image of a hipster eating a hot dog. The waxed tips of his mustache curl up as he gazes down upon the sidewalk scene below: an elegant woman wearing a camel trench coat is loading her shopping into a car. This is the line for valet parking at the city's most expensive department store, and madame's bags are bursting with jars of bacon jam.
Between now and October 17, Le Bon Marché (LBM) is celebrating New York's most populous borough with their Brooklyn Rive Gauche festival.  Throughout the department store and their next-door food hall La Grande Épicerie, black water tower display stands direct shoppers to kale chips, artisanal matchsticks, and beard cream.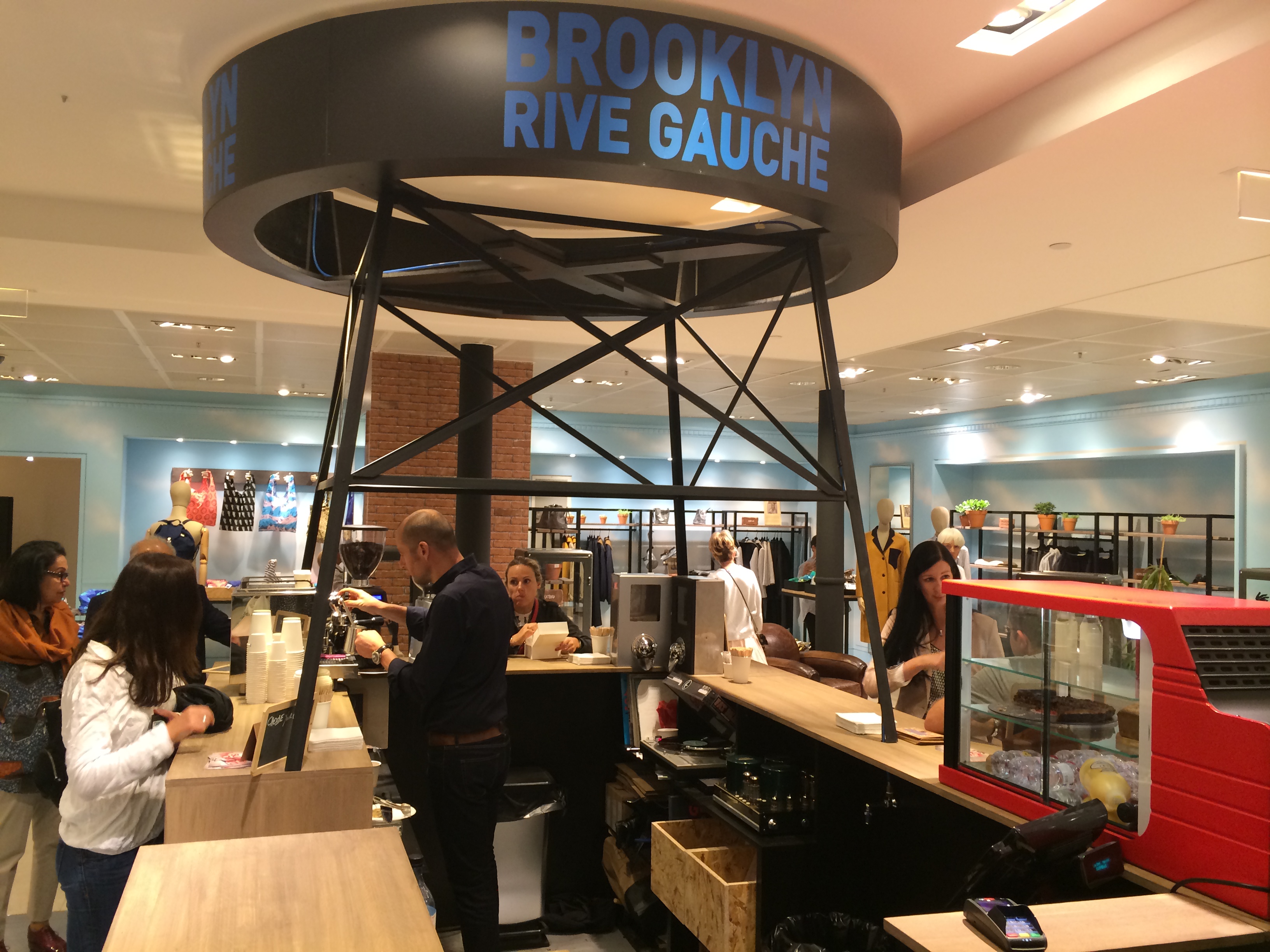 Orbiting around each tower are salespeople wearing horn rimmed glasses and woolen beanies. Some of them were hired especially for the occasion. In the weeks leading up to the launch, one marketer was using Facebook to solicit temporary employees who were "hipsters, barbus, tatoués, coolos." Her heart must have exploded when this guy walked into the casting session: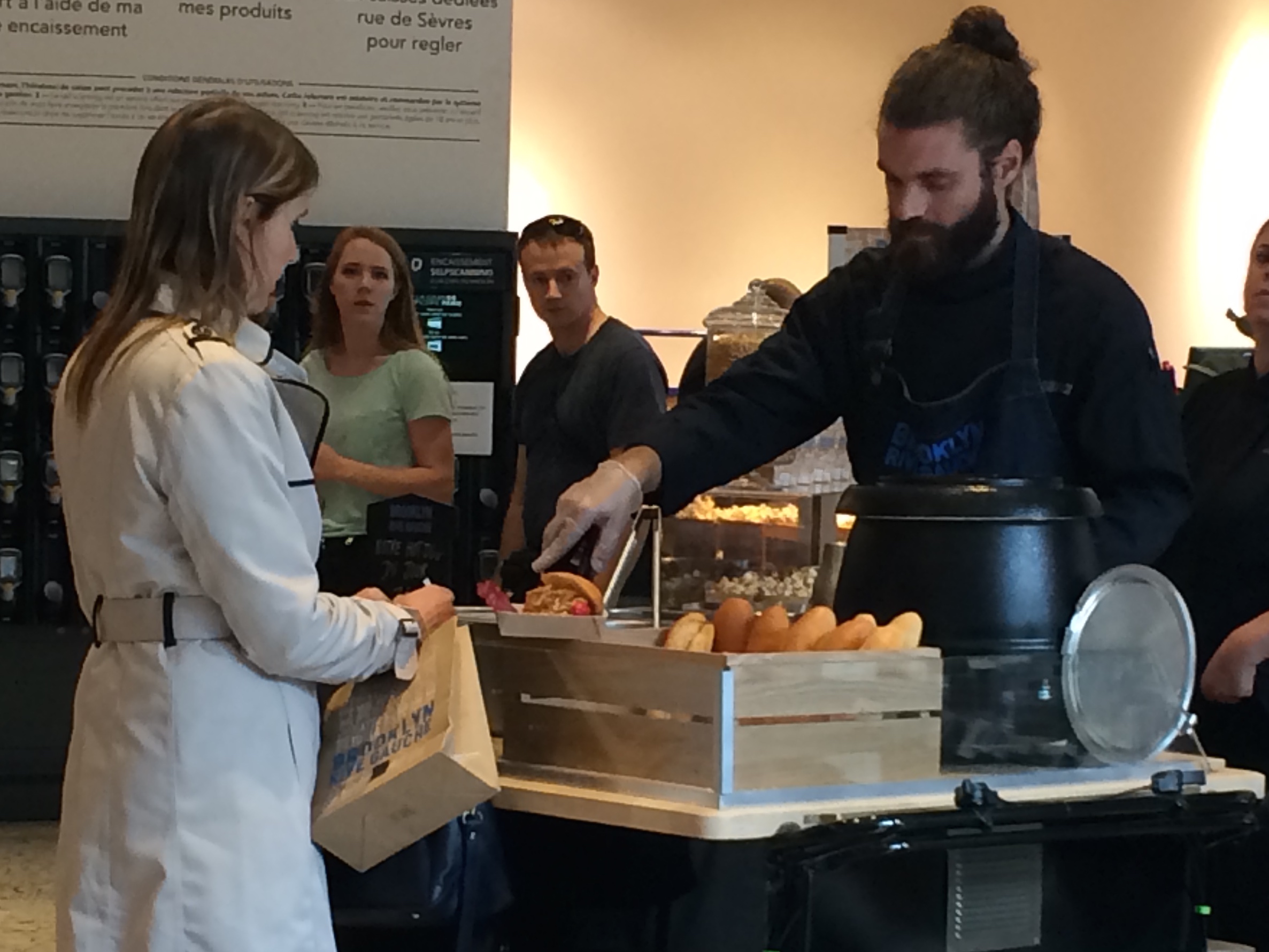 Others seem to have been transferred from other departments for the occasion. An older saleslady looks humiliated to be selling mason jars while costumed in flannel and skinny jeans.
It's great fun whenever LBM decides to highlight another culture (remember Brazil?) to note which products have been selected as iconic and to laugh about their luxury pricing. This expo is no exception. On the department store side, Brooklyn is most amusingly represented by the "beanie bar" selling woolen caps for 95€ and by a pop-up tattoo and beard trimming parlor.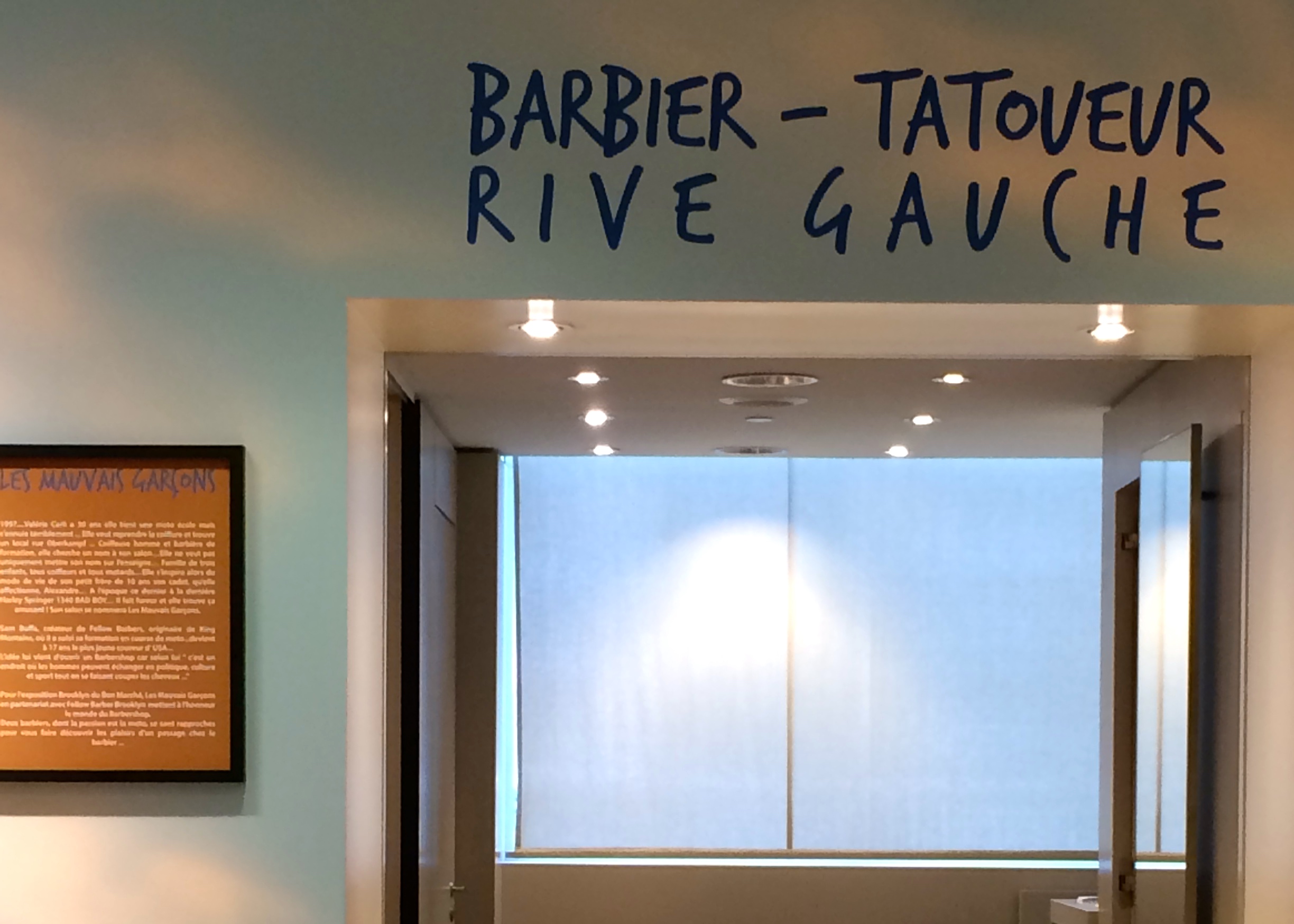 Over at Le Grand Epicerie, the thriving Brooklyn food scene is represented by a hot dog stand, a popcorn popper, and this lobster roll: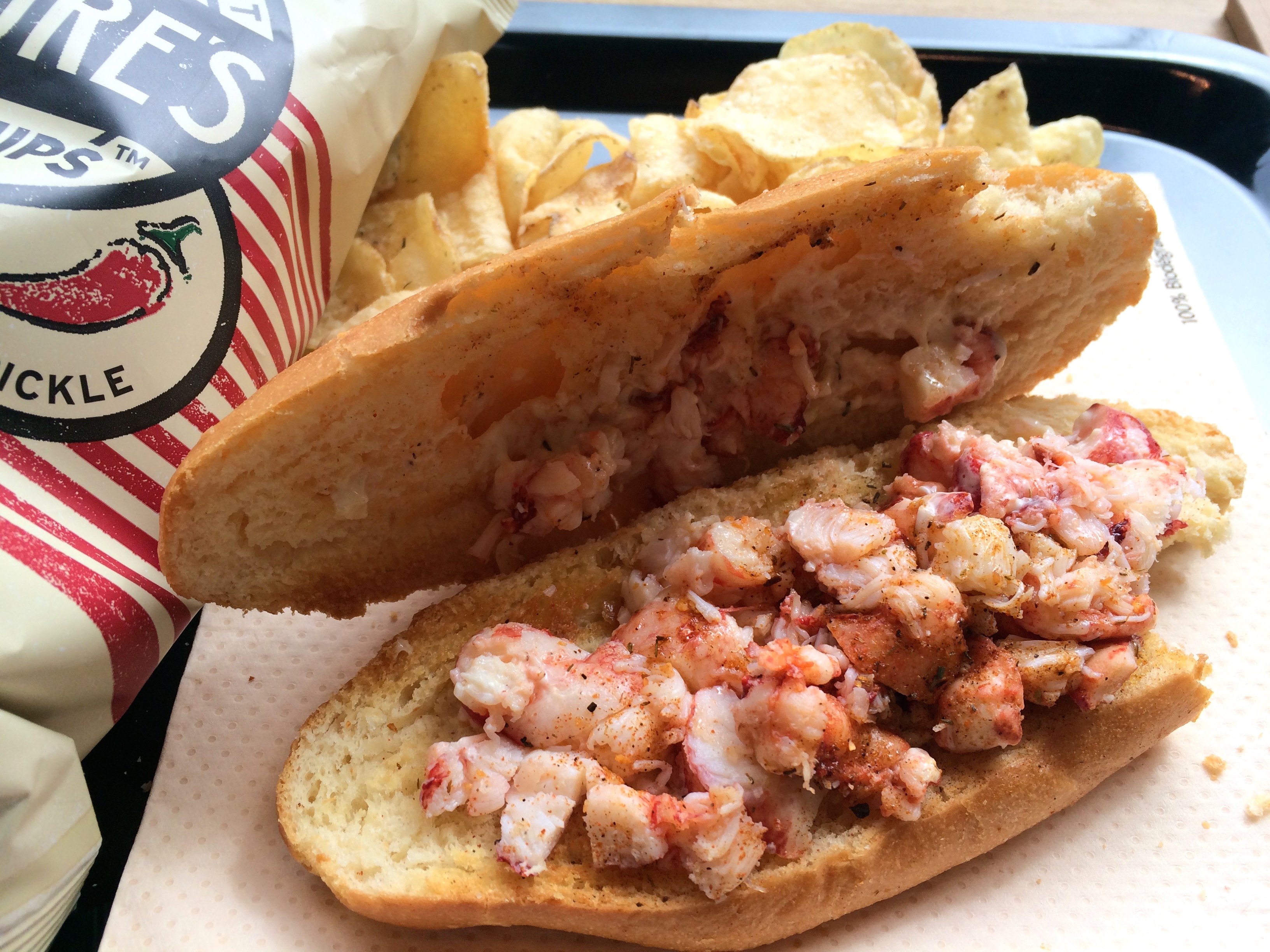 The sad attempt should come as no surprise inside a shop that has, for a decade, associated American food with Marshmallow Fluff.
The selection of vaguely American sandwiches and pastries at their "Brooklyn Bar" might be uninspiring, but curators at Le Grand Epicerie have managed to include a few wonderful products in spite of their published mission statement to highlight gluten free chocolate, granola and kale as the cult products of Williamsburg.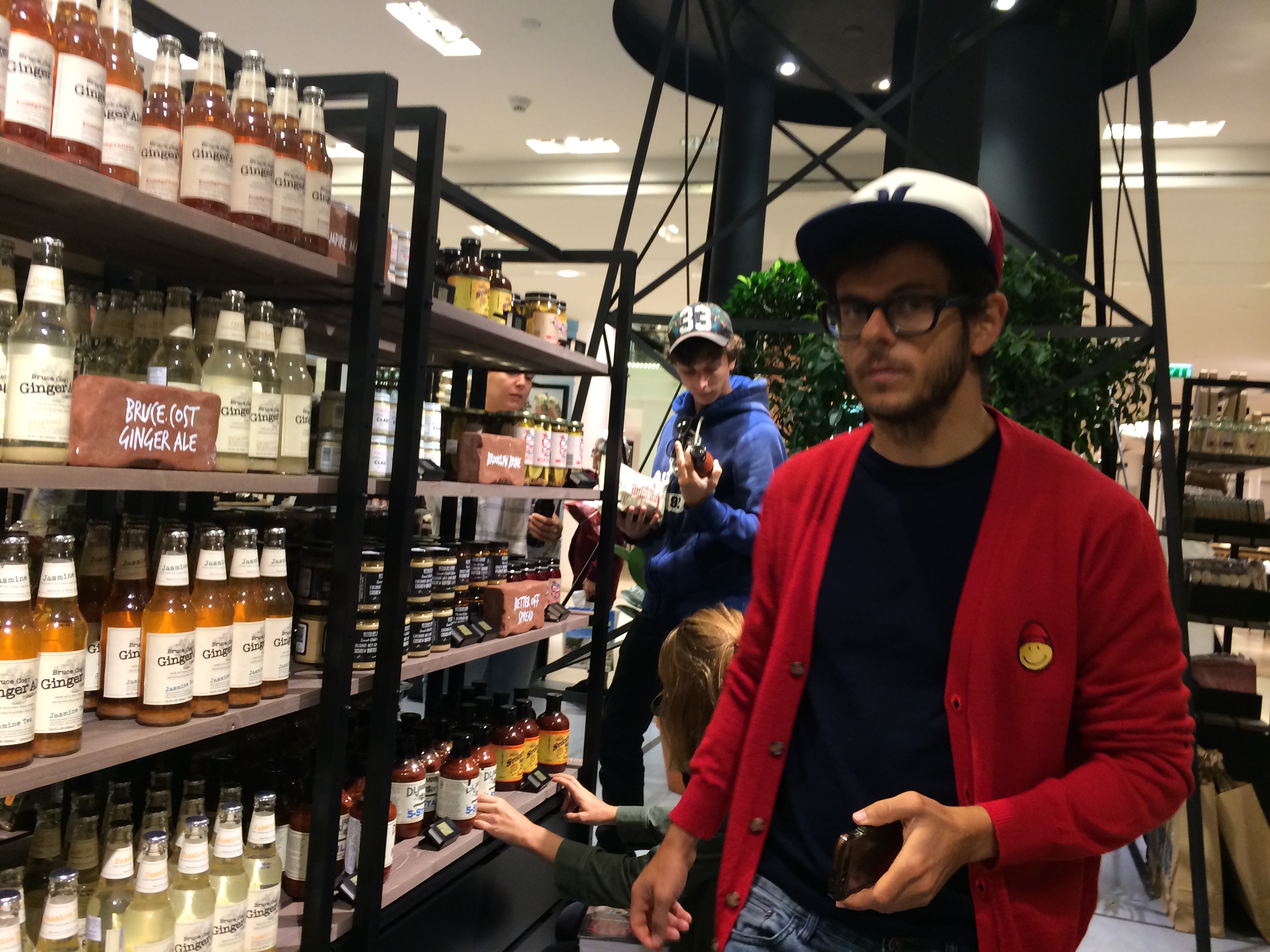 These high points include the Beer & Pretzel Caramels from Liddabit Sweets – malty, salty and just as soft as the hallowed caramels from Jacques Genin just a few blocks away. Bottles of preserved lemon or ginger syrup from Morris Kitchen are great for adding to sparkling water and cocktails. A jar of Spicy Peppery Peanut Butter is compelling not only because it comes from a company called Better Off Spread.
Like nearly every other product around the base of the water tower, the peanut butter is organic, vegan, and gluten free. It is a strange thing indeed to see these claims celebrated in Paris. "What exactly is vegan cheese?" asks a French shopper holding a package of flavored kale chips. I can tell her what, but I can't explain why. She places it in her cart anyway, eager to bring home a taste of Brooklyn.