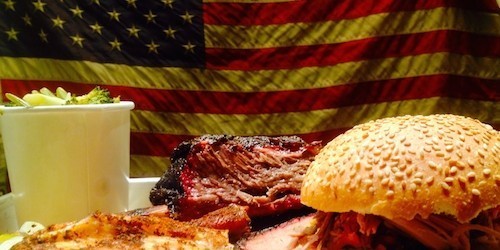 The Beast is Born: Texas BBQ in Paris
Last night in Paris, a Frenchman opened an authentic BBQ joint. His name is Thomas Abramowicz and his restaurant The Beast is the culmination of a year spent training and tracking down everything he would need (meat, wood, Bourbon) to open the first authentic smokehouse in Paris. 
He was born in this city, but a job in marketing brought him to New York where he had his first real taste of BBQ. The flavor was unlike anything he had experienced before, and he soon decided to trade his high salary and eighty hour work weeks for the sweaty job of Parisian pit boss.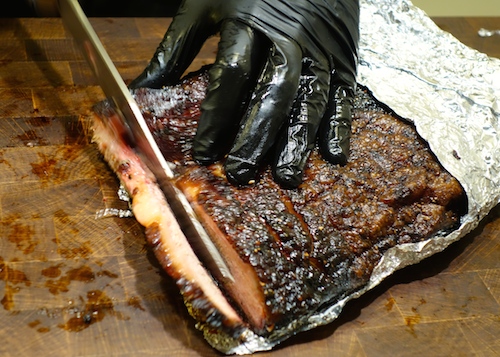 Going to Meat School
In November of last year, after securing investment but before signing a commercial lease, Abramowicz left New York for Texas. He rented a car and spent more than a month eating his way through twenty of the state's most serious BBQ joints. He also worked for Wayne Mueller, the third generation pit master of a restaurant opened by his grandfather Louis 60 years ago in "the middle of nowhere" Taylor (near Austin). Mueller trained him to make authentic central Texas style barbecue, which focuses on beef ("pork ribs, chicken and sausage are considered side dishes," says Abramowicz), smokes low and slow, and uses a dry rub of just salt and pepper. Sauce, if it's permitted at all, is served on the side.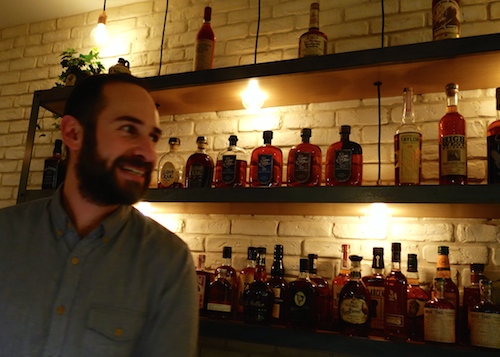 Advanced Studies in Bourbon
When his meat schooling was complete (he also worked on a BBQ food truck in Houston and consulted with the folks at Franklin's in Austin), he took off for Kentucky. "I'm a huge Bourbon fan and wanted The Beast to also be a serious Bourbon bar," says Abramowicz. He visited distilleries across the state in order to buy and bring back some of the +50 bottles that line the shelves today. He's especially proud of a 22 year-old Elijah Craig that can only be purchased at the distillery, but you'll also find 23 year-old Pappy Van Winkle's and bourbons made outside Kentucky, too. On my first visit, I tasted the earthy and unusual Balcones True Blue made in Texas from 100% blue corn. Abramowicz offers pours in both 2cl and 5cl sizes and recommends tasting his Bourbons with just few drops of water (no ice) after letting them rest and open up in the glass for 4-5 minutes.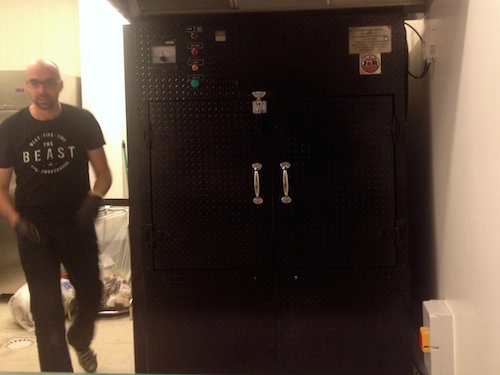 Tools of the Trade
Sourcing Bourbon was easy compared to the other components necessary to build his smokehouse. First and foremost, Abramowicz needed a smoker. "I had two options – I could choose tradition or I could choose ease and simplicity. There are gas smokers that use wood pellets where you just press a button and choose the internal temperature of the meat and come back 12 hours later. I couldn't imagine Mr. Mueller or Mr. Franklin validating this type of approach, so I had a traditional smoker built in Texas for me. It's a huge piece of equipment of six square meters and so we named it 'The Beast.' There's a tradition in Texas of naming your smoker when you open up a place." The Beast requires a steady diet of wood, and Abramowicz opted for French oak (his mentor Mueller uses American oak). He found a supplier in Burgundy who was willing to deliver wood twice a week for him and a few Paris bakeries who are still using wood burning ovens.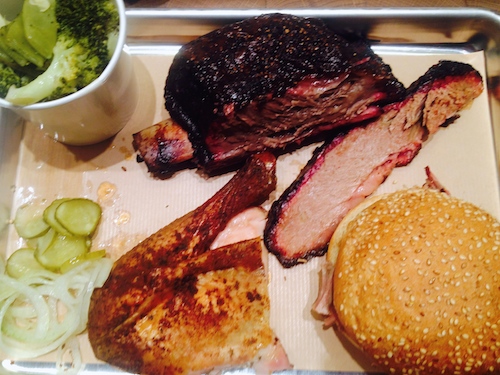 Sourcing the meat has also proven to be a challenge. "I find that French beef is too lean," says Abramowicz. "It's perfect for grilling but when you smoke low and slow for anywhere between 12-20 hours French beef just shrinks up and becomes dry because it doesn't have enough marbling." For now, he's importing Black Angus from the United States for his brisket and beef ribs, but he's been experimenting with different French breeds to see if anything more local might eventually be used. He's also sourcing the more expensive Label Rouge birds and pigs to make his smoked chicken, baby back ribs and pulled pork sandwiches. Prestige ingredients, expensive wood deliveries and a custom built smoker add up to prices that are a bit higher than you'd find in Lockwood, and for smaller portions.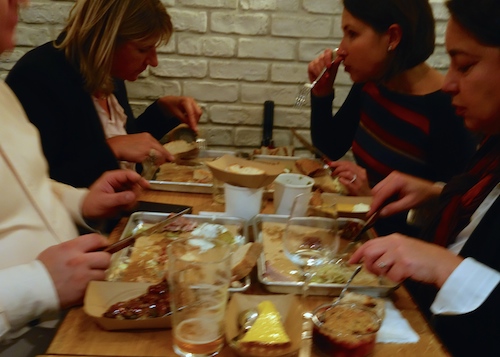 Adapting for a French Audience
More modest portion size is one accommodation that Abramowicz is making for his French audience. He's also offering a few fresh sides that might be out of place in Texas. I had steamed broccoli and snap peas (along with a more traditional vinegary cole slaw) on my first visit. He decided that heavy sides like mac & cheese and potato salad might be too heavy for his French clientele. "People here care a lot about what they're eating and how ingredients are sourced. I won't compromise on the meat because it's at the core of my concept, but I think the sides can be and deserve to be adapted a little to suit the French palate." The traditional counter service that one finds at many traditional BBQ joints has also been adapted. "We'll have people order at the counter so that they can see what they're ordering, but then we'll seat them and deliver the food to their table." They'll also offer plenty of red wine, with a focus on natural wines, along with a handful of craft beers.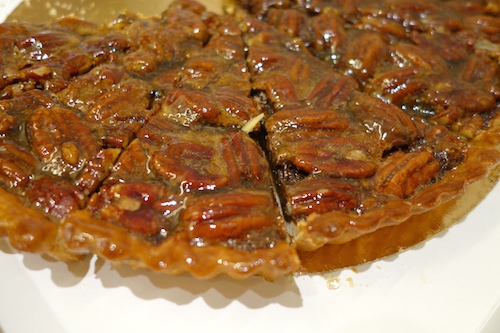 Overall, however, Abramowicz thinks his BBQ will be an easy sell among Parisians. "France is a big meat country. We already eat a ton of meat. It's not like I'm introducing a new product, it's just a new way to have it. I think I'm the right person to bring traditional BBQ to France. I was born in Paris but have worked in the States. I love New York and Texas and I think I understand both cultures. At the same time, Paris has really been opening up. We're ready now."
For practical information and trusted reviews, visit our guide page for The Beast.