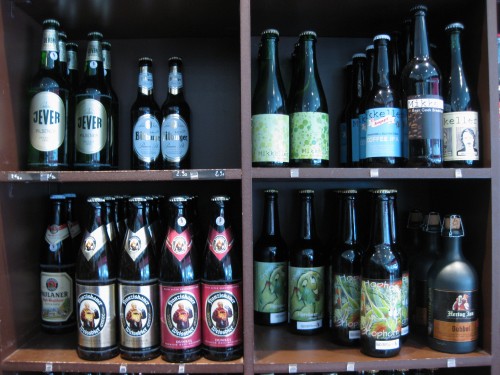 Address: 14 rue des Halles, 75001
Hours: Monday 4pm-9pm; Tuesday-Saturday 11am-9:30pm. Closed Sunday.
Telephone: 09 81 98 93 32
Website / Facebook / Instagram
This small chain of shops features selections from breweries all over the world, from Danish Mikkeller to Scottish Brew Dog to American Sierra Nevada. Service is friendly – jovial, even – they clearly take pride in their beers and really want to help you find something you'll like or introduce you to something new.  A small collection of appropriate glassware and a refrigerated case of chilled beers for immediate consumption complete the array.
---
Additional Locations
Address: 25, rue Legendre, 75017
Hours: Open Monday 4pm-8pm. Tuesday-Friday 11am-2:30pm and 4:30pm-8pm. Saturday 11am-8:30pm. Closed Sunday.
Telephone: 01 42 27 03 19
Address: 44 rue des Boulangers, 75005
Hours: Open Monday 4pm-8pm. Tuesday-Thursday 4pm-9:30pm. Friday-Saturday 11am-2:30pm, 4pm-9:30pm (11pm Friday). Closed Sunday.
Telephone: 09 51 27 04 84
---
In Other Words
Bières Cultes page on Beer Advocate