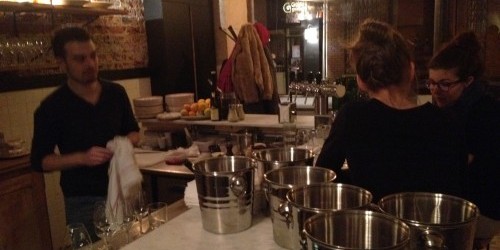 Bones restaurant to close in August
Bones announced yesterday on Facebook that they will be permanently closing their doors on August 7th.
According to Florent Ciccoli, one of the restaurant's owners, it was simply time for many of the key players to move on to different projects. Former sommelier Pierre Derrien had already departed to work at Le Baratin. Chef James Henry is rumored to be working on a project with his chef pals Shaun Kelly and Svante Forstop, to open a place where bread plays a major role. Ciccoli himself plans to return to the kitchen and open a casual cave à manger. He already has a location in mind, and it's a well-known place (one featured on our list of 50 favorite restaurants) that hasn't yet publicly announced that it will be closing.
The Bones space at 43 rue Godefroy Caviagnac near Voltaire already has a serious suitor but until the papers are signed, we can't say which young but established chef is planning to take it over.