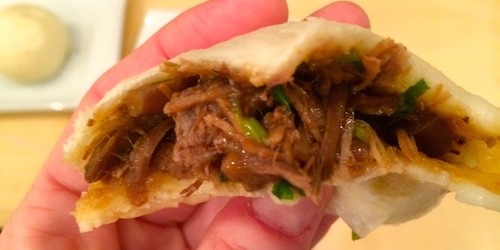 Address: 4, rue Sauval, 75001
Hours: Open Wednesday-Saturday 11:30am-10pm. Closed Sunday-Tuesday.
Telephone: +33 1 40 26 08 07
Website / Facebook
In late 2014, Yam'Tcha (the restaurant) moved and its former space converted into a tea salon and to-go window selling delicious steamed buns (bao). Adeline Grattard's Franco-Chinois take on les brioches vapeur includes fillings like Comté with sweet onion, Basque pork with Szechuan eggplant, shrimp with gauchoï, spicy shiitake & veg, and surprising bite of Stilton with Amarena cherry. Pick up a single bun for 3-4€ or get an assortment of 5 for 16€. They'll steam them on-site for you, or you can take them home and steam them yourselves in 3-5 minutes. They're also selling bottles of house-made XO sauce in three varieties, plus tea for drinking on site or making at home. 
---
In Other Words
Le Figaro (2015) "Bao porc de Bigorre effiloché et aubergines: régalante. Bao crevettes et ciboulette: conjuration gourmande entre croque et moelleux. Tchin Toï: une boule choco finaude dans l'esprit des boules coco vapeur."
Table à Découvert (2015) "Et le goût? La pâte a un léger goût de ferment, tout en étant assez discrète et contraste délicieusement avec ce qu'il y a dedans… Ici, il y a cinq bao différents, comté et oignons doux qui est suave et en même temps un peu acide de fromage, crevettes royales et gauchoï (une ciboulette d'Asie), qui contraste entre la douceur et le sucre de la crevette, sa fermeté et les herbes exotiques. Il y a aussi le stilton amarena, oui le fromage bleu anglais qui est fondu et garde toute sa férocité et la petite griotte italienne, marinée, sucrée (l'un de mes préférés)."