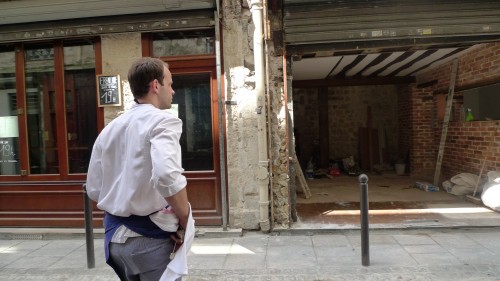 Frenchie Wine Bar to double in size
[portfolio_slideshow]
The rue du Nil, when Greg Marchand set up Frenchie restaurant, was nowheresville. Three years later, it's a scene. Lines form before 7pm outside Frenchie Bar à Vins, which Marchand opened across the street in June 2011. Some have arrived with the deluded hope that there might be a cancellation at the restaurant. Most are there for the wine bar itself, which serves small plates and charcuterie. They scribble their names on a clipboard waiting list, spill wine on the cobblestones, and bring life to what was previously a dark little street.
In a few days, Marchand will complete work on an expansion of Frenchie Bar à Vins. The wine bar will reopen in the rentrée (after closing from July 28-August 22) with twenty-two additional seats, two new chefs from Denmark and Sweden, and a much larger kitchen. The former prep area, where 100 plates per night were created in a space that was smaller than la toilette, will be re-purposed for cold wine storage and cured meats.
Beneath the surface, Marchand has doubled the size of the cave to permit better storage and increased wine sales. He's added another prep area, anticipating a future in which Frenchie Wine Bar might make produce in-house everything that's on the menu. That will certainly include the house-made pasta he plans to add to the wine bar menu.
With this expansion, it's clear that Marchand plans to stay in the Sentier and not relocate to a more central and larger location. He considered the latter, but says he loves the community that's growing up around the rue du Nil. In the not-so-distant-future, that community will include a retail space for Terroirs d'Avenir (7, rue du Nil), the distributors of pristine produce that supply Frenchie, Saturne (now closed), Au Passage, Verjus, and many other ingredient-driven restaurants.