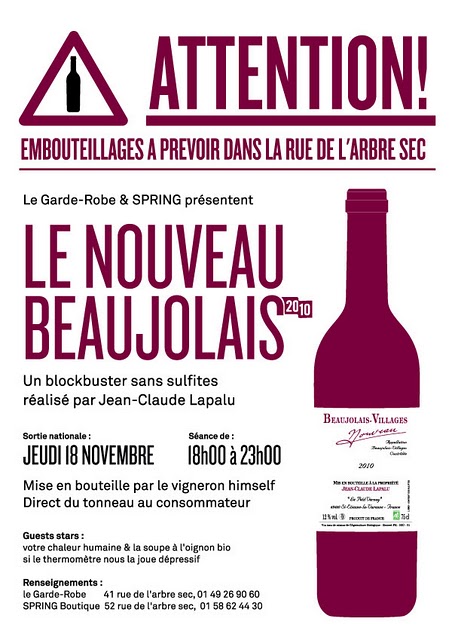 C'est (almost) arrivée: Beaujolais Nouveau to hit Paris on Thursday, November 18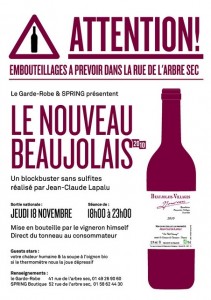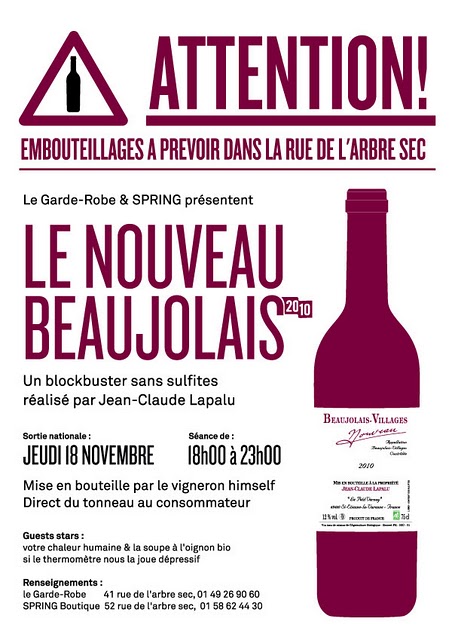 The annual festival of barely-fermented wine is almost upon us, so we've rounded up a few ideas to help you get your headache on.
Les Caves Augé

11am-7pm
Free dégustation of Vins Nouveaux direct from the barrel, "ni filtré, ni collé, ni sulfité…" Winemakers to include Mas de l'Anglore, Chassorney, Morentin, Foillard, Foulards Rouges.
Les Caves Augé – 116 boulevard Haussmann, 75008
Spring Boutique + Le Garde Robe
6pm-11pm
The wine bar and the wine shop have teamed up to throw what will undoubtedly be the best Beaujolais party in town. According to Spring, winemaker Jean-Claude Lapalu will be "coming from the Beaujolais with a barrel of zero sulfite gamay, a funnel, 25 cases of empty bottles, and a corking machine. We'll have the soup and the saucisson." Our advice: get there early if you want a taste of soup, buy your own bottle so that you don't wait in line at the bar, and be ready to dance in the street between the two locations.
Le Garde Robe – 41 rue l'Arbre Sec, 75001
Spring Boutique – 52 rue l'Arbre Sec, 75001
La Bonne Franquette
Special Beauj' Nouveau dinner
This restaurant in the middle of Montmartre tourist hell has been back on our radar ever since Alexander Lobrano gave it a glowing review in April. They've put together a dinner menu to celebrate Beaujolais Nouveau that will serve some of the region's best wines (Lapierre, Foillard, Chermette and Lapulu) along with some very old school French food (tête de porc, boudin noir, pied de porc…) for €49.
La Bonne Franquette, 2 rue des Saules, 75018
Tel. 01-42-52-02-42