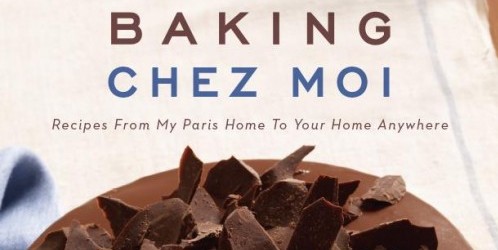 Dorie Greenspan Becomes America's Sweetheart (again)
Dorie Greenspan's long-awaited book about French comfort baking was released this week, and the culinary guru (who we're proud to call a contributing editor) hit the road for a book tour that would make authors half her age reach for their Red Bull. 
Baking Chez Moi: Recipes from My Paris Home to Your Home Anywhere
 is full of recipes that I can make. I have absolute confidence in this, because Dorie has selected them for their simplicity (these are the no-fuss, fully-delicious desserts that French people make at home), has tested them with a rigor that is very rarely found in contemporary cookbookery, and has included lengthy headnotes and tips to inspire, encourage, and even pardon the inevitable ingredient swap or omission.
If you live in the US and want to catch Dorie on her tour, here is the (reposted from her website) calendar of tour dates through early December. And for those who can't catch her in person, we've interspersed a few recent videos that feature our favorite culinary coach doing what she does best.
Custardy Apple Squares from Baking Chez Moi: The Video + Recipe

Spatulas in the Air! The Baking Chez Moi book tour
DATE
LOCATION
EVENT/VENUE
TICKETS
INFO
10.28.14
12:00pm
New York, NY
A conversation with Julia Moskin92nd Street Y
1395 Lexington Ave @ 92nd Street
Tickets
10.28.14
6:00pm
New York, NY
Demo and Book SigningWilliams Sonoma Columbus Circle
More Info
10.29.14
7:00pm
San Francisco, CA
Rakestraw Book and Author Dinner550 Hartz Avenue
Danville, CA 94526
More info
10.30.14
6:30pm
Larkspur, CA
Book Passage Book and Author DinnerLeft Bank Restaurant
507 Magnolia Ave
Larkspur, CA 94939
Tickets
10.31.14
12:00pm
San Francisco, CA
Talk and Book Signing
A Conversation with Emily LuchettiCommonwealth Club of California
595 Market Street
Tickets
11.1.14
10:00 – 11:30am
San Francisco, CA
Demo and Book SigningSur La Table
2224 Union Street
Tickets
11.1.14
3:00 – 4:00pm
San Francisco, CA
Talk and SigningOmnivore Books
3885 Cesar Chavez St
More info
11.2.14
12:00 – 2:00pm
Vancover, BC
Barbara-Jo's Books to Cooks Talk and Book Signing1740 West 2nd Avenue
More info
11.2.14
5:00 – 6:30pm
Vancover, BC
Barbara-Jo's Books to Cooks Talk and Book Signing1740 West 2nd Avenue
Sold Out
11.3.14
6:30pm
Seattle, WA
Talk and Book SigningBook Larder
4252 Fremont Ave N
More info
11.4.14
12:00pm
Seattle, WA
Tom Douglas' Hot Stove Society: Demo, Talk, Lunch, SigningHotel Andra
2000 4th Ave
Tickets
11.4.14
4:00 – 6:00pm
Seattle, WA
Watson Kennedy: Demo, Talk and Book Signing86 Pine Street
More info
11.5.14
6:30pm
Los Angeles, CA
Let's Get Cooking West Lake Culinary Institute
demo, talk and signing4643 Lakeview Canyon Road
Westlake Village, CA 91361
11.6.14
7:00pm
Pasadena, CA
Vroman's Books- talk and signing695 E Colorado Blvd
More info
11.7.14
6:30pm
Milwaukee, WI
Dinner and Signing
Bartolotta's Lake Park Bistro3133 E Newberry Blvd
Tickets
11.8.14
10:00 – 12:00pm
Chicago, IL
Culinary Historians of Chicago
talk and signing
Kendall College900 N Branch
More info
11.9.14
4:30 – 6;00pm
Chicago, IL
Talk and SigningThe Spice House
1512 North Wells Street
More info:
11.9.14
7:00pm
Chicago, IL
Middlewest Talks
champagne reception, A Conversation with David Tamarkin, and book signingFloriole Bakery
1220 W Webster Ave
More info
11.10.14
11:30 – 1:45pm
Highwood, IL
Lake Forest Books luncheonFroggy's French Bistro Restaurant
306 Green Bay Road
Tickets
11.10.14
7:00pm
Naperville, IL
Talk and SigningAnderson's Bookshop
123 W Jefferson Ave
More info
11.11.14
10:00 – 2:00pm
Chicago, IL
Books & Brunch- Assistance League of Chicago
The Abbington in Glen Ellyn
Tickets
11.13.14
6:30pm
Simsbury, CT
Dinner and SigningMetro Bis Restaurant at The Simsbury 1820 House
731 Hopmeadow Street
More info
11.14.14
7:00pm
Madison, CT
Talk and SigningRJ Julia at the Madison Beach Hotel
94 W Wharf Road
Tickets
11.15.14
2:00pm
New Haven, CT
Talk, Demo and SigningBarnes and Noble College Store @ Yale University
77 Broadway
More info
11.18.14
7:00pm
Boston, MA
Talk and SigningWellesley Books
82 Central Street
Tickets
11.19.14
12:00pm
Boston, MA
Northeastern University
Chartwells Xhibition Kitchen
10 Forsyth Street
More info
11.19.14
7:00pm
Cambridge, MA
Talk and SigningHarvard Bookstore
1256 Mass Ave
More info
11.20.14
Washington, D.C
6th and I Historic Synagogue
Interviewer: Sally Swift
600 I Street, NW
Tickets
11.21.14
6:45pm
Washington, D.C
Smithosonian Associates
Interviewer: Joe Yonan
Evening seminar and signingRasmuson Theater at the National Museum of the American Indian
4th Street and Independence Ave NW
Tickets
11.22.14
11:30 – 2:00pm
Washington, D.C
Brunch and SigningNational Press Club Book & Author Brunch
The Fourth Estate Restaurant
529 14th St NW
Tickets
11.22.14
3:00pm
Bethesda, MD
Talk and SigningBarnes and Noble/Bethesda
4801 Bethesda Ave
More info
12.1.14
7:00pm
New York, NY
Panel with Betsy Andrews, CarlaHall, and Alex GuarnaschelliBarnes and Noble, Upper West Side
2289 Broadway
More info
12.2.147:00pm
Princeton, NJ
Princeton Public Library Girl's Night Out
65 Witherspoon Street
More info
12.3.14
Stamford, CT
Talk and SigningBarrett Bookstore
Held at Deane, Inc.
1267 East Main Street
More info
12.7.14
9:30am
Chester, CT<
Talk and Signing
Books and Bagels seriesCongregation Beth Shalom
55 East Kings Highway 06412
More info
12.7.14
2:00pm
Old Lyme, CT
Talk and SigningFlorence Griswold Museum
96 Lyme Street
Recent appearances by Dorie Greenspan
Dorie Greenspan serves up chicken in pot on CBS' THE Dish

Making Double-Strawberry and Rose Shortcakes