Eat the Stars. Be the Star.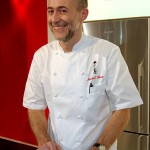 A London-based production company is looking for diners to take part in a new television show fronted by Michel Roux Junior, who will be bringing seven trainees over from London to see how they cope with the formal dining service at the Michelin 2* restaurant Lasserre. Are you free for lunch on Tuesday June 15 at 13:00?
Participants must speak some French (to understand the menu and servers) and enough English to be able to share their opinions on camera. They must also be willing to pay €40 per head for a set 3-course lunch, excluding drinks. The normal lunch menu at Lasserre is €75.
If you're ready for your close up, contact Mel Walden (mel.walden@ricochet.co.uk) and be sure to say that you learned about the experience through Paris by Mouth.
Trusted Reviews of Lasserre
"Lasserre is a historical monument of a restaurant… and it still is today a solid institution, who not only keeps its standing but also has loyal regular clients. From the moment you step in, you know they take French art de vivre seriously in here." – Julot: Ze Blog
"Once I entered the restaurant, from my warm reception from the doorman before being whisked up in the little elevator to my friendly goodbye from the same gentleman, it was a surreal experience. But a nice one. I was in another world. One of pastel pinks and coral colours, silver peacocks, gilded crystal cups, duck à l'orange, dancing figures, live piano music and roofs that opened. It was not like any restaurant I had ever eaten in and possibly never will again." – Food Snob