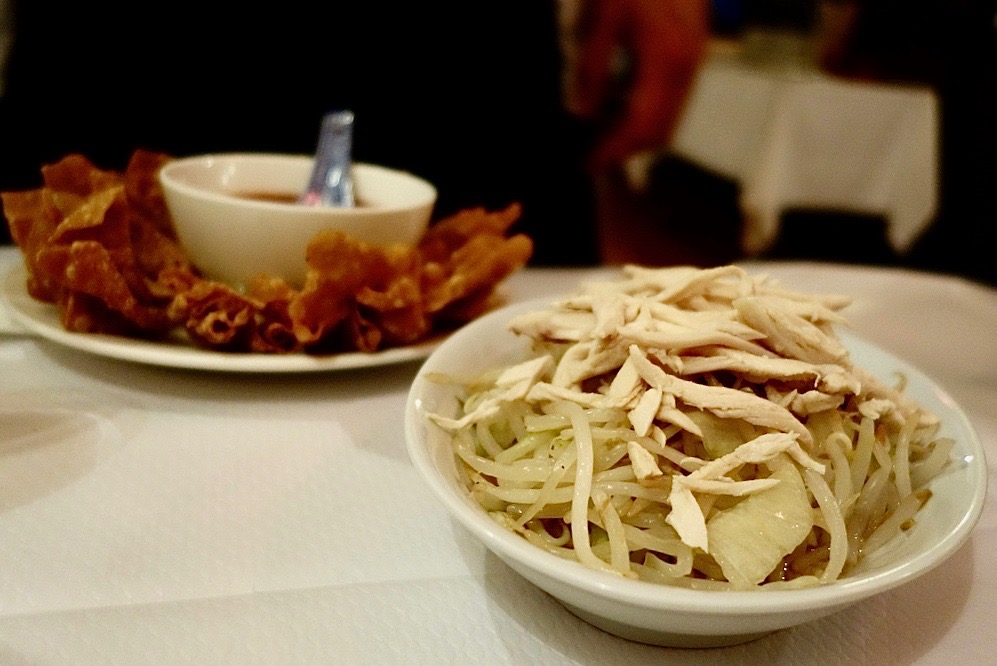 Address: 5 Rue Royer-Collard, 75005
Hours: Open every day for lunch and dinner
Telephone: +33 1 43 26 80 49

The best way to understand the underground appeal of Empire Celeste is by comparing it to another well-known Parisian Chinese restaurant, Davé. Offering run-of-the-mill Chinese cuisine in a cramped, kitchy red interior, Davé is notoriously popular with the fashion set. Its walls are festooned with images of the proprietor arm-in-arm with Yves Saint-Laurent, Mick Jagger, and Kim Kardashian. Empire Celeste, run by three generations of the Wang family since the restaurant's founding in 1953, is the Davé of another peculiar subculture: the natural wine crowd.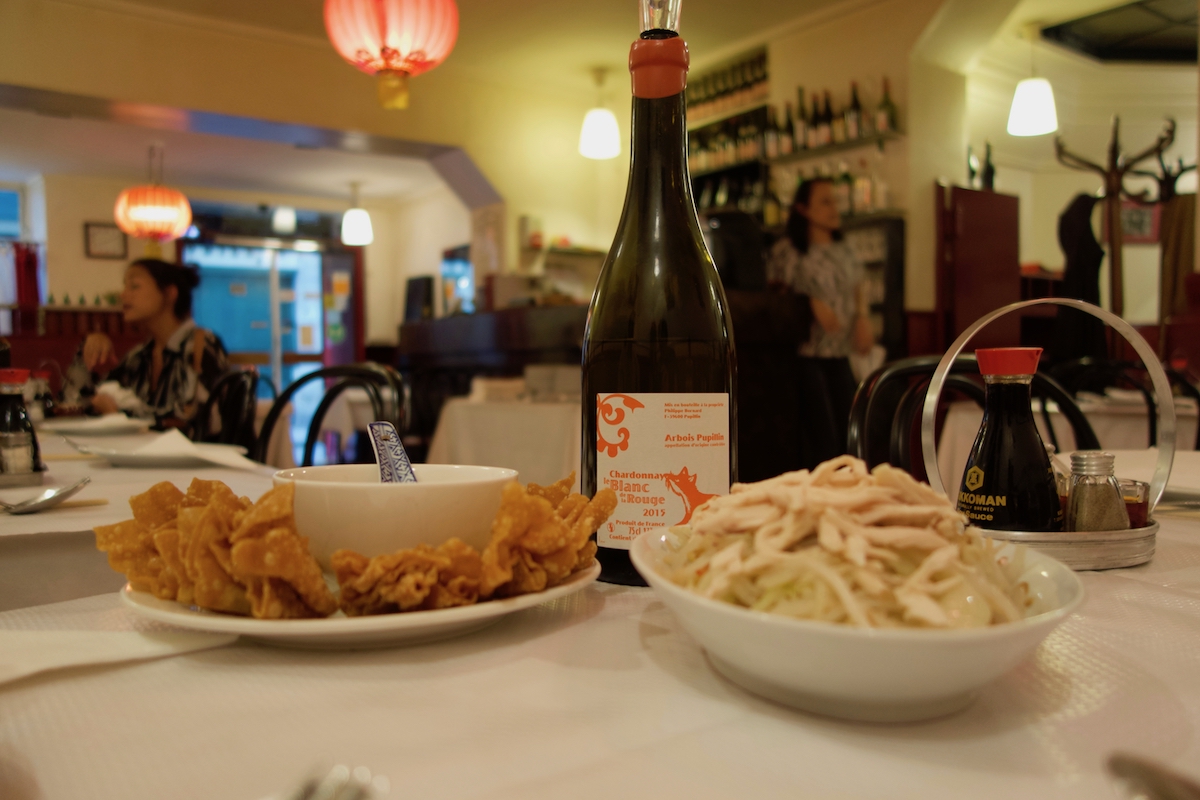 Lucie Wang, who manages her father's restaurant along with her sister Catherine, has served exclusively natural wine at the restaurant for over a decade, and counts as friends many of the pioneers of the movement: Thierry Puzelat, Dominique Hauvette, Michèle Aubry. Instead of framed selfies with stars, her restaurant boasts, above its service bar, a supreme collection of ultra-rare bottles from the legendary Jura winemaker Pierre Overnoy.
Don't visit Empire Celeste in the hope of scoring those Overnoy bottles. (They are not on the list; Wang reserves them for winemaker friends.) Do visit Empire Celeste to enjoy the rest of the concise, well-priced wine list, which includes similarly hard-to-find gems from Hervé Souhaut and others.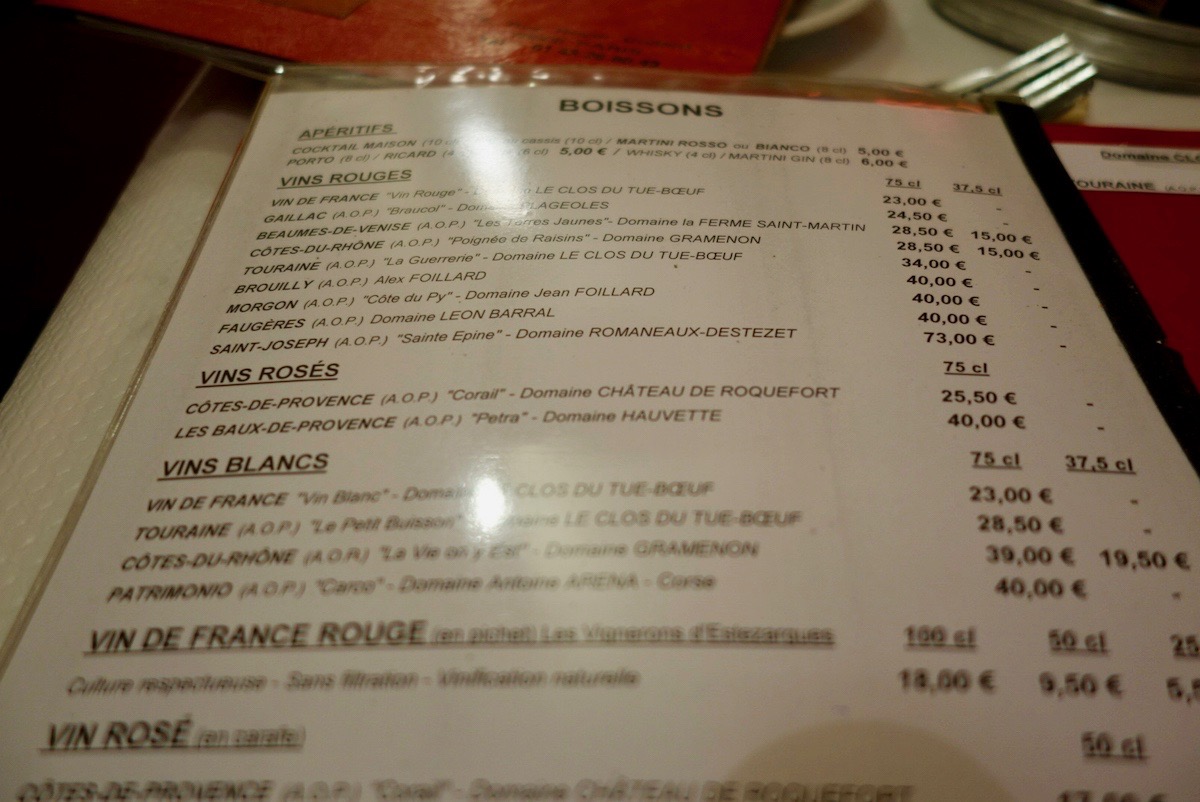 Empire Celeste's menu, which doesn't appear to have changed much over the decades, is best appreciated as a cultural relic of sorts: the type of elementary Chinese cuisine that appealed to bourgeois mid-century Parisians: chicken tenders swimming in lemon sauce, shrimp with lugubrious bean curd, fried rice and crispy fried pork wontons. Sauces, throughout, are cloyingly sweet. In practical terms, one does well to stick to soups and dumplings.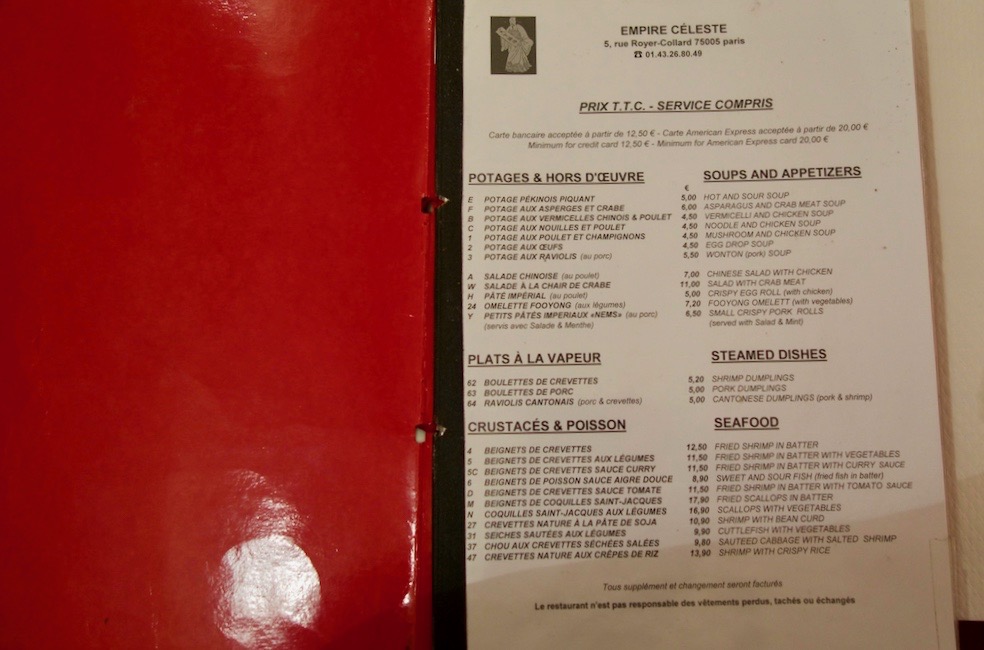 Most diners will sometimes choose restaurants on the basis of excellent food, without giving a thought to wine quality. Empire Celeste maintains its curious caché because wine geeks are prone to do the opposite.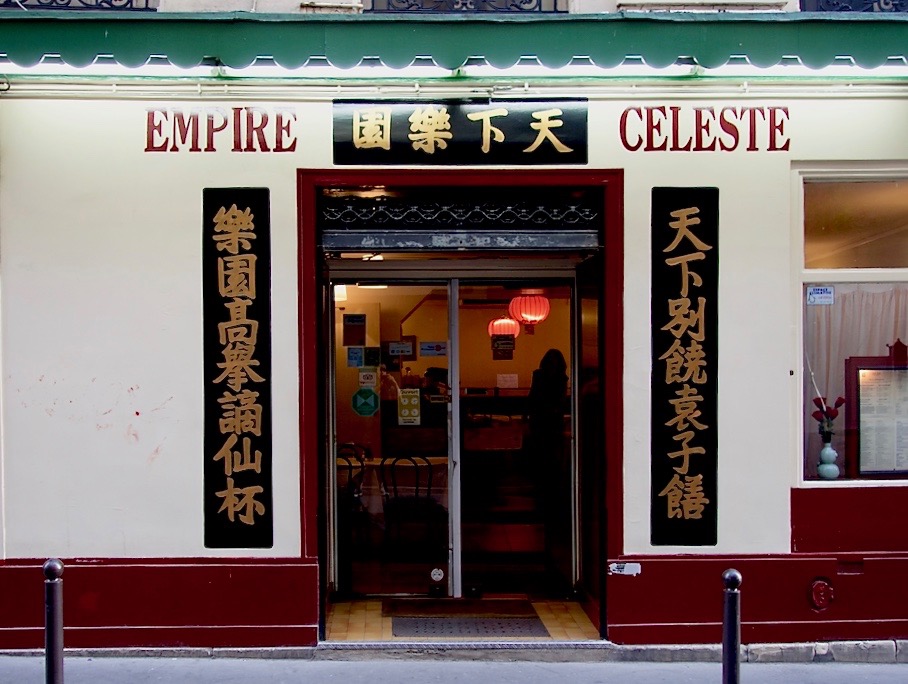 ---
Empire Celeste in Pictures
Spicy sliced beef

Fried rice

Shrimp with black beans

Lemon chicken
---
In Other Words
Radio France Internationale (2017) cites Empire Celeste as the "the oldest Chinese restaurant in Paris – the oldest maintained by the same family, at least."
Air France (2017) says the menu at Empire Celeste is "rich and varied," and recommends the sautéed squid with vegetables.