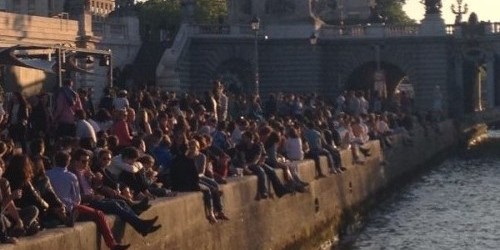 Fête de la Musique Food Events
It's Fête de la Musique tonight! While the all-night free music festival might technically be about the tunes, there are some great bars, restaurants and shops that are putting on concerts and serving specials to celebrate.
75003
Candelaria – Make your palate sing with special dishes from guest chef and former Top Chef contestant Abraham de la Rosa. From 6pm onwards.
Josephine Vannier – There will be milkshakes, muffins and a cover band at this chocolate shop. From 5-11pm.
75004
Pozzetto Gelato – It's the gelateria's 10th birthday and they're celebrating with a dance party, icy treats, and an attempt to make the world's longest "caterpillar." From 6:30pm-12:30am.
75005
Centre Culturel Irlandais – Entry is free into the spacious courtyard where Irish musicians will be performing and The Green Goose will cater. From 5-10pm.
75009
Flesh – There will be BBQ sandwiches, Merguez sausages and live acoustic music from a few neighborhood locals from 7-11:30pm.
75011
Au Passage – Celebrate the restaurant's birthday and Fête de la Musique with Texas BBQ, green tomatoes, beignets,  gin & tonics from Martin, and a DJ. From 8pm onwards.
The Green Goose – Scotch eggs, Irish beer, and other Gaelic goodies including a concert from La Tartine starting at 9pm at this excellent pub.
Café Chilango – Tacos, tequila, margaritas, horchata, and a handful of different performers. From 2pm-2am.
75016
Mona Bismarck Center – Bring your own picnic and listen to live jazz in the lovely garden of this American art center. From 5-10pm.