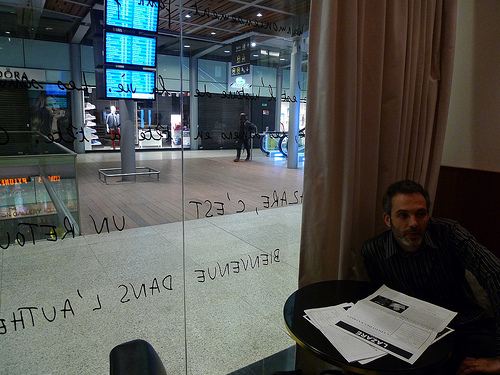 Lazare was the biggest opening of the rentrée 2013 – a splashy restaurant from a three-star chef inside the Gare Saint-Lazare. Eric Fréchon, who has been branching out from his home base of L'Epicure (formerly Le Bristol) ever since he opened Le Mini Palais in 2010, was purportedly serving Normandy-inflected comfort food to travelers en route to that region or arriving from the other side of Paris. Reviews had been ecstatic, praising the menu as "glorieusement française," (Gaudry), noting the "friendly, professional service" (Moore) and celebrating the casual openness of the place (Rubin).
In nine years of dining in Paris and writing about its restaurants, this was the worst service I have ever experienced. It was shockingly, almost comically bad. So terrible, in fact, that I have decided to overcome my reluctance to ever report on the service shortcomings of a restaurant. The tendency among readers (including me) is to assume that anyone offended by service doesn't know how to behave. So let me be clear: I booked for dinner two weeks in advance and called to confirm my reservation on the day of our dinner. I was wearing a dress, my guest was wearing a suit. We speak French and know what to expect from French-style service. The restaurant had been open for more than a month.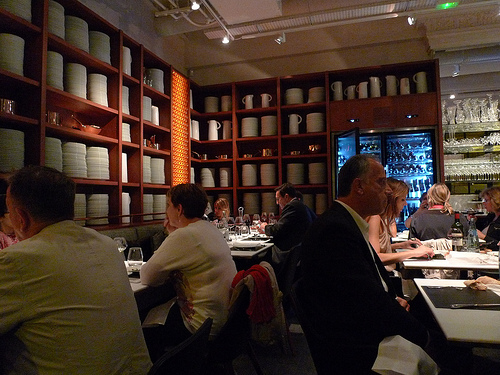 The beautiful main dining room at Lazare
When I arrived at Lazare, I was immediately struck by the high-ceilinged dining room from Karine Lewkowicz with its soft lighting and built-in shelves of decorative dishware. This appreciation made what followed all the more depressing: we were seated in a dark annex at a tiny café table looking out into the night-time corridor (weary commuters, drunks) of the subway station. Because I spend hours every day in the Métro and don't wish to dine there, I gently asked our hostess if we might be seated in the main room which had at least ten open tables. She told me curtly that they were all booked. I asked if they were booked by people who had specifically reserved the main room and she said no. I pressed on, still smiling, and asked if we couldn't take one of those open tables since we, too, had reserved, and were actually here in the restaurant, and were very interested in sitting there. She took a step back and gave me an exaggerated up-and-down look, performing her role of bitchy gatekeeper to perfection. "Wait here," she sighed, and so we sat. After twenty minutes spent in the dark corner without anyone returning to offer news or take a drink order, I returned to the hostess station. "Oui madame, I have not forgotten about you," she said, and literally waved her hand to dismiss me. After another 20 minutes (40 minutes in total) she returned and begrudgingly offered a table in the main dining room.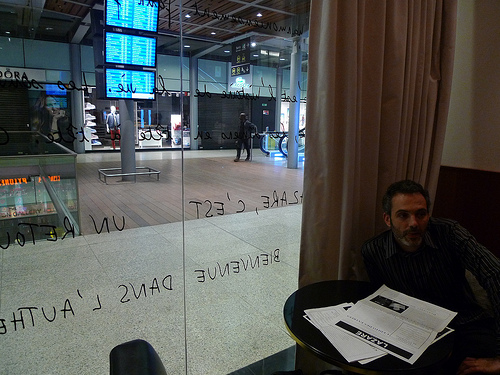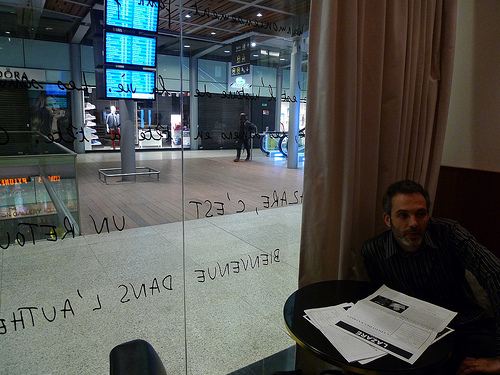 The annex, with child-sized tables bathed in neon light
As ridiculous as this opening act had been, all was forgiven when we were seated at a big boy table in the main room. Menus arrived immediately and we were prepared to have a great time. We selected our dishes and waited for another twenty minutes, trying in the meantime to flag someone down for a wine list. "J'arrive! J'arrive!" When our server Sébastien did arrive, he took our order but sighed dramatically when we asked for the wine list. Slapped it on the table. I quickly chose a bottle and he returned twenty minutes later to say they didn't have it. I asked if I could see the list again. Instead, to save time, he told me the name of a bottle that I should order. "Chardonnay," he added (gee, thanks). I asked if I could please see the list. He stood bouncing up and down at my side and tapping his foot while I took twenty seconds to select another bottle of white. It arrived shortly after, unchilled. He poured two warm glasses and put the bottle in an ice bucket, not commenting or apologizing in any way. At this point, we had been inside Lazare for almost an hour and half and the first drop to pass our lips was warm Pouilly Fumé.
Again, please let me assure you, I am not an asshole. I have seen diners behave atrociously in restaurants and have giggled when their servers have responded with disdain. That's not what was happening at Lazare. What was happening is that they did not deem us to be important. Lazare is not an open and friendly haven for travelers or gastronomes. It is a club masquerading as a restaurant, employing the sort of velvet rope snobbery that one expects to find at Le Montana or a Costes establishment. Certain tables at Lazare, those helmed by 60 year-old PDGs and their 22 year-old Louboutin hooved escorts, received lavish attention. We and the elderly couple who were penned in to our right (we actually had to stand and move in order for them to be served), were consistently degraded.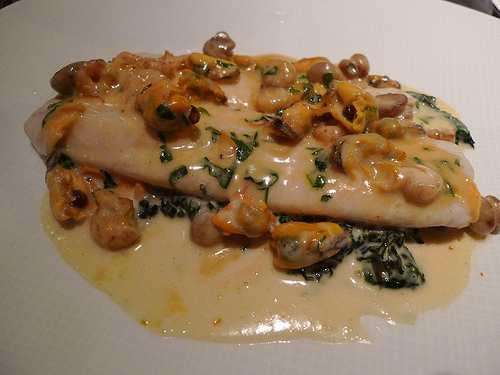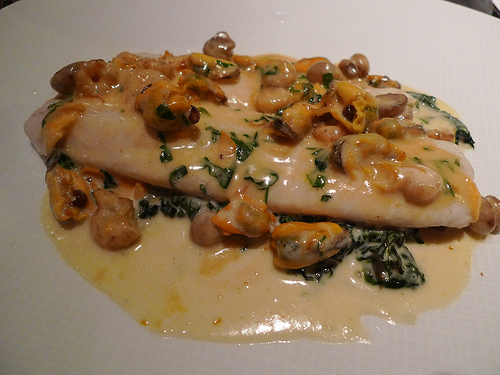 Filets de sole Dieppoise, sauté d'épinards à cru
So what about the food? Apart from some minor notes (the céleri rémoulade lacked any bite), I was absolutely delighted. The filets de sole Dieppoise was one of the best things I've eaten all year. The bitterness of the spinach married beautifully with the sweetness of cream and tiny shrimp and I didn't want the dish to end. Amid all of the naked naturaliste cooking of the moment, I'm thrilled to find this quality of traditional French cooking on any menu. For dessert, the sautéed mirabelles with verveine were both seasonal and original.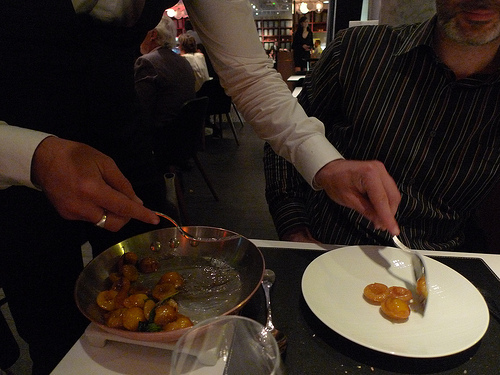 Dessert: poêlée de mirabelles à la verveine (mirabelles with verbeena)
The evening as a whole, however, was shameful. There is nothing Eric Fréchon's kitchen could have produced which could have salvaged the experience. In the weeks that followed our night at Lazare, I've heard similar reports about the service (particularly the dark-haired hostess) from other friends, all of whom know how to behave in restaurants. I have no doubt that if I had booked under my own name, reserved through their press office, or told them I write for the Wall Street Journal, my experience would have been different. And that's precisely why we pay for every meal and dine inconspicuously – so that we know how the average diner might be treated. At Lazare, we are treated like dirt.
Would I Go Back? Obviously, no. If I want traditional French cooking in a polished setting, I'll go to Terroir Parisien, which is opening a second annex at the Palais Brongniart next week.
A Few More Details: There is no formule at Lazare and lunch and dinner are priced equally. Entrées range from 7€ (soup) to 26€ (pot-au-feu de foie gras aux lentilles). Mains range from 16€ (moules de bouchot) to 39€ (entrecôte de veau). A different plat du jour is offered every day for 16€ and was sold out on the night of our visit (foie de veau rôti au vieux vinaigre). Our dinner for two, including a starter, main and dessert for each person, plus a bottle of Perrier and a 42€ bottle Pouilly Fumé came to 146€.
For breakfast most drinks are priced at 6€ and a croissant or pain chocolat is 3.50€.
On Sunday, Lazare offers a "Déjeuner de Grand-Mère" for 38€ where you'll be welcomed "comme chez mamie." The success of this may require putting someone else at the door and giving their usual bitch-face hostess the day off.
For additional details, including address & hours see our guide page to Lazare restaurant.
A Few More Photos: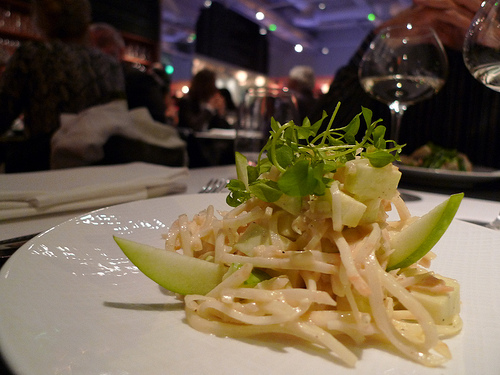 Céleri rémoulade à la pomme verte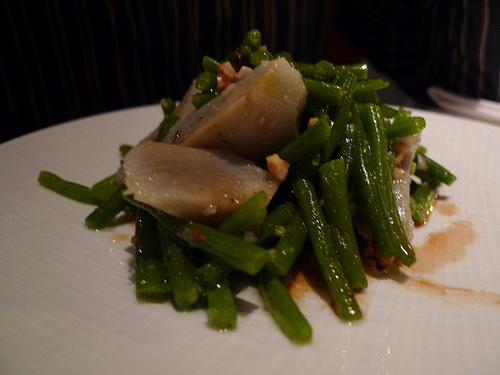 Salade de haricots verts, artichauts à l'huile de noisette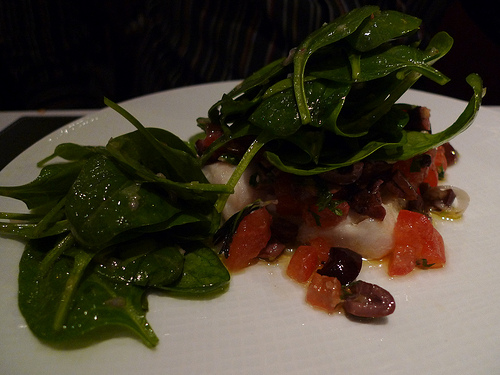 Cabillaud rôti, sauce vierge, salade de tétragone mi-cuite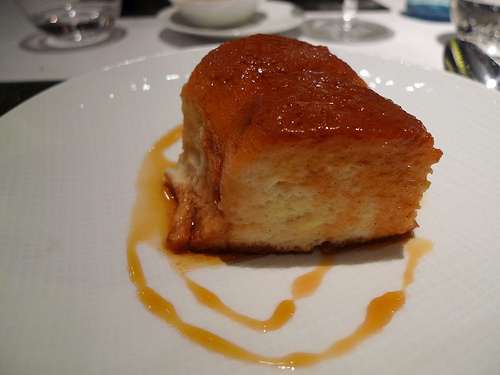 Dessert: the Paris-Deauville