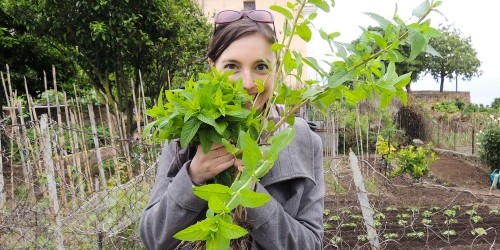 A French Food Writer Goes Flexitarian
Many of our readers would struggle to name an iconic French dish that isn't based on (or mightily improved by) something that came from an animal. But according to our Contributing Editor Clotilde Dusoulier, who just released a new cookbook celebrating the bounty of our local markets, an important shift is taking place in France. 
My Life As a Flexitarian
Ever since my interest in cooking and eating bloomed in my early twenties, vegetables have been my primary motivation. Creating a meal has always started with deciding which seasonal greens or roots or stalks I wanted to feature, and my restaurant choices have long been influenced by the question, "What's this served with?"
This personal inclination meant that I ate mostly vegetarian dishes when I was home alone, but I did incorporate meat or fish into the meals I shared with my boyfriend, out of cultural habit and the vague notion that men need their animal protein.
Fast-forward to five years ago, when both he and I started reading more and more about the environmental and ethical consequences of the foods we choose to buy and eat: our discussions naturally led us to decide that from then on, we would be eating much less meat, fish, and dairy.
These five years have given me plenty of opportunities to explore the world of vegetarian cooking, and I'm happy to report I feel considerably richer for it: I've experimented with ingredients and techniques I might have otherwise overlooked, and have built a strong repertoire of satisfying, high-flavored, meatless dishes, many of which I share in my upcoming cookbook.
I haven't actually become a vegetarian: I do enjoy eating meat and fish on occasion, and my job description includes trying a great variety of new restaurants and types of cuisines. I've simply shifted heavily toward a plant-based diet. Call it flexitarian.
And when I do consume meat or fish, at home or at restaurants, I do my best to ensure it is raised or fished responsibly, which means asking a lot of questions – not the easiest thing to do in France, where food professionals easily get defensive – and making the most informed choices I can.
But I'm happy to report that in recent years, the Paris dining and food shopping scene has become increasingly veg-friendly, with hip new restaurants popping up all around the city, and natural food stores that are no longer the dusty granola kind.
5 favorite veg-friendly restaurants
Bob's Kitchen – 

A popular vegetarian

cantine

where I worked a brief stint a couple of years ago. I love their maki and the daily "veggie stew", a vegan meal-in-a-bowl. 

74 Rue Des Gravilliers ,75003 Paris, 09 52 55 11 66, M° Arts-et-Métiers. Lunch Mon-Sun.
Café Pinson – 

The décor at this café seems right out of a Pinterest mood board, and the food offerings are fresh and colorful, vegetarian and (mostly) gluten-free. 

6 rue du Forez, 75003 Paris, 09 83 82 53 53, M° Filles-du-Calvaire. Lunch Mon-Sat, dinner Thu-Sat, brunch Sun.
Rose Bakery – 

Rose Bakery is the mother of all Anglo cafés in Paris, and I love their assortment of filling salads, which I often want to run home and reproduce. They also serve a remarkably flavorful marinated tofu. 

46 rue des Martyrs, 75009 Paris, 01 42 82 12 80, M° Anvers. Lunch Tue-Sun. (Three more locations in Paris.)
Soya – 

This beautiful, loft-like restaurant serves super-fresh vegetarian dishes of international inspiration, including a

grand mezze

, a plate that's loaded with various dips and marinated vegetables. 

20 rue de la Pierre Levée, 75011 Paris, 01 48 05 13 00, M° Goncourt. Lunch and dinner Mon-Fri, brunch and dinner Sat, brunch Sun. 
Soul Kitchen – At this bright and welcoming little place at the back of the Montmartre hill, the daily veg-heavy dishes always include an all-vegetarian option. 33 rue Lamarck, 75018 Paris, 01 71 37 99 95, M° Lamarck-Caulaincourt. Lunch Tue-Sun.
5 veg-friendly stores
Pousse-Pousse – 

This tiny shop specializes in sprouted seeds and raw foods. You can also take cooking classes there, and they have a few tables where you can sit down and have lunch. 

7 rue Notre-Dame-de-Lorette, 75009 Paris, 01 53 16 10 81, M° Notre-Dame-de-Lorette. Tue-Sat. 
Sol Semilla – 

If you're interested in learning more about superfoods – maca, spirulina, lucuma, chlorella, and the like – this is the place to go. I like it as a source of hard-to-find ingredients, such as raw cacao butter and cacao nibs. They also serve juices and a vegetarian lunch. 

23 rue des Vinaigriers, 75010 Paris, 01 42 01 03 44, M° Jacques-Bonsergent. Mon-Sun. 
Marché des Batignolles –

At this all-organic greenmarket, many of the vendors are actually growers, as opposed to retailers in most other Paris markets. It's a great place to fill your basket with quirky vegetables and herbs not available at your average market. 

Boulevard des Batignolles, Sat morning.
Bio C' Bon – 

This is my neighborhood organic store, part of a fairly recent chain that competes with Naturalia, Biocoop, etc. The produce selection is pretty good, they have excellent bread, and the staff is very friendly. 

9 place Pigalle, 75009 Paris (plus a dozen more locations in Paris), 01 40 16 95 73, M° Pigalle. Mon-Sun.  
Les Nouveaux Robinson – 

Les Nouveaux Robinson is an organic and eco-friendly coop that was created in Montreuil, just outside of Paris, twenty years ago. They've expanded quite a bit since then, and have now opened this

intra muros

location. 

78 boulevard Saint Michel, 75006 Paris, 09 77 74 54 86, RER Luxembourg. Mon-Sun. 
For more from Clotilde Dusoulier, visit the blog Chocolate & Zucchini and check out The French Market Cookbook