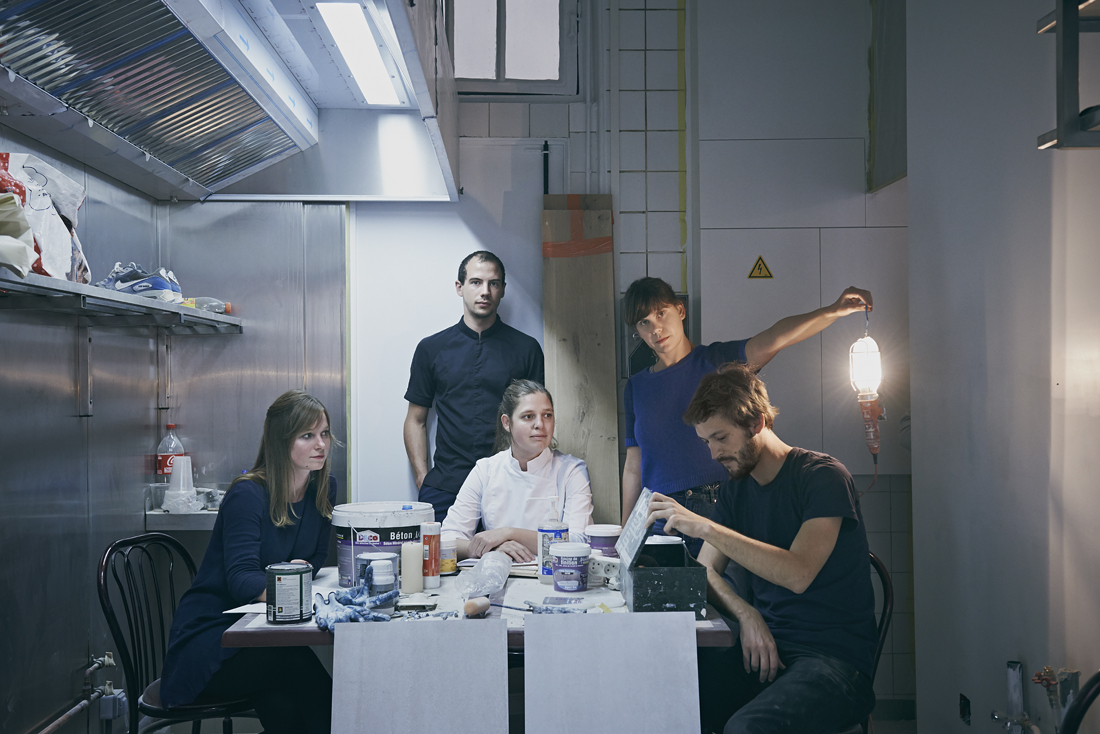 Fulgurances Opens a Restaurant
French food magazine Fulgurances has just opened L'Adresse in the trendy neighborhood off the 11th and will be serving dinner four nights a week (Wednesday-Saturday) as part of their new culinary residency program. During a six month stint, partnering guests chefs will have the opportunity to try out running their own restaurant. 
"It's their restaurant, but with conditions," explains Rebecca Asthalter about the culinary incubator that she and her partners Sophie Cornibert and Hugo Hivernat have just launched. "The point is to help a chef find his or her culinary identity within in our space, which then has its own identity," Asthalter says.
Fulgurances, founded by Cornibert and Hivernat, made a name for themselves with their event series "Seconds are the Firsts" where they gave talented sous-chefs a chance to step out from the shadow of his or her head chef and explore running their own kitchen for a single night. The residency at L'Adresse will essentially be a continuation of that event series on a larger scale.
The space, designed by architect Louise Vergnaud, will remain the same for each iteration, as will the front-of-the-house and kitchen staff managed by "machine" and sous-chef Pierre Bouchard. The kitchen is viewed as a playground for the selected chef who will learn to manage a space and staff while trying out their own ideas and potentially even finding investors or clients amongst their diners.
The price point will also stay the same from chef to chef so that consumers can reliably know what to expect when booking at L'Adresse. "We want people to come and have a great meal at a particular price point which is under €20 for lunch and dinner at €40-45 without wine," Asthalter and Cornibert explain, whether the chef proposes a degustation, à la carte, or family-style menu.
Despite the novel concept, "We don't want people to think it's an experimental restaurant," Asthalter says. "It's established chefs and an established restaurant space, but it's chefs who are just waiting for that extra nudge or extra time [before opening their own spot].," Asthalter says. The first chef who needed that extra nudge was Chloé Charles, who was previously seen working under Bertrand Grébaut at Septime. Charles will be offering a dégustation menu at L'Adresse, but there will be choices within that as "she wants to put choice back in the hands of the diner," says Asthalter.
Charles' menu on opening day (October 14) featured marinated beef with tomato water and blackberries and pollack rolled in smoked breadcrumbs, among other offerings.

Charles and the chefs who follow her will also be given the opportunity to nourish their own learning through a variety of partnerships. Respected butcher Yves-Marie Le Bourdonnec will be supplying meat to the restaurant and taking each chef on a three day butchery course. Café Lomi, a coffee roaster in the 18th arrondissement, will lead a one day roasting course.
As Fulgurances will be using the space for its own private events and continuing to run its "Seconds are the Firsts" series on the restaurant's off-nights, the chef-in-residence will have the opportunity to partner with and learn from the international roster of chefs who come through the doors, and can even draw up a wish list of potential collaborators in advance. "This might be the last time that the chef has this chance," Asthalter and Cornibert explain. "Once they open up their own place, they won't have all these opportunities to grow outside of their kitchen as they'll be consumed by the process of opening up a restaurant."
As for who will take Charles' place when her term ends, the team is close-lipped, but they are eying a few different candidates and say they are open to looking outside of Paris. In the meantime, they are focused on their chapter with Charles and how she will evolve as a chef during her residency both in quality and identity. "We don't know if her version of L'Adresse will be better, worse or what will stick. But it will be different at the end," Asthalter and Cornibert say.