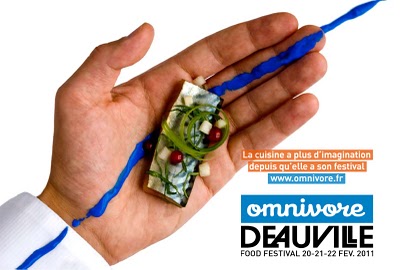 Score: the kind people at Omnivore have just provided 10 free passes for us to give away to readers who want to attend their three-day food & wine festival in Deauville (Feb 20-22). More on how to win these tickets below, but first a few words about the festival itself.
Having never attended the Omnivore Food Festival (OFF), I turned to a few local experts to explain what makes this event unique. Here's a summary of what they said:
Omnivore is Young
It's the "unmissable rendez-vous for young, creative cuisine," says French food writer Bruno Verjus, who will be hosting the Omnivore radio program for this year's festival. The chefs in the spotlight – Sven Chartier (Saturne), Inaki Aizpitarte (Le Chateaubriand), and Giovanni Passerini (Rino) – are all still young and unburdened by stars.
Omnivore is International
"As far as I'm concerned, it's France's one and only international food festival," says food writer and Master Chef judge Sébastien Demorand, who will be hosting this year's salé (savory) demonstrations. Celebrated French chefs like Jean-François Piège and Thierry Marx share equal billing at Omnivore with internationals like Rasmus Kofoed, Juan Mari Arzak, and Magnus Nilsson. Clotilde Dusoulier, the blogger-turned-food-writer (and PbM contributing editor) who will be hosting this year's sucré (dessert) demonstrations, cited foreigners like Rosio Sanchez (Noma) as highlights on the sweet stage. In short, Omnivore doesn't limit itself to the hexagon. It's three-day tour of la planète gastronomie.
Omnivore is Sex?
According to Sophie Brissaud, a prize-winning food writer (and PbM contributing editor), the Omnivore Food Festival is "a terrific collective sex party where everyone gets naked and screws like bunnies while eating pleine mer oysters and drinking Plageoles wines." She's probably kidding, but I'm bringing my video camera just in case.
Omnivore is Free
At least for 10 of you, it is. To win a free three-day pass to the Omnivore Food Festival, all you have to do is send an email with your full name to parisbymouth@gmail.com. We'll select the first ten responses and email you with confirmation before next Tuesday. Update: we have our ten winners, thanks for playing!
To learn more about OFF, visit the festival website or see this video report on last year's event.