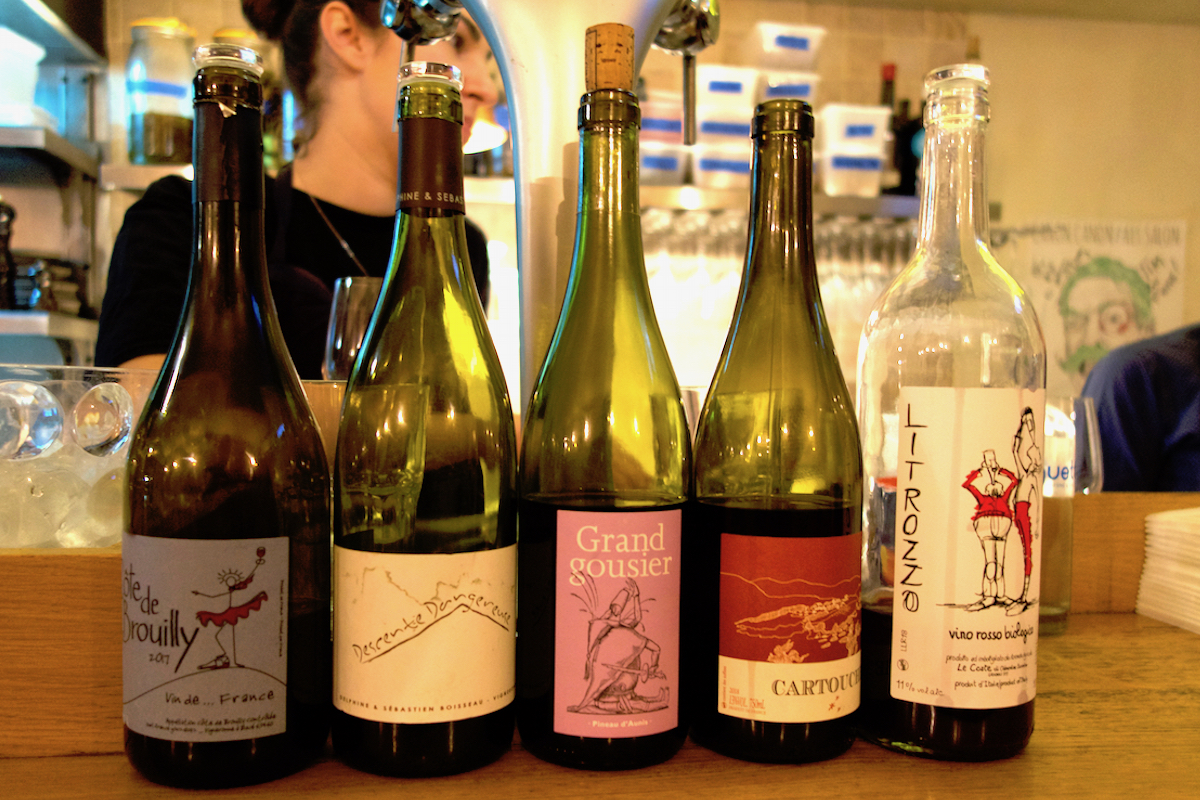 Address: 108, rue Amelot, 75011
Hours: Open for lunch & dinner daily.
Telephone: +33 9 54 74 16 36
Website / Facebook / Instagram
Perhaps no area of the 11th arrondissement is as chock-a-block with natural wine bistrots as that around rue Amelot, which offers a veritable waterslide of unfiltered, low-sulfite wine extending from Bastille to République. Marais-adjacent bistrot and wine bar Goguette, founded in 2018 by two industry veterans – natural wine expert Guillaume Dupré (formerly of La Muse Vin and Coinstot Vino) and restaurateur Ludovic Dardenay (of the Vertigo restaurant group: Glou, Grandcoeur, Bonvivant, etc.) – stands out from the stiff competition for its accessibility, credibility, and versatility. It's the rare Paris establishment that succeeds as both a formidable restaurant and a fun, spontaneous wine bar.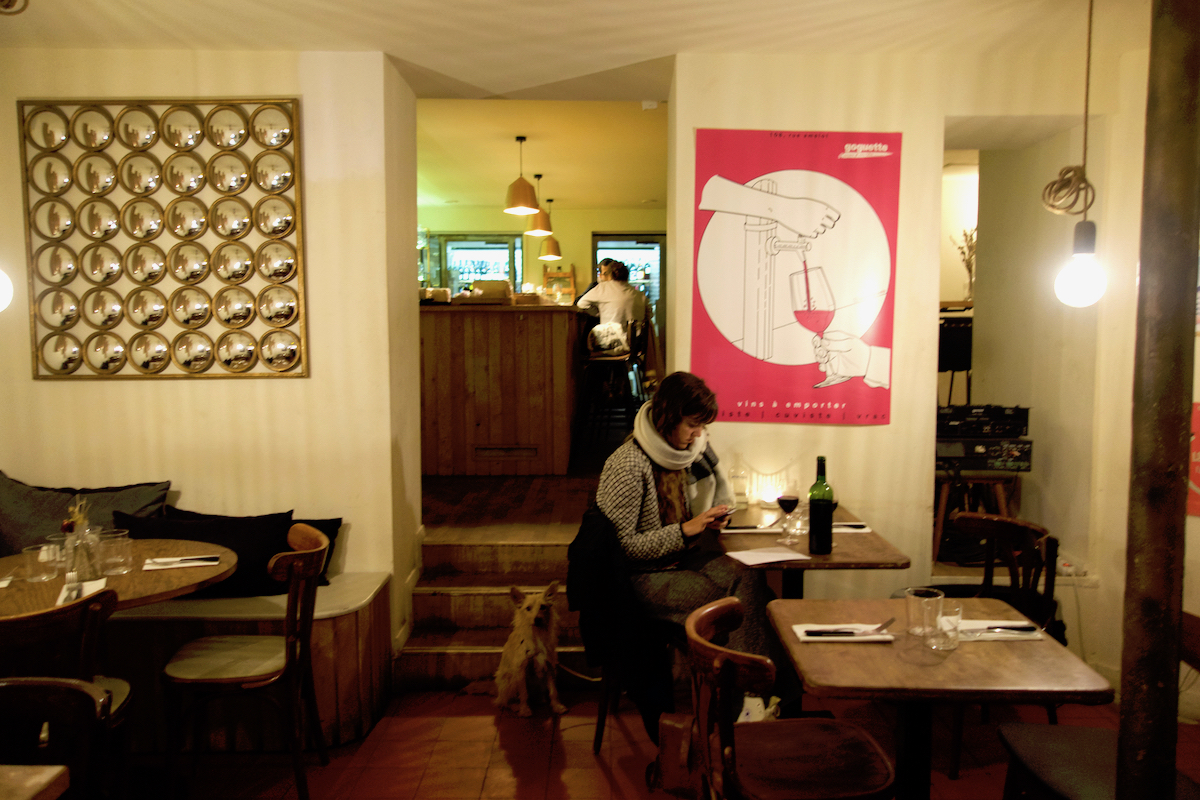 The intimate feel of the space belies its vastness: the restaurant comprises a storefront terrace, a narrow dining room beside the kitchen leading to a wider dining room behind it, a rear bar with adjacent high tables, and, if that weren't enough, a private dining room upstairs. The sheer extent of the dining area, coupled with seven-day-a-week opening hours, means one can often dine at Goguette even without a reservation. (It is still however advisable to reserve, as it is everywhere in Paris.)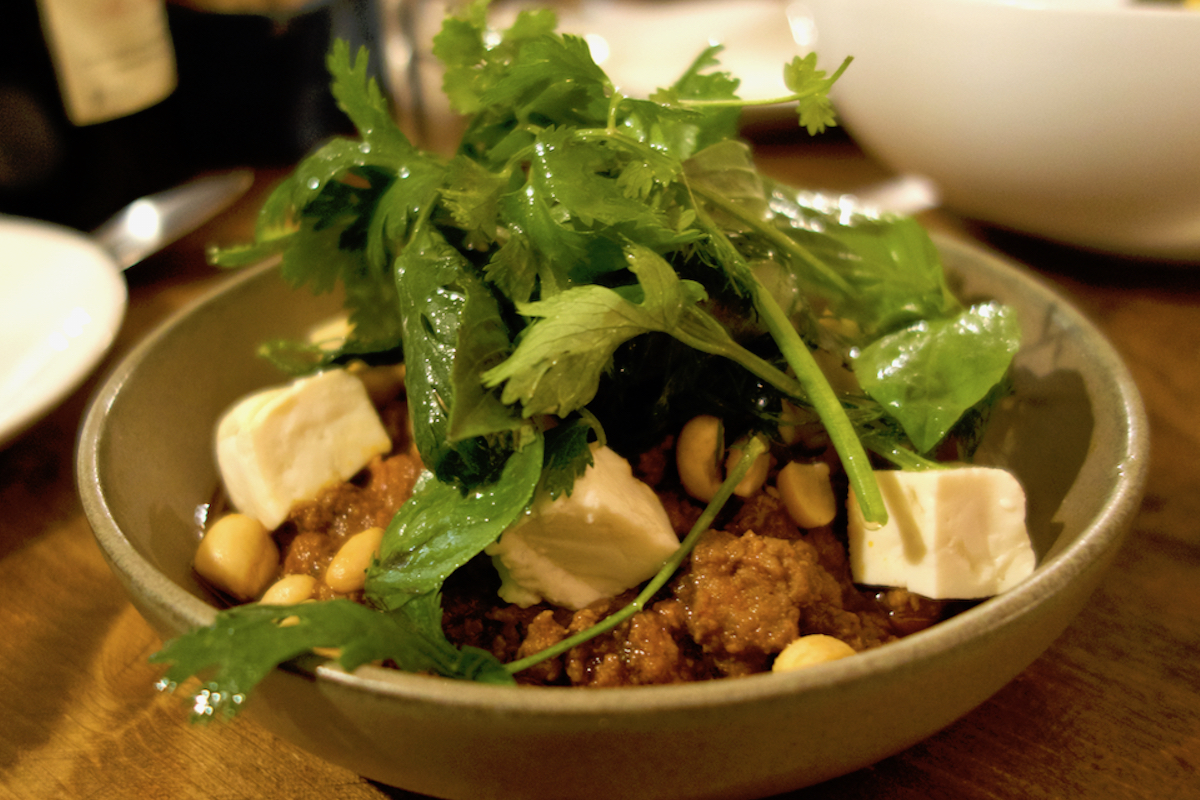 Gregarious Veronese chef Gianmarco Gorni's menu strikes a smart balance between snacking and more serious dining. Appetizers range from typical wine bar fare like house-made terrine, cured duck, or veal tongue to more playful creations like grilled squid with confit egg yolk and a conspicuously sweet lemon jam or foreign curveballs like a riotously flavorful "duck mapotofu" piled with peanuts and fresh herbs. If these latter dishes aren't always perfectly polished, they nonetheless evidence a kitchen enjoying itself. Main courses are as satisfying as they are commercially savvy: gnocchi in a Parmesan foam beneath a blizzard of black truffle shavings or a capable rack of lamb with sober accompaniments of roast carrot and kale. There are always vegetarian options.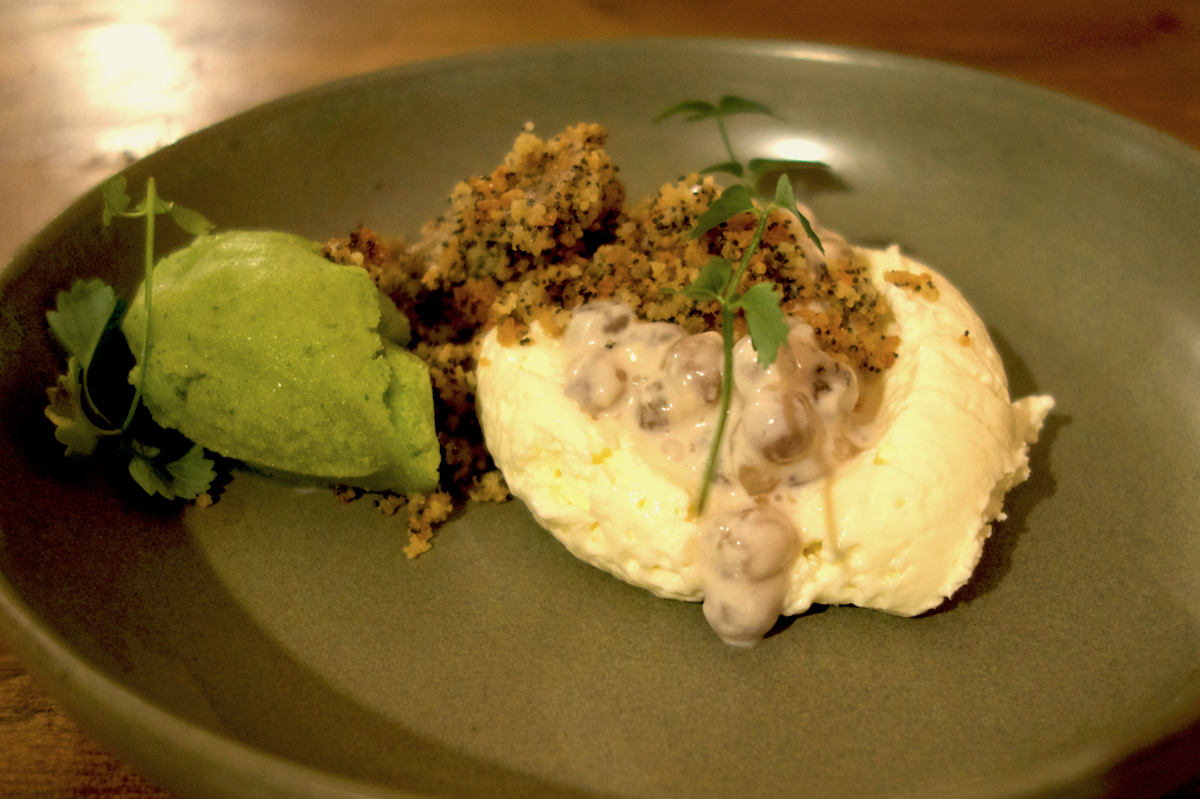 Special mention should be made of Gorni's underrated talents with dessert. The deconstructed cheesecake he served near the restaurant's opening has become legend; more recently he riffed on it with a cheesecake mousse juxtaposed with cucumber sorbet, tapioca, and a delightfully salty poppy seed crumble.
Ennobling Goguette's cuisine and enlivening its bar is Guillaume Dupré's laudably uncompromising wine program: a murderer's row of ambitious upstart natural winemakers including Sebastien Chatillon and Farid Yahimi. One senses Dupré's own insatiable curiosity at work, for he has perceptibly made efforts to move beyond more obvious, well-known natural wines, even ones he himself helped promote at Coinstot Vino. These efforts help Goguette rank right alongside nearby Chambre Noire as one of the best places in Paris to discover unheard-of natural winemakers. Dupré is usually there himself, leading a team whose friendliness and lack of pretension stand in contrast to much of the natural wine scene. For those curious about natural wine, Goguette is a fine place to start; for the already-initiated, it's a fine place to finish at the bar.
---
Goguette in Pictures
Squid guanciale

Lamb with carrots, beets, and kale

Duck mapotofu

In Other Words

Time Out (2019) complimented Goguette's tank-wine program, finding the bottles "chic," and lauding the cuisine as "in the image of the restaurant: smiling, crafted but not fussy."

Le Fooding (2018) calls Goguette chef Gianmarco Gorni "ingenious," praising his "joyful" small plates.

L'Express Styles (2018) calls Goguette's wine selection "haute-couture natural" and pronounces the English cheese plate "the final pirouette of this joyous Goguette."

Not Drinking Poison In Paris (2018) says Goguette is "a natural wine destination that truly incarnates the winning informality of the movement," and that it does so "without sacrificing fine cuisine."