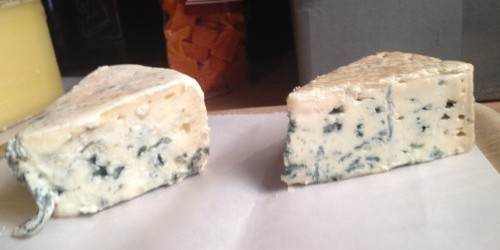 Happy 90th Birthday Roquefort!
The Salon de L'Agriculture 2015 is the site of a very special celebration: the 90th birthday of Roquefort cheese as we know it. 
In 1925, it became the first cheese to receive official legal protection within the Appellation Origine Protégée (AOP) system which regulates the consistency and traditions behind certain foods & beverages.
Although the creamy blue doesn't look a day over 89, the sheep's milk cheese has been produced in France for thousands of years with the earliest known mention of it dating back to 79AD. By 1411, the regional cheese making tradition was so firmly established that Charles VI granted the citizens of Roquefort a special charter to protect their cheese making methods. The new regulations established under the AOP system in 1925 required that, among other stipulations, a Roquefort must be aged specifically in the caves  of Mont Combalou in Roquefort-sur-Soulzon.
The birthday celebration will include twice daily public milkings of sheep and cheese tastings, naturally.
For additional reading: