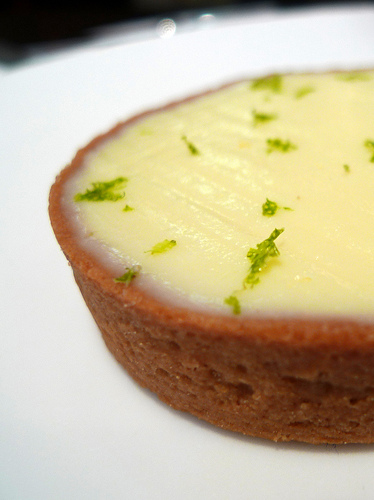 Jacques Genin has stopped making pastry
[fsg_gallery id="7″]
Today at Jacques Genin, atop the glass case which previously held his precious desserts, there was a sign. It read (I paraphrase) "chocolate is my first love… I want to give it my full attention… from this day forward, no more pastry."
I had a visceral reaction to this news. My mouth went dry. My brain started rewinding through all of the desserts I had enjoyed in this room. A long-forgotten Sara McLachlan song crept up to provide the soundtrack as I considered: no more tarte tatin with the crackly burnt sugar top. No staggeringly priced wild strawberry tart to save up for in late Spring. Tarts with honey walnut, chocolate ganache, perfect raspberry, and LEMON. Oh God, that lemon tart, with variations like rosemary, tarragon and basil! And what about that towering, almost too-tall Paris-Brest with whole toasted hazelnuts spackled on top? Or his éclairs, shiny as a mirror and a different species altogether from the soggy grocery store éclairs of my youth?
Practically speaking, all is not lost. It will still be possible to have a made-to-order millefeuille in the salon. One can order larger desserts (for four or more people) in advance. And of course, the chocolates, caramels and pâtes des fruits will carry on.
However, the individual pastries that I have hysterically mourned are now on hold. Why? Word on the street is that Genin lost his sous-chef and many other hands on his pastry-making team. Rather than put out inferior pastry, he's narrowing the focus for a time. And this breakup (because that's what it feels like) may not be permanent, according to the last lines of his letter:
"Que les aficianados ne désespèrent pas ! La pâtisserie n'a pas dit son dernier mot. Gageons qu'elle saura, comme les rêves, réapparaître."

"But do not despair! The pastry has not uttered its last word. I'm betting that she, like other dreams, will someday reappear."
Update January 27, 2013: Genin is throwing us a bone, making one daily pastry in addition to the millefeuille. Phyllis Flick reported that she spotted the lemon tart last week.