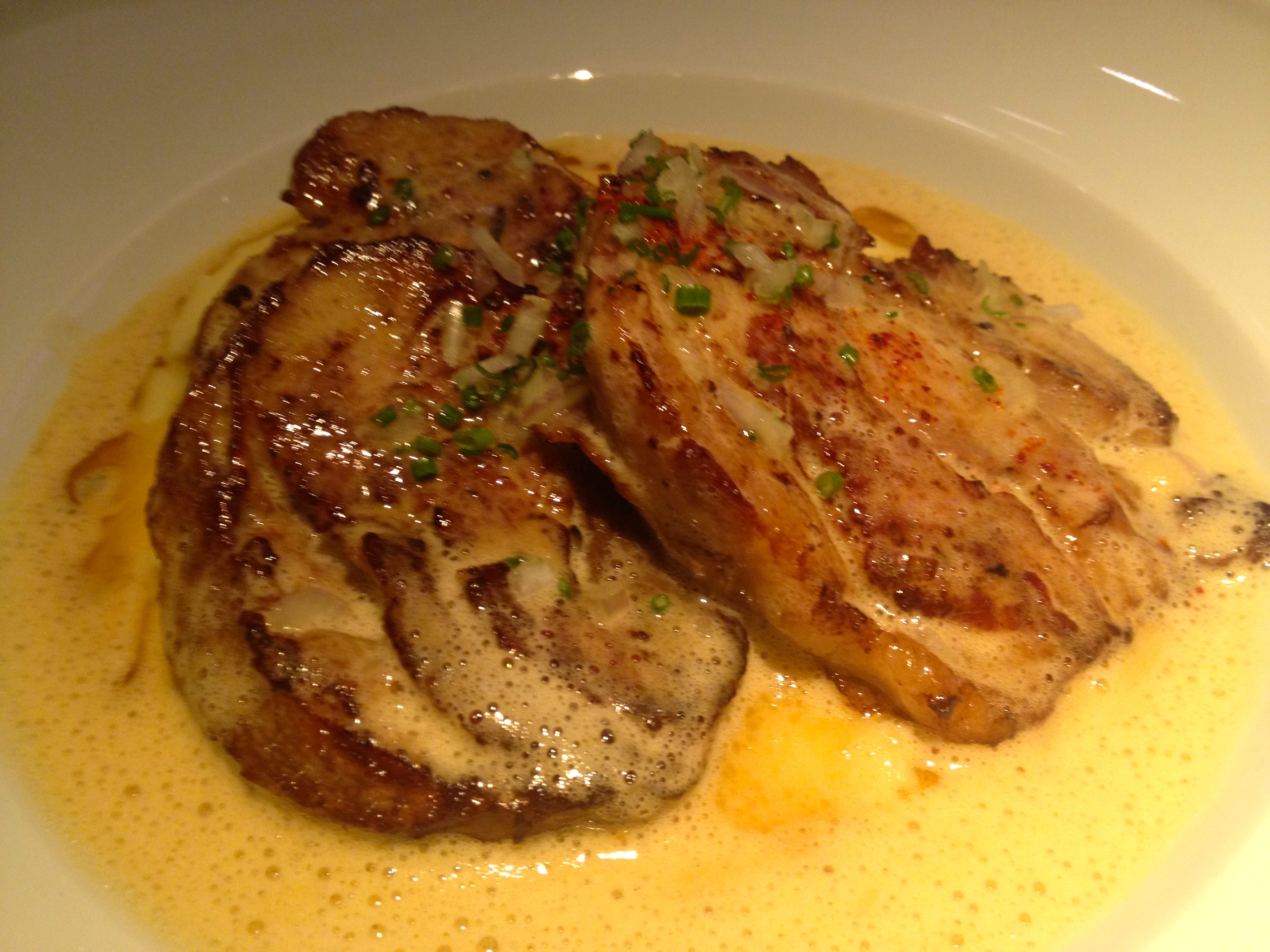 Address: 124 boulevard de Rochechouart, 75018
Hours: Open every day from 11am-2am
Telephone: +33 1 55 79 10 10
Website / Facebook
Part of a small local franchise that now boasts five locations, La Cantine du Cigale is associated with the Montmartre concert hall La Cigale and stays open late. As such, it's the best option for eating before or after a show here or at and the one of the many nearby music venues (Élysée Montmartre, Le Trianon, La Boule Noire). This low-key bistro run by chef Christian Etchebest is casual and doesn't take reservations.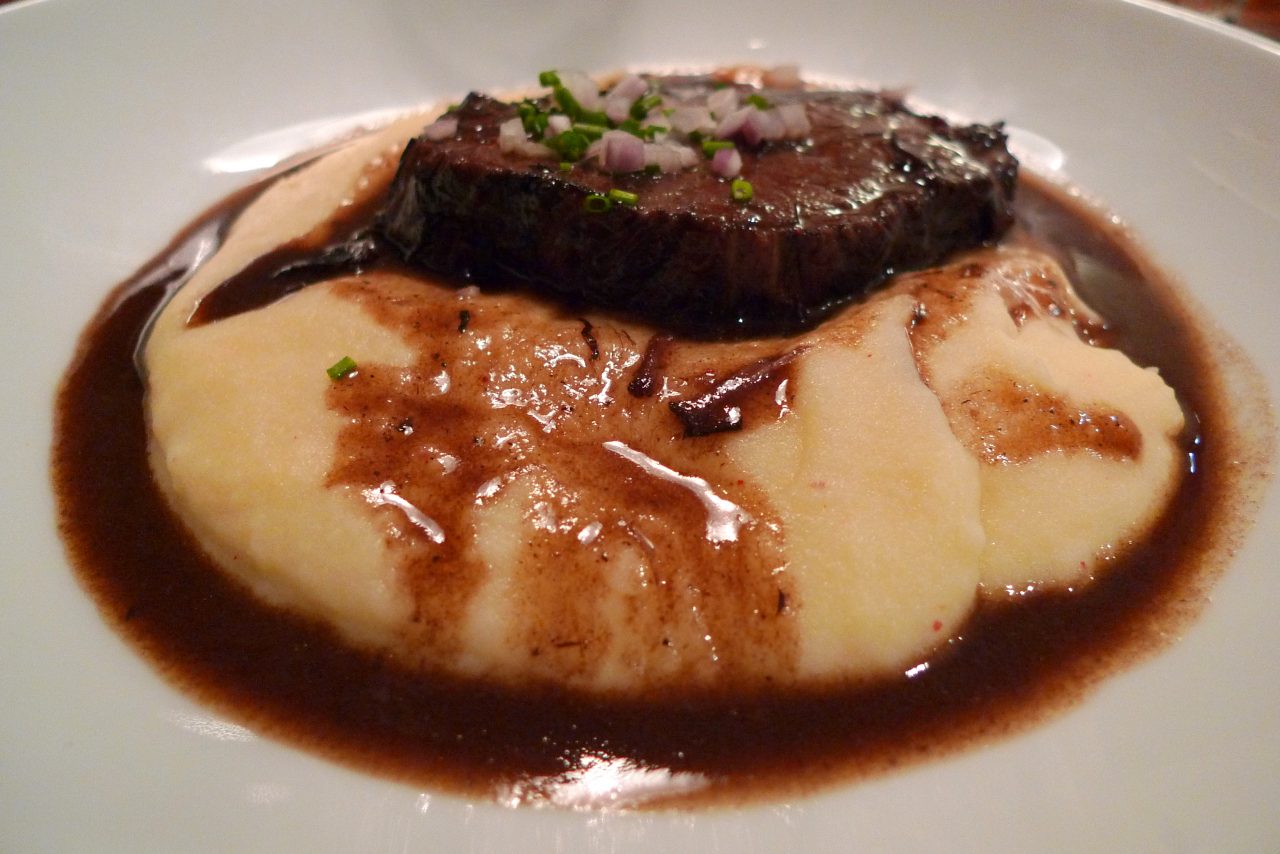 The cooking is generous (soups portioned by the pitcher) and gutsy (pig ear salad). There's a decent enough wine list, including a good house red by the liter for less that 20€. The clients are a mix of local bargain hunters, concert goers, and Montmartre area tourists.
If you're looking for inexpensive and classic French fare, you could do a lot worse, especially if you haven't bothered to make reservations elsewhere and are willing to wait. Continuous service until 2am makes this a great option for dining late at night, or even late afternoon if you're hungry for a snack after touring around Montmartre.
Additional Locations
Le Cantine du Troquet
Address: 101 rue de l'Ouest, 75014
Hours: Open Tuesday-Saturday for lunch & dinner. Closed Sunday & Monday.
Telephone: +33 1 45 40 04 98
Le Cantine du Troquet Dupleix
Address: 53 boulevard de Grenelle, 75015
Hours: Open every day for breakfast, lunch & dinner
Telephone: +33 1 45 75 98 00

Le Cantine du Troquet Cherche-Midi
Address: 79 rue du Cherche-Midi, 75006
Hours: Open Monday-Friday for lunch & dinner. Open Saturday for lunch only. Closed Sunday all day & Saturday dinner.
Telephone: +33 1 43 27 70 06
Le Cantine du Troquet Daguerre
Address: 89 rue Daguerre, 75014
Hours: Open Monday-Friday for lunch & dinner. Open Saturday for dinner only. Closed Sunday all day & Saturday lunch.
Telephone: +33 1 43 20 20 09
---
In Other Words
These reviews are for the Cherche-Midi location
John Talbott (2015) "This place is yet again another Etchebest best."
Le Figaro (2015) "Quatrième cantine pour Christian Etchebest et, chose rare du côté des collectionnites, toujours le même mordant à concilier les saines recettes d'un Sud-Ouest décoincé et les humeurs d'une salle délicieusement désinvolte."
These reviews are for the Daguerre location
John Talbott (2015) "The guy (Etchebest) delivers (again)… delicious comfort food."
Le Fooding (2015) "Le vrai bistrot parisien, quoi, mais pimenté Espelette, où le céleri rémoulade bien moutardé est arrangé aux crevettes, coques, bulots et pomme verte; où le porc est «xistora» – des saucisses Ospital dans une purée liquide ; où l'île flottante est renommés «iceberg» au café avec force caramel et crème fouettée… Où l'on retrouve sans se lasser les ultra-classiques des autres Cantines – œuf mayo, oreilles de cochon grillées, couteaux à la plancha, entrecôte à la moelle, riz au lait au caramel laitier et mendiants… C'est bon, c'est franc, c'est clair…"
These reviews are for the Dupleix location
L'Express (2012) "L'arrêt au comptoir autour d'un bandol émoustillant est quasi obligatoire. La carte est basquisante et fait la part belle au cochon: terrine de boudin, oreilles grillées ou échine d'Ibaïona fondante, toute la bête, fournie par le charcutier Eric Ospital, vedette d'Hasparren, y passe."
These reviews are for the original location
Les Grands Ducs (2008) "Dans l'assiette, la candeur des intitulés rejoint le bonheur de saveurs claires et de produits de belle origine. L'œuf-mayo un peu corsé devrait rentrer direct dans le palmarès de Claude Lebey et de l'ASOM (Association de Sauvegarde de l'Oeuf-Mayonnaise), la terrine de boudin et sa petite salade relevée d'une vinaigrette au basilic vous arrache des soupirs, la poitrine de porc craque sournoisement sous la dent…"
These reviews are for the Montmartre location
Not Drinking Poison in Paris (2014) "The menu seems designed specifically to accommodate those too rushed or thrifty to endure a three-course meal. An ample list of Eric Ospital charcuterie is very kindly priced, and appetizer portions are heapingly-plated. Sometimes this generosity had slightly ludicrous results, as in the fried pig's ear salad I ordered, which was a garish tangle of fatty cartilage, like a wig made of meat."
Alexander Lobrano (2013) "The bowl of frites that came with our mains were some of the best I've eaten in Paris for a long time–cooked in duck fat so that they were crunchy and golden, and garnished with cracked black pepper and coarse sea salt… I've always loved Christian Etchebest's cooking and his warm, alert style of hospitality."
Le Figaro (2013) "Il place ici sa cuisine à la bonne et juste hauteur des proximités de café. En jovialité Sud-Ouest, il y a là des petits plats de faconde, de proximité et de passage, judicieux à accompagner les éternelles comédies de… boulevard."
L'Express (2013) "Les "Etche-best of" de la carte: les oreilles de cochon grillées, la terrine de boudin-en direct d'Hasparren et signées Ospital, le charcutier star-, et puis de maousses sardines grillées à la sauce vierge et une impeccable tarte aux mirabelles de saison."
John Talbott (2013) "…modern besides-the-theater cafe/cantine with a giant screen to show Etchebest's beloved Basque ruggers matches. And even though you cannot read the chalkboard, it had double the offerings of his prior ventures."
Alexander Lobrano (2013) "The bowl of frites that came with our mains were some of the best I've eaten in Paris for a long time–cooked in duck fat so that they were crunchy and golden, and garnished with cracked black pepper and coarse sea salt… I've always loved Christian Etchebest's cooking and his warm, alert style of hospitality."
Le Figaro (2013) "Il place ici sa cuisine à la bonne et juste hauteur des proximités de café. En jovialité Sud-Ouest, il y a là des petits plats de faconde, de proximité et de passage, judicieux à accompagner les éternelles comédies de… boulevard."
L'Express (2013) "Les "Etche-best of" de la carte: les oreilles de cochon grillées, la terrine de boudin-en direct d'Hasparren et signées Ospital, le charcutier star-, et puis de maousses sardines grillées à la sauce vierge et une impeccable tarte aux mirabelles de saison."
John Talbott (2013) "…modern besides-the-theater cafe/cantine with a giant screen to show Etchebest's beloved Basque ruggers matches. And even though you cannot read the chalkboard, it had double the offerings of his prior ventures."