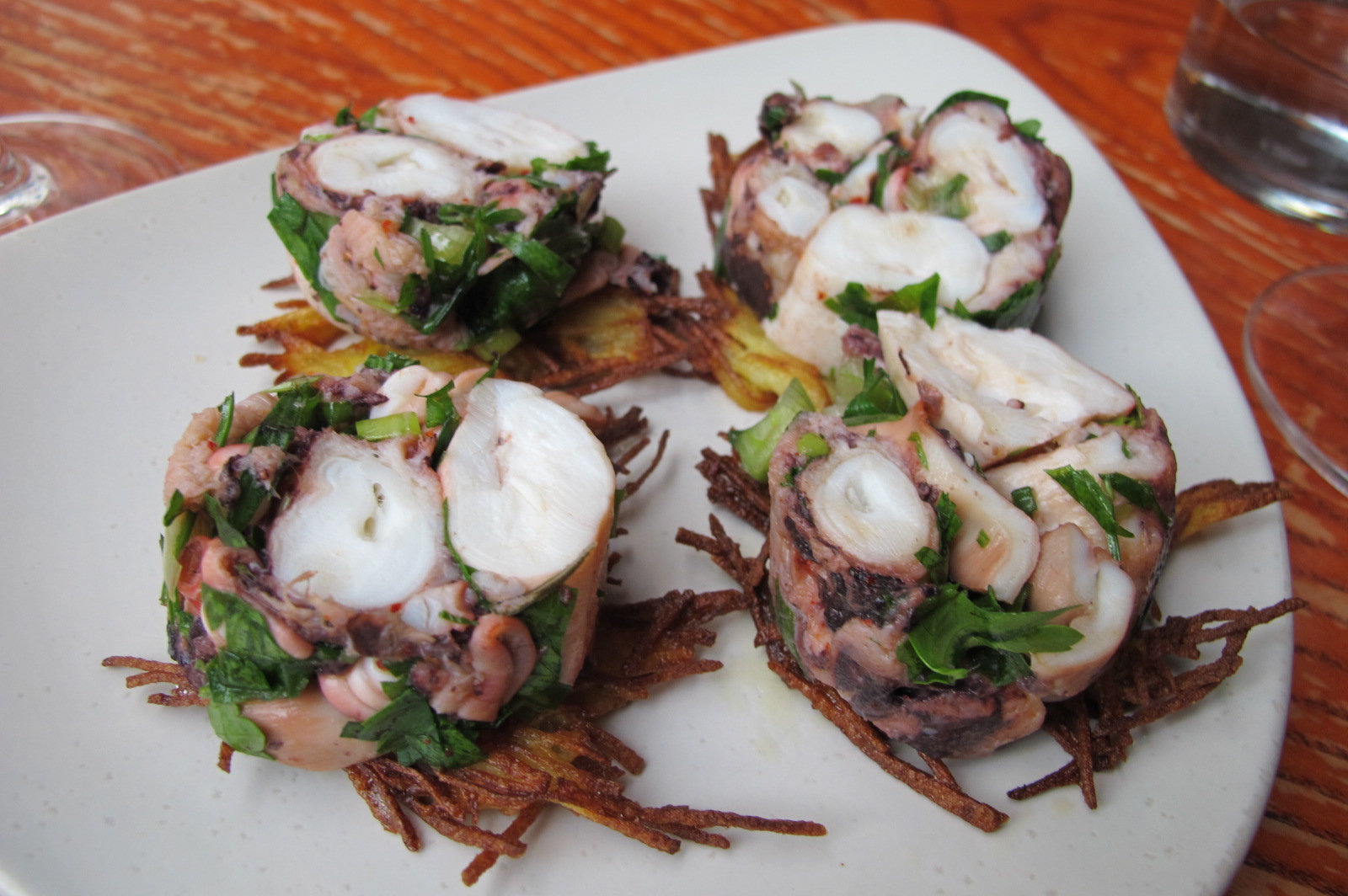 La Fine Mousse Restaurant
It should come as no surprise that the Parisian craft beer pioneers behind La Fine Mousse bar would be the first to open a restaurant dedicated to beer and food pairings. Slightly more surprising is just how refined, inventive, and delicious the food here is. Knowledgeable beer sommeliers work closely with the talented chef to present an intelligent set of seasonal small plates, paired with beers from one of the 10 taps or the extensive bottle collection.
— Camille Malmquist, January 2015
Practical information
Address: 4 bis avenue Jean Aicard, 75011
Nearest transport: Rue St. Maur (3), Ménilmontant (2)
Hours: Closed Sunday & Monday for dinner; Open Tuesday-Saturday for dinner; Open every night for drinks
Reservations: Walk-ins Welcome
Telephone: 01 48 06 40 94
Average price for dinner: 20-39€
Style of cuisine: Small plates & tapas, modern French
Website   Facebook   Book Online
Reviews of interest

The reviews below all refer to the restaurant's first incarnation, before they shifted toward small plates and away from a tasting menu. 
Haven in Paris (2014) "LFM has set itself a lofty goal: bring beer to the dinner table and prove that it's a worthy companion to exceptional food… Ransome brings with him an appreciation for exceptional ingredients and provocative composition, honed in some of the city's finest restaurants, including Le Saturne, Bistro Urbain and L'Agapé. Craft beer is in good company here."
Le Figaro (2014) "Une sélection précieuse de bières à partir desquelles la cuisine trouve la réplique en finesse. En prolongeant aussi par une atmosphère friande, décoincée de la bulle, d'un chic de taverne."
Time Out (2013) "La Fine Mousse s'impose comme une alternative intéressante : à deux pas de la station Saint-Maur, caché derrière l'avenue de la République, ce bar tenu par quelques «bièrologues» aux manettes d'une vingtaine de tireuses propose un choix pléthorique de mousses toutes artisanales — françaises, belges, norvégiennes et anglaises. Au choix, on se laisse guider par les experts du comptoir ou l'on parcourt la carte qui indique, comme pour de grands crus, les notes qui caractérisent chaque bière."