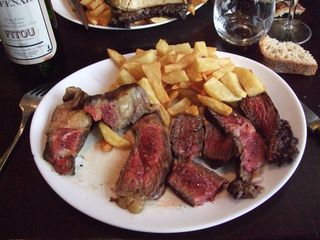 Le Bis du Severo (Closed)
[portfolio_slideshow]Les Bis du Severo was sold in 2011, there is still a restaurant here (Le Bis), but it is no longer affiliated with nearby Le Severo.
Practical information
Address: 16 rue des Plantes, 75014
Nearest transport: Alesia (4)
Hours: Dinner, Monday-Friday; lunch, Tuesday-Saturday; closed Sunday
Reservations: Last minute booking usually OK
Telephone: 01 40 44 73 09
[cetsEmbedGmap src=http://maps.google.com/maps/ms?ie=UTF8&msa=0&msid=202475318786031781734.0004a3886506aedd66f7e&ll=48.831504,2.324188&spn=0.006935,0.01929&z=16 width=500 height=325 marginwidth=0 marginheight=0 frameborder=0 scrolling=no]View a map of all of our restaurants here.
Average price for lunch: 20-34€
Average price for dinner: 20-34€
Style of cuisine: Classic French, bistro
Special attributes: prix-fixe, prestige ingredients, carnivore's delight, open Monday
Type of crowd: foodies, neighborhood locals
Interior: charming & traditional
Atmosphere: casual
Reviews of interest

John Talbott (2010) "…we had the cote de boeuf for two; he likes his rare, and me blue, but somehow it came out perfectly for us both and he got the bone to chew on… Frites, which defeat most chefs here and in America, were quite good."
Le Fooding (2010) "Même maison que Le Severo tout court, le Bis fait office de plan B quand le premier est complet (ce qui est souvent le cas…)… les produits sont les mêmes, apprêtés avec une égale rigueur janséniste."
About our listings
Our best efforts were made to ensure that information provided was accurate at time of publication. Have a correction or update? Send it here.