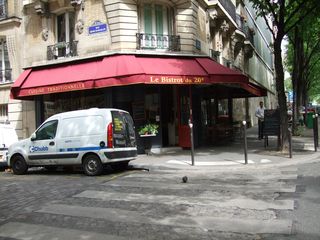 An old-fashioned bistro, open every day.
Practical information
Address: 203 ave Gambetta, 75020
Nearest transport: St. Fargeau (3bis)
Hours: Open every day
Reservations: Last minute booking usually OK
Telephone: 01 40 31 86 07
[cetsEmbedGmap src=http://maps.google.fr/maps/ms?hl=fr&ie=UTF8&msa=0&msid=202475318786031781734.0004a3525ae0d9757d69c&ll=48.873231,2.40478&spn=0.00693,0.01929&z=16 width=500 height=325 marginwidth=0 marginheight=0 frameborder=0 scrolling=no]View a map of all of our restaurants here.
Average price for lunch: 10-19€
Average price for dinner: 20-34€
Style of cuisine: Classic French
Special attributes: prix-fixe, market-based cooking, open Sunday, open Monday
Type of crowd: neighborhood locals
Interior: quirky & playful
Atmosphere: casual
Reviews of interest
John Talbott (2010) "…old bistro cooking with modern sensibilities…"
Emmanuel Rubin – Figaroscope (2010) "…quelques plats débonnaires parviennent à incarner en amusant l'estomac dans un quartier régulièrement inscrit aux appétits absents."
About our listings
Our best efforts were made to ensure that information provided was accurate at time of publication. Have a correction or update? Send it here.