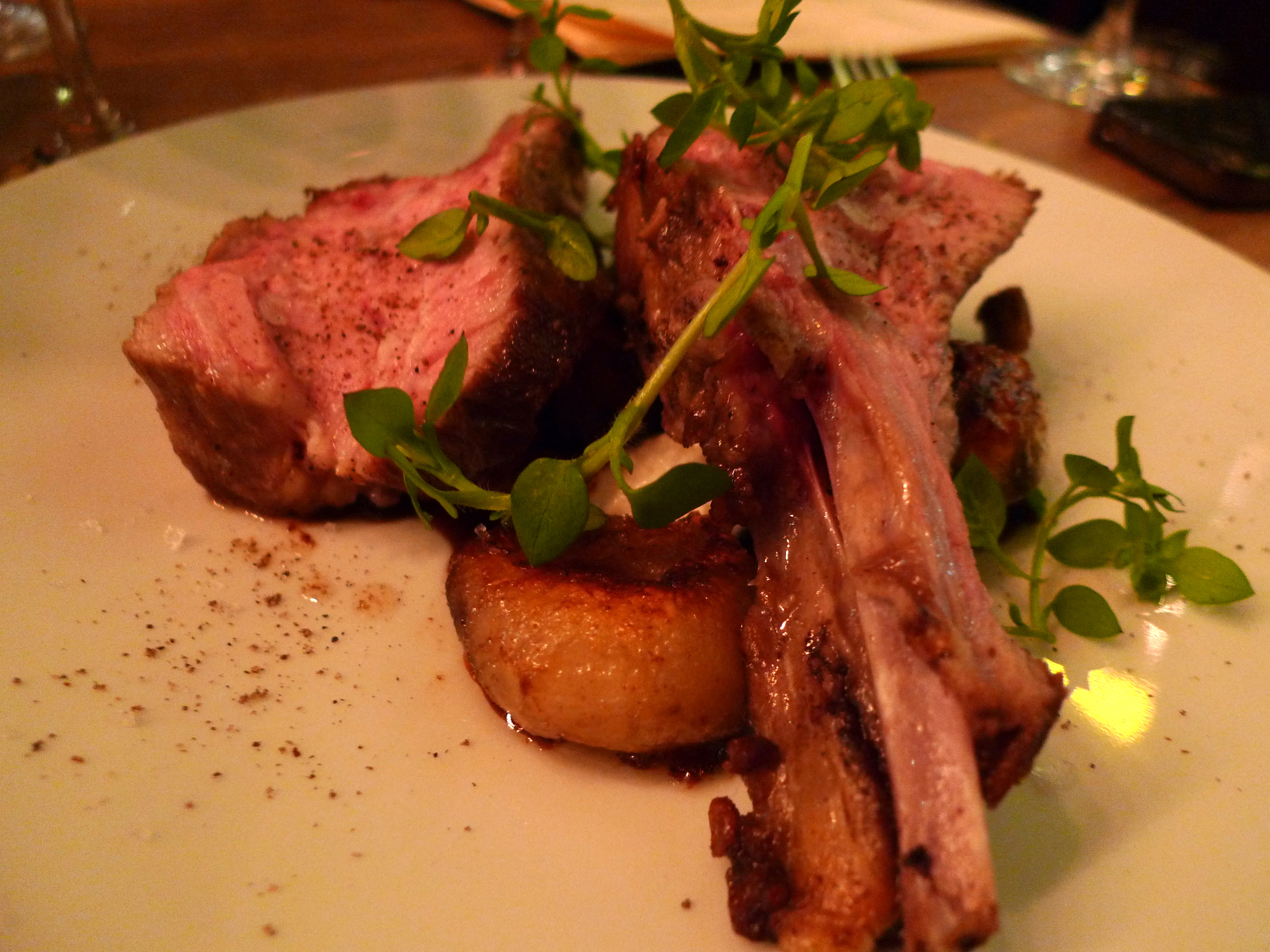 Address: 6, rue Paul Bert, 75011
Hours: Open Tuesday-Saturday for dinner. Closed Sunday & Monday.
Telephone: +33 1 43 79 14 32
Website / Facebook
Le 6 Paul Bert had a brief closure followed by several different chefs and menu makeovers. We're not sure what's going on over there right now, but will update this description after another visit. Here's what we wrote about the first incarnation:
This spot from Bertrand Auboyneau is just a few doors down from his Bistrot Paul Bert, but it's a world apart in terms of cuisine. The emphasis on good product remains, but Le 6 is serving small and modern plates (shaved vegetables, raw and marinated proteins, creative use of dairy) that have more in common with Le Dauphin and Au Passage than a classic Paris bistro. While the wine list is outstanding, and the small plates range in price from only €8-14, don't mistake this for a drop-in wine bar.
---
Le 6 Paul Bert in Pictures
Chocolate mousse

Mushrooms with egg and black truffle

Sea scallops

Front door
In Other Words
Le Fooding (2019) reports that "after a few HR shakeups," Le 6 Paul Bert "has finally gotten its groove back," with "cool, classic dishes served in generous portions."

The reviews below date from the tenure of chef Louis Philippe Riel.
Simon Says (2013) "Cette fois ci fut la bonne avec ces plats lancés à la volée, parfois à l'emporte pièce mais pleins d'esprit. Atmosphère guillerette, plaisante… J'aime."
Not Drinking Poison in Paris (2013) "A confident and unshowy command of the intricacies of the small-plates idiom. A typical menu is full of surprises, although perhaps the most surprising facet is how few vegetarian dishes are available."
Table à Découvert (2013) "Maquereau fumé, légumes crus et cuits, radis cru, pommes de terre cuites, oignon nouveau bien vinaigré, petit filet d'huile d'olive et branche de je ne sais quoi, ça envoie du peps, c'es frais, c'est délicieux. Hmm l'épaule de porcelet à la peau ultra croustillante sur ses asperges vertes (ah que j'aime le printemps : l'arrivée de l'asperge qui ne me fait pas réfléchir quand je vois son nom sur une carte, c'est elle et c'est tout !), certaines effilées et crus, d'autres cuites fermes, quelques poireaux et feuilles de blette, un fond crémé, miam!"
David Lebovitz (2013) "Everything is absolutely delicious, inventive, and I've sat there marveling at the chef and his assistants, quietly cooking and setting up plates of food on the counter, where one of the efficient servers grabs them and takes them to awaiting diners. You just don't get this kind of food often in Paris… Le 6 Paul Bert is really an exceptional restaurant, with food better than that I've had at three-star restaurants, at everyday prices."
Alexander Lobrano (2013) " Our first two dishes–my 'ravioli' of daikon radish, chopped raw beet, tangerines and oysters in a delightfully gentle citrus vinaigrette, and Bruno's grilled squid in a herb oil coulis with baby salad leaves were beautifully conceived and intriguingly referenced by the subliminal tidal pools of the collective culinary imagination of young chefs around the world… To wit, these plates exhibited a suave play of acidities and different textures, were sort of raffishly elegant, and packed some powerful pleasure with the freshness of exquisitely sourced produce."
Le Fooding (2012) "…Et dont on pourra juger de la fibre bistrotière en commandant plusieurs entrées (hareng fumé et rattes à l'aneth, poêlée de foies de volaille aux herbes amères, queue de bœuf en persillade… 5-6 €) à la place de l'unique plat du déjeuner, ou plusieurs plats-entrées à la carte du soir (10-14 €). Cave nature à toute épreuve (Foulards Rouges, L'Anglore, La Sorga, Mosse, Pacalet, Villemade…)"
---