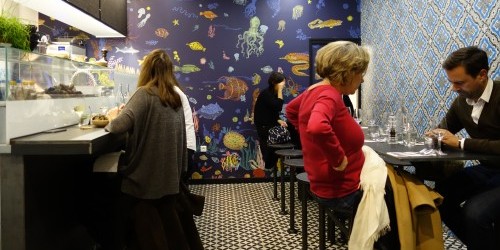 This is no longer included among the favorite 350 addresses that make up Our Guide to Paris Restaurants. We've maintained this page so that you can refer to the practical information and other reviews of interest. Feel free to share your own opinion in the comments.
______________________________________
Our review: It came as a total surprise that this, the seafood offshoot of beloved wine bar Le Verre Volé, would be one of my least favorite dining experiences in Paris. Let's be blunt: this was the worst meal I've had in several years. Uncomfortable churn-em' highchair seating and blindingly bright lamps could be forgiven if there was more than one dish that beckoned a second bite.
We ordered everything on the menu and finished nothing, not even the plate of six Maldon oysters (18 euros) that arrived after everything else, floating warmly in a pool of salted meltwater. I'm not sure how Cyril Bordarier, who is generally respected in the  Paris wine and restaurant scene, has created something with such an astringent atmosphere, with so little wine (the number of whites and reds can be counted on one hand), and with food that is remarkably, memorably unpleasant to eat.
– Meg Zimbeck, November 2014
Practical information
Address: 53 rue de Lancry, 75010
Nearest transport: Jacques Bonsergent (5)
Hours: Closed for dinner on Monday & Tuesday. Serving bento lunch Monday-Friday. Small French style plates (like at Le Verre Volé) at night and for lunch on weekends.
Reservations: accepted for dinner only
Telephone: 01 48 03 21 38
Average price for lunch: €10-19
Average price for dinner: €20-39
Style of cuisine: seafood, small plates, bento
Website   Facebook
Reviews of interest

Table à Découvert (2015) "Le «bento» du jour à 14 €, une explosion de couleurs entre riz blanc et noir (qui lui donne une couleur violette), chou fleur, seiche tendre et encre, purée de je dirais potimarron, feuilles de salades diverses assaisonnées de cette terrible sauce (dashi, sauce soja), crevettes séchées, noisettes, chou rouge/pomme/raisins secs et truite crue."
Le Figaro (2014) "Bento du jour (truite de banka crue marinée, chou kale, patates douces sautées, brocolis sauce huître…): frais comme un jardin marin. Entremets pistache, vanille et perles du Japon: délicat."
Not Drinking Poison in Paris (2014) "The seaside version is, alas, a rigid, cack-handed cash-in. From the Little Mermaid wall artwork to the miniscule wine list to the confoundingly amateurish cuisine, it screams of a concept in search of a vision, or, at very least, a competent chef… Across the board, dishes lacked all salt and acid… the entire effort has been phoned-in with scant attention to quality. Bordarier is capable of good restaurateurism. But for now he's gone fishin'."
A Nous Paris (2014) "À deux pas du canal Saint-Martin, l'institution-mère avait déjà les yeux dans l'eau. Voilà qu'elle y pêche ses idées. Après son bistrot (10e), sa cave à vins (11e) et son épicerie (11e), le Verre volé de Cyril Bordarier inaugure donc une façon de "boissonnerie". Dans les esprits, une dînette jouant sur le verre et l'épuisette."
Le Fooding (2014) "We succumbed the other night to the divine XXL Scottish knifefish, served warm and almost raw with an herb pesto and croutons; the really good Saint-Jean-de-Luz mackerel ceviche with tiger's milk, sweet chili aioli sauce and fried Chulpi corn kernels; the excellent smoked and lacquered herring, eggplant in an Asian marinade, killer rice with saffron, piquillos and pimento, charred with a torch before dinner service."
Gault & Millau (2014) "Cette minuscule table marine se concentre sur une formule toute simple : deux entrées du jour au choix (de très jolis rouleaux de printemps truite Banka nouilles soba et purée d'aubergine pour notre compte) et un bento du jour (qu'il est d'ailleurs possible d'emporter) aux produits hyper frais et au dressage soigné… Service plein de gentillesse, compensant largement l'inconfort des tabourets auxquels il manque des repose-pieds. Bières, thé ou vin au verre pour accompagner."