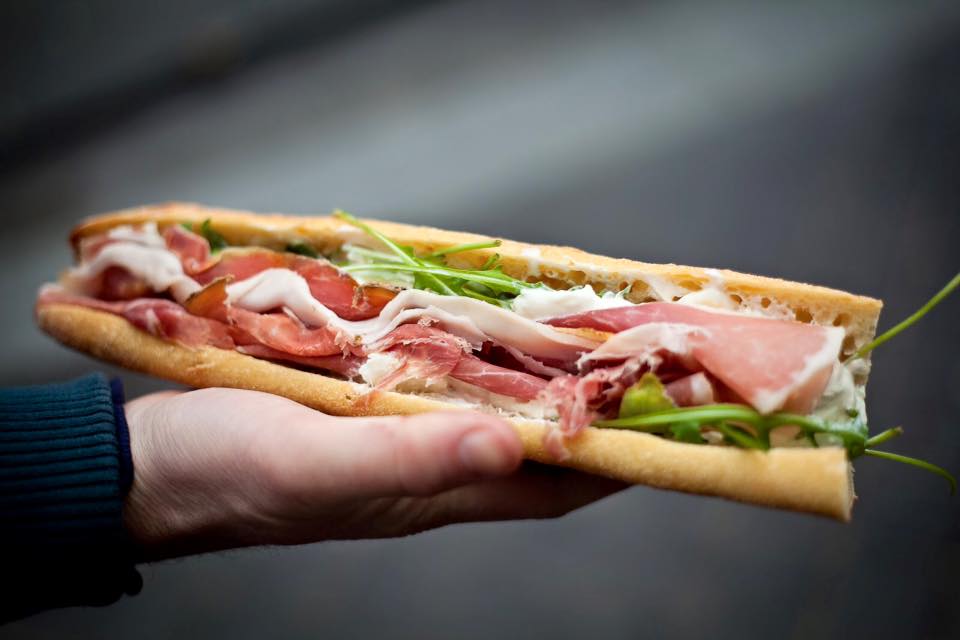 Address: 57, rue de Bretagne, 75003
Hours: Open Tuesday-Thursday 10am-3pm, 4-8pm. Open Friday & Saturday 10am-8pm. Open Sunday 10am-2:30pm. Open Monday 10am-3pm, 5-8pm.
Telephone: +33 1 42 71 82 98
Facebook
Mmmozza has one of the bbbest selections of mozzarella that you'll find in the city, ranging from tiny bocconcini, to a baseball-sized burrata stuffed with black truffles, to an enormous braided rope of bufala mozzarella, hacked off by the slice. The skinny sliver of an Italian specialty shop has lines out the door at lunch for its messy, affordable sandwiches featuring fresh mozzarella, cured meats and vegetables, and arugula. When the weather is nice, there's outdoor seating or you can chow down in the Square du Temple park directly opposite. A variety of imported prosciuttos and salamis, stuffed pastas, oils and vinegars, and a small but quality range of Italian wines are also available for purchase.
---
In Other Words
L'Express (2013) "On se presse pour la déguster en sandwich "Laura", best-seller de la maison, agrémenté de mortadelle ou de jambon fumé tranchés devant vous par Elena et avec, si on le souhaite, des tomates ou des courgettes séchées."
Not Drinking Poison in Paris (2012) "Its opening hours, service, and inconsistent product evince precisely zero ambition, bordering at times on actual laziness. Which is a shame, because it's one of the few épiceries of its type to have cottoned onto the natural wine thing."
Paris Bouge (2011) "De vache, de bufflonne ou en tresse, la cave de Mmmozza renferme de multiples pépites de mozza en provenance directe de petits producteurs italiens. Pour accompagner votre mozzarella, vous pourrez choisir parmi une sélection de charcuteries comprenant du jambon blanc, du saucisson et de la mortadelle."
Figaroscope (2011) "On y va pour… la cave à mozzarellas, puisque c'est la priorité de la maison, qu'elles soient de vache ou de bufflonne. Elles sont vendues au poids, par boules de toutes tailles avec, bien entendu, une place de choix pour la burrata, mode oblige."
Photos via Mmmozza's Facebook page