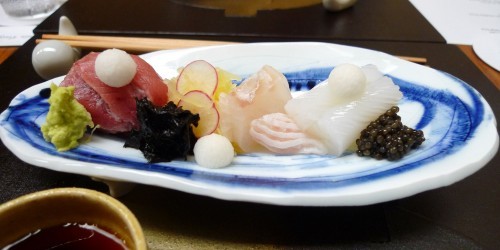 The first restaurant outside of Tokyo from chef Toru Okuda (of the Michelin-starred restaurants Okuda and Koju). Lunch for €180 and dinner for €250.
Practical information
Address: 7 Rue de la Trémoille, 75008
Nearest transport: Alma-Marceau (9)
Hours: Closed Monday & Tuesday; Open Wednesday-Sunday for lunch and dinner
Reservations: Accepted one month in advance by telephone
Telephone: 01 40 70 19 19
Average price for lunch: More than 100€
Average price for dinner: More than 100€
Style of cuisine: Japanese
Website   Facebook
Reviews of interest
L'Express (2013) "Bon d'accord, ce n'est pas vraiment ce qu'on appelle un plan anti-crise. 330 € à deux au déjeuner…ce fut quand même le grand frisson nippon."
Simon Says (2013) "Grande table japonaise tout juste ouverte à Paris. Six places, deux salons, prix qui font mal aux doigts, mais on ressort séché et enchanté."
Les Grands Ducs (2013) "pas de choix mais un menu imposé en 8 plats ordonnés comme une histoire racontée par le chef, un voyage au coeur de l'excellence gastronomique japonaise, suivant un protocole très formel. Bouillon clair à la daurade royale, langouste mi-cuite et légumes au wasabi, sashimi de thon gras, bar grillé au sel et aux sésames, filet de boeuf au miso, riz au saumon sauvage, compote de pêches (blanche, plate et de vigne), touchant à chaque coup au plus près de l'essence du produit. Le tout servi dans une vaisselle à la beauté époustouflante, avec un soin du détail où rien ne semble laissé au hasard."
Figaroscope (2013) "Tout à la fois cérébrale et intuitive, pétrie de sagesse et d'inattendu, cette table, vécue d'ici, n'est pas une table. Elle est voyage!
Patricia Wells (2013) "It is hard to choose a favorite of the eight courses, but I guess I would have to say the soothing, delicate flan, rich with fresh crab meat and a perfect foil of warm autumn mushrooms (flan salé au tourteau, sauce épaisse aux champignons). It was course number two, and if I had to stop there, I would have been a happy woman."
L'Express (2013) "Ici, le client n'est pas roi, mais juste un courtisan soumis au rituel ultracodifié d'un chef souverain, tarifé à prix hara-kiri.Une fois opérée cette mise en condition, on pourra se prendre au jeu de la liturgie exquise et captivante du kaiseiki. Le kaiseiki? L'art culinaire traditionnel nippon, quasi absent à Paris, pratiqué à la vapeur ou au charbon de bois, censé refléter la saison et la quintessence des produits."