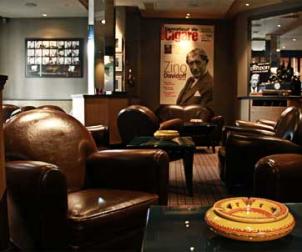 This historic spot is known for oysters and grand platters of fruits de mer, as well as its classified, Louis Majorelle – designed art deco toilettes.
Practical information
Address: 9 rue Duphot, 75001
Nearest transport: Madeleine (8, 12, 14)
Hours: Open every day
Reservations: Last minute booking usually OK
Telephone: 01 42 60 36 07
Website
[cetsEmbedGmap src=http://maps.google.com/maps/ms?ie=UTF8&hl=en&msa=0&msid=202475318786031781734.0004a33aa88a3b22c4546&ll=48.868122,2.32565&spn=0.003465,0.009645&z=17 width=500 height=325 marginwidth=0 marginheight=0 frameborder=0 scrolling=no]View a map of all of our restaurants here.
Average price for lunch: 35-49€
Average price for dinner: 50-99€
Style of cuisine: Classic French, brasserie, seafood
Special attributes: standout seafood, late night bites, continuous all-day service, open Sunday, open Monday, valet parking
Type of crowd: suits, foodies, neighborhood locals
Interior: elegant & luxe
Atmosphere: formal
Reviews of interest
Figaroscope (2009) "Goumard a aménagé au rez-de-chaussée un petit comptoir de ­dégustation d'huîtres (29,10 € les 12 huîtres dont 3 belons n° 3) ouvert en continu de midi à ­minuit… Au menu ? De très belles huîtres plates ou creuses, spéciales ou fines de claire dont les ­remarquables huîtres d'Yvon Madec à Prat-ar-Coum."
Alexander Lobrano (2009) "Gourmard has slimmed down a lot for this new century, and I'd certainly be willing to give it another go for the good value menu, but I couldn't help but regretting what it once had been…"
John Talbott (2009) "I went today with a trusted palated friend and he and I were thoroughly pleased with the all inclusive menu (3 courses, 1/2 btle wine, 1/4 btle water and coffee) for 49 Euros."
About our listings
Our best efforts were made to ensure that information provided was accurate at time of publication. Have a correction or update? Send it here.