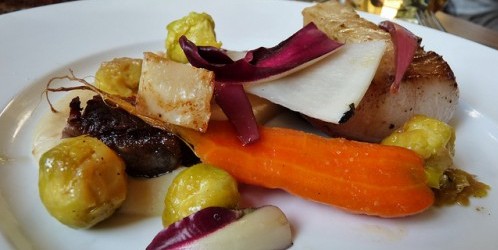 We have visited and will be posting a review soon. In the meantime, you can scroll to see photos and what other reviewers have said about Le Galopin.
Practical information
Address: 34 rue Sainte-Marthe, 75010
Nearest transport: Belleville (2, 11)
Hours: Open Tuesday-Saturday for dinner, plus lunch on Friday & Saturday. Closed Sunday & Monday.
Telephone: +33 1 42 06 05 03
Website    Book Online    Facebook     Instagram
---
Le Galopin in pictures
Photos by Meg Zimbeck © Paris by Mouth
What people are saying
Food Intelligence (2012) "le résultat est pas si mal. Un tartare de veau, radis, cresson à l'acidulé élégant ou la savoureuse volaille cou nu à la cuisson bien maîtrisée."
Chez Ptipois (2012) "La carte des vins est courte en raison des difficultés de stockage: il y a peu mais du bon et du nature…  Bien que j'aie zappé le dessert, je conclus à un sans-faute. Les prix sont plus que raisonnables pour une telle qualité. À ranger résolument dans la catégorie "Jeunes bistrots enthousiasmants".
L'Express (2011) "…une jolie réussite…L'ombre du chef du Chateaubriand plane d'ailleurs sur l'endroit: Romain Tischenko s'inspire ostensiblement de sa manière de boxer les saveurs avec ce mélange de grâce et d'inconscience.
My Paris Notebook (2011) "My first visit for lunch, exceeded expectations. Seared calamari, thin slices of brightly colored green meat radish, and crisp fennel made for an amazing dish. …Overall I loved the creative, market-based menu and laid-back atmosphere…"
John Talbott (2011) "out of this tiny kitchen with a California/Amurican pass-thru, come dishes of such complexity, creativity and contrasting ingredients it kind of takes your breath away…"
Alexander Lobrano (2011) "Just two tiny courses into this meal, and I was already impressed…Crisply grilled brill on a bed of crushed potatoes with grains of lemon, shitaki mushrooms and griddled baby leeks…veal, which came with parsnips puree, pea shoots, and slices of raw daikon and parsley root, a terrifically nuanced constellation of flavors and textures….desserts were brilliant, too."
Le Figaro (2011) "…quelques compositions bien plaquées, propices aussi au minimum cérébra..Heliantis-encornet-shitake: gourmand. Canard, chou, daikon, yuzu: chair superbe qu'aiguise un chou délicatement sûr…"