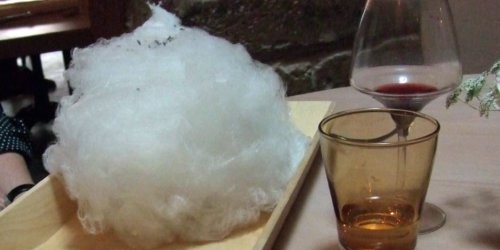 This is no longer included among the favorite 350 addresses that make up 
Our Guide to Paris Restaurants
. We've maintained this page so that you can refer to the practical information and other reviews of interest. Feel free to share your own opinion in the comments.
Practical information
Address: 50 rue Amelot, 75011
Nearest transport: Chemin Vert (8)
Hours: Closed Sunday, Monday and Tuesday
Reservations: Last minute booking usually OK
Telephone: 01 48 07 45 48
Average price for lunch: 35-49€
Average price for dinner: 50-100€
Style of cuisine: Modern French
Facebook
Reviews of interest

Atabula (2014) "Pendant tout le repas, les serveurs vous frôlent dangereusement, ce qui ne prête guère au laisser-aller du client. Lequel ne sera pas plus rassuré par un service tantôt trop obséquieux, tantôt manquant totalement d'humanité."
L'Express (2011) "Ces saint-jacques artichaut vanillé, sorbet pomme verte, par exemple. Le plat me fait penser à une modeste bagnole bodybuildée en mode tuning. Autrement dit, un plat plutôt honnête à l'origine – deux belle pièces snackées, une purée d'artichaut gentiment vanillée – faisant de la gonflette avec une débauche d'accessoires bêtement tape-à-l'oeil…"
John Talbott (2011) "The place's decor is odd, nice odd, but odd…the carte had items such as a "sushi" foie gras, salmon takati, green tea crusted lamb and Japanese vegetable…I had scallops with lots of greens and herbs – and a center bowlette of apple sorbet, and oh, two rose leaves – wonderful."
Bruno Verjus (2010) "Un service diligent, touchant de tendresse. Des assiettes aux intitulés japonisant – tataki, sushi, miso, combawa…Du charme donc dans cette belle assiette de légumes vapeurs (ou au sautoir) et simple filet d'huile d'olive. Un paysage de brume d'hiver, de chaleur /vapeur des légumes arrachés à la terre.
Photo courtesy of John Talbott