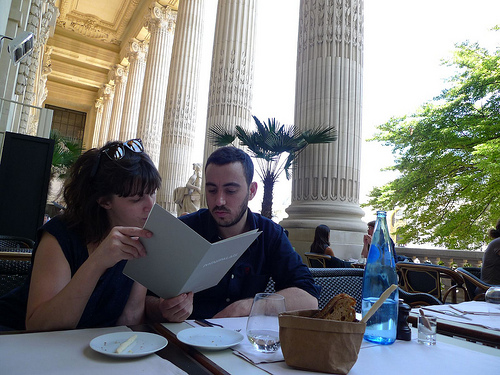 Paris' Best Spots for Eating & Drinking Outside
Our selection of spots for eating and drinking outdoors, organized by preference, location and price. Scroll to the end to find a map of all our picks.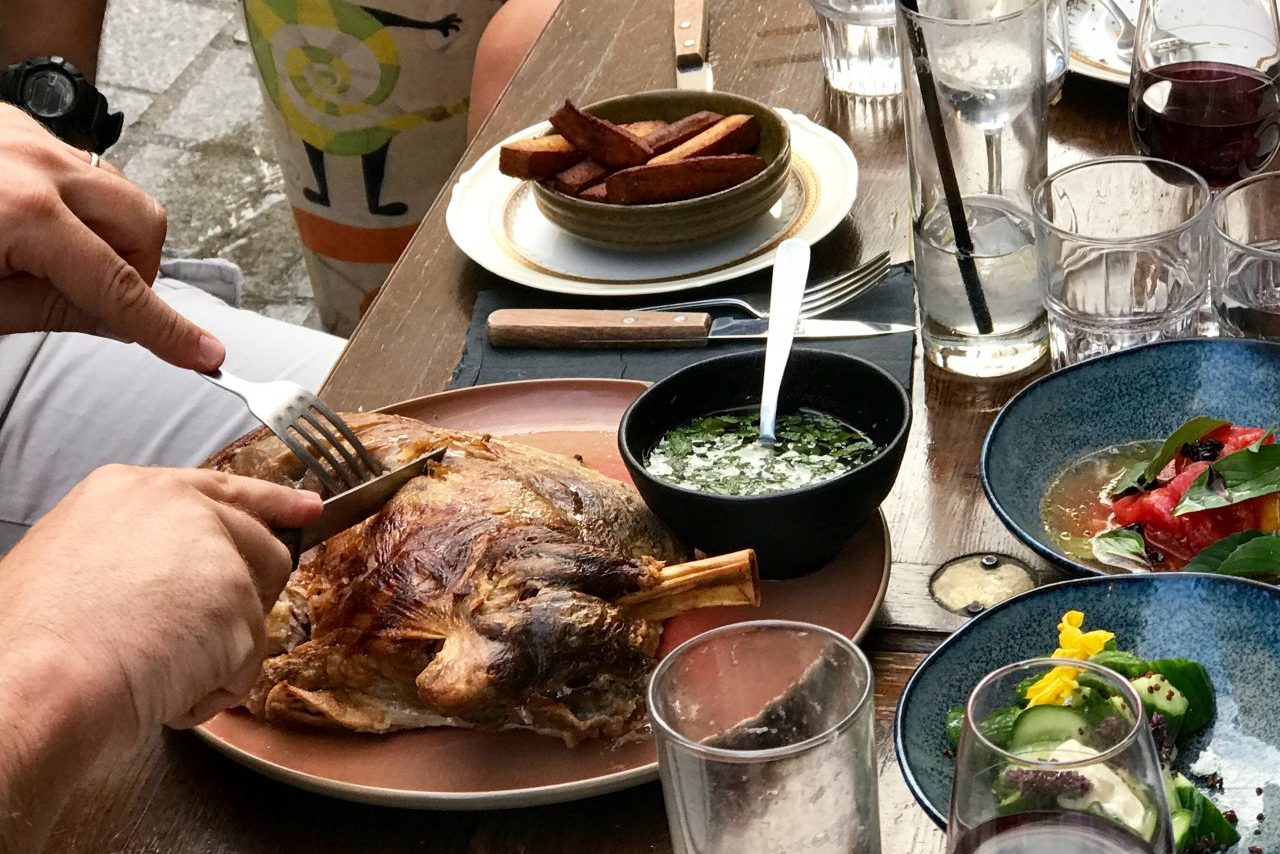 Best for Outdoor Dining
Absolute Favorites
Café de la Nouvelle Mairie [€€ in the 75005] a classic café with simple bistro fare and an outstanding natural wine list. Just a handful of outdoor tables. Closed Saturday & Sunday.
Akrame [€€€€€ in the 75008] if you're in the market for a pricey modern tasting menu, Akrame is a beautiful option. Sitting outside in their stunning interior courtyard dotted with contemporary sculpture makes it even more special. Closed Saturday & Sunday.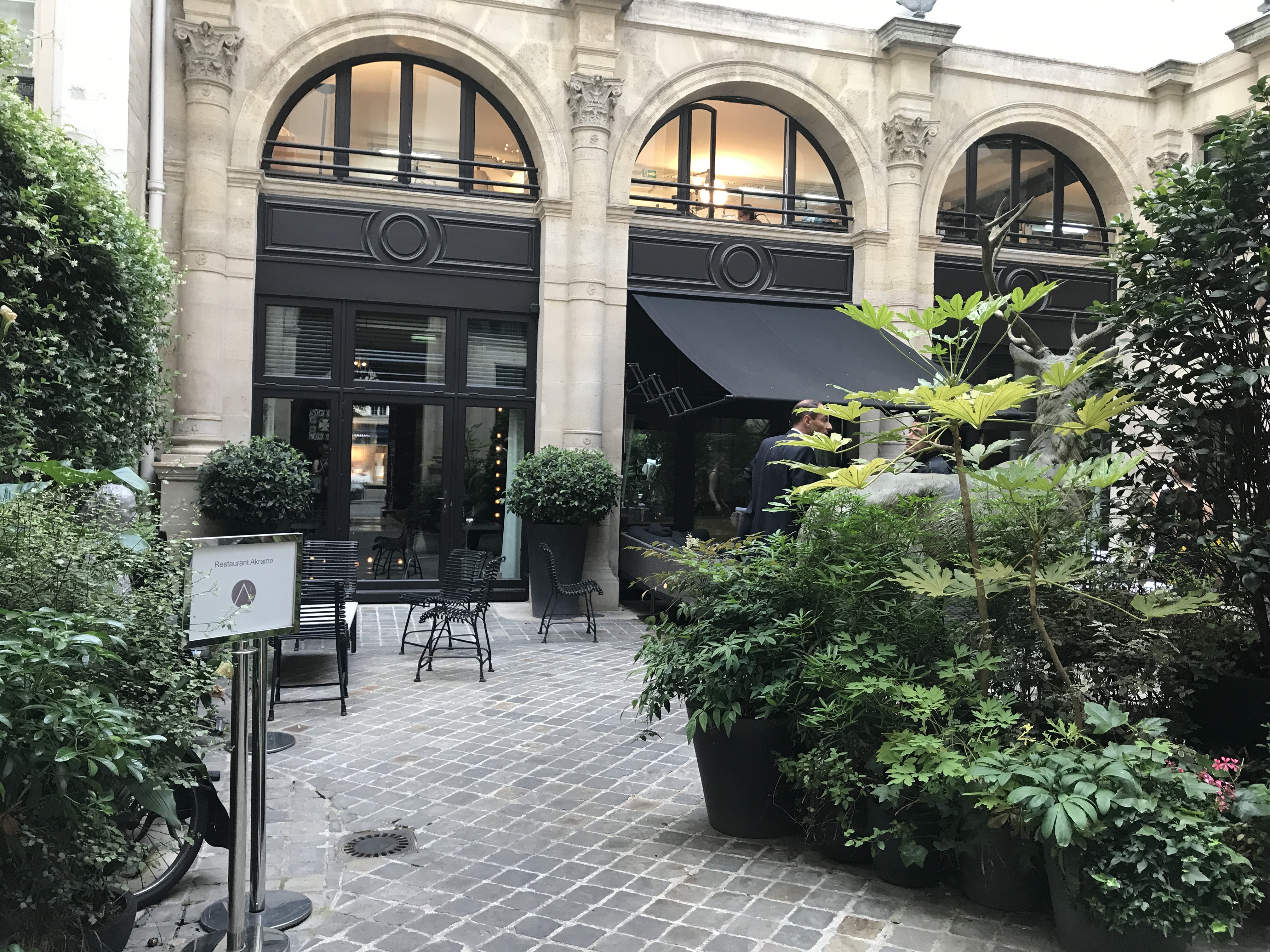 Strongly Recommended
Grand Cœur [€€€ in the 75004] one of the prettiest outdoor dining options in Paris, with a large number of tables tucked into the interior courtyard of a hotel particulier. The menu, overseen by three-star chef Mauro Colagreco, is light and Mediterranean. Service is routinely terrible: drink more wine and try to forget about it. Be sure to specify an outdoor table when making your reservation. Open every day.
Breizh Café Odéon [€-€€ in the 75006] the outdoor tables here provide a perfect perch for people watching while devouring an inexpensive galette (I remain loyal to the complète with ham, egg & cheese) with artisanal cider. Go big by adding fancier ingredients to your galette or a platter of oysters or langoustines.
Girafe [€€€ in the 75016] they have a 200-seat terrasse with a view of the Eiffel Tower. The food, while pricey, is better than it needs to be. Advance bookings are essential, but they take them online.
Le Grand Bain [€€ in the 75020] with only a tiny number of sidewalk tables, you'll need to request when booking that you'd like to sit outside. This terrasse isn't for everyone, but we love this view onto one of the most heavily graffiti painted and diverse streets in eastern Paris. Warning: if you don't get a seat on the terrasse, it can be sweltering inside.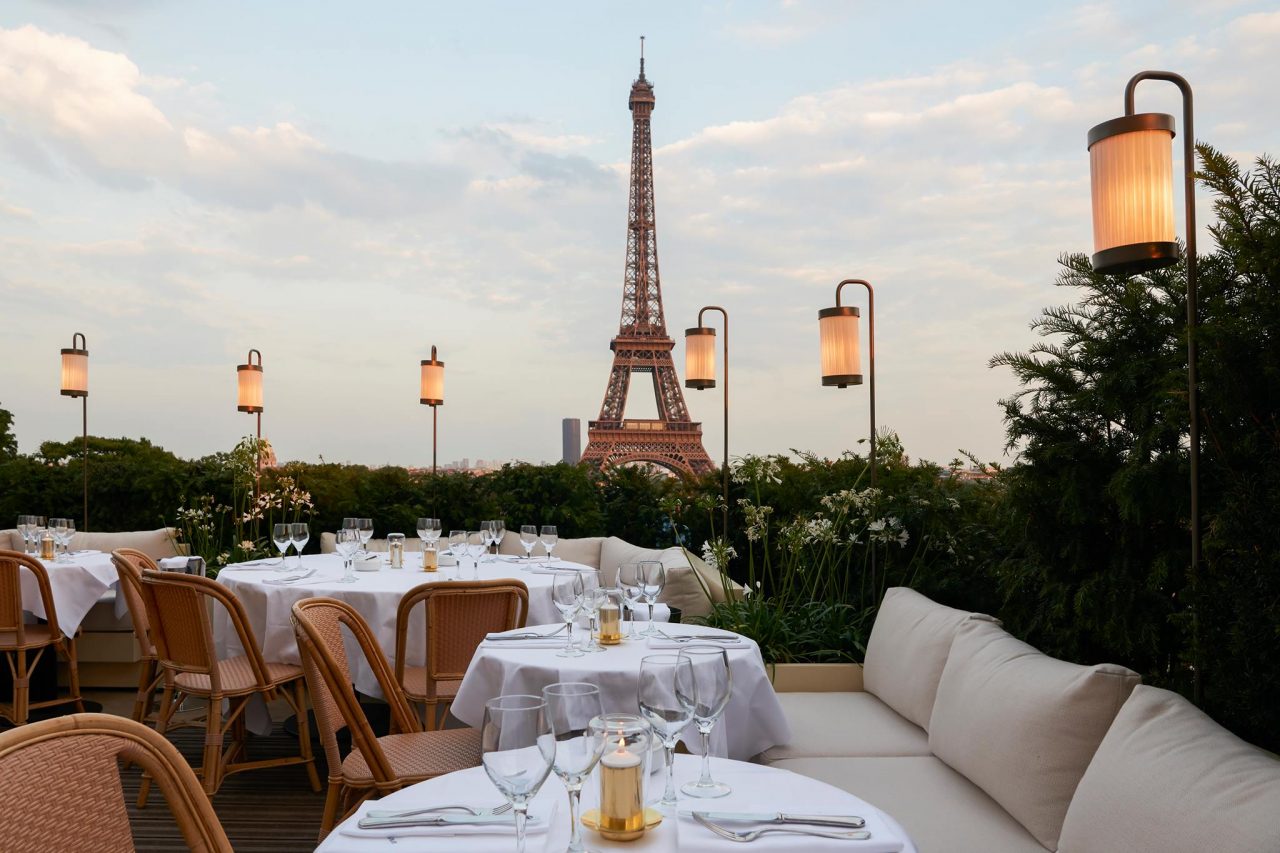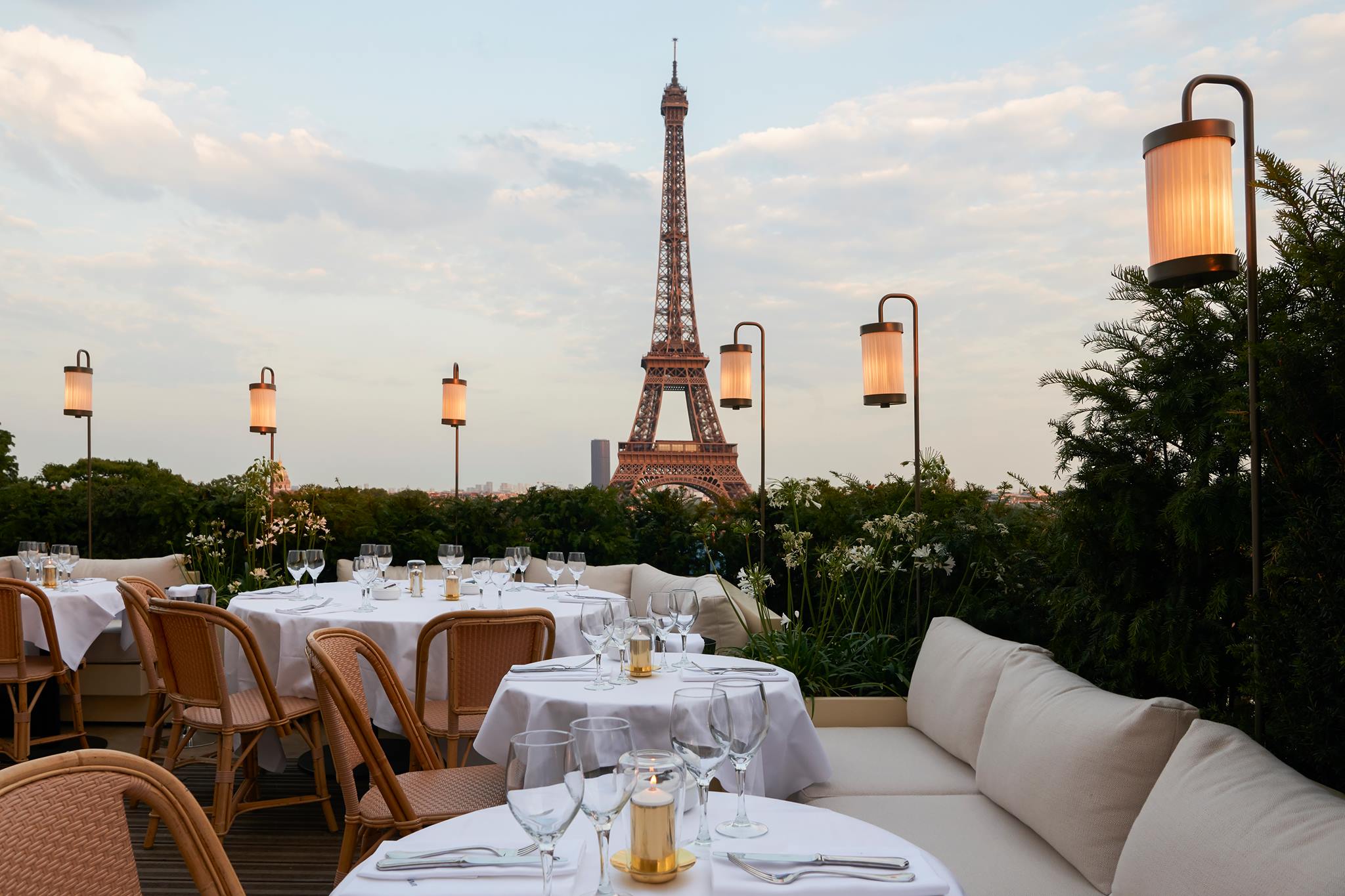 Good for the Neighborhood
Maison Plisson [€€ in the 75003] an all-day café with a large sidewalk terrasse that's best for breakfast, lunch and afternoon snacks. Open every day.
Le Comptoir du Relais [€€€ in the 75006] evenings are booked long in advance but you might get lucky at lunch if you line up (no reservations) at or before noon. The outdoor tables are better for pairs than for groups and afford excellent people watching. Open every day.
La Fontaine de Mars [€€€ in the 75007] breezy indoor/outdoor dining at this very classic southwestern French bistro. Open every day.
Les Climats [€€€€ in the 75007] this pricy address near the Musée d'Orsay has an all-Burgundy wine list and a gorgeous courtyard that's open only for lunch. Closed Sunday & Monday.
Le Mini Palais [€€€€ in the 75008] with towering columns, palm trees and spacious seating… c'est la classe. Eric Fréchon of the Bristol is the consulting chef of this contemporary, chic brasserie attached to the Grand Palais. Reservations are a must. Open every day.
L'Angelus du Canal (formerly Philou) [€€ in the 75010] this perennial favorite near the Canal is under new ownership and a recent return visit didn't disappoint. More than a few outdoor tables on their covered sidewalk terrasse. Closed Sunday & Monday.
Will [€€ in the 75012] there's a smattering of lime green chairs on the sidewalk at this modern bistro near the Aligre market. Closed Monday & Tuesday.
À La Renaissance [€€ in the 75011] the food is pretty basic, and the sidewalk tables on a noisy street near Voltaire are better for groups of friends than for an intimate dinner. We love it for the surprisingly great wine list.
Not Great, But Maybe You're Desperate?
Grazie [€€ in the 75003] we find Grazie to be over-hyped and a little basic, but it's a decent option for Negroni-guzzling groups.
---

Best for Outdoor Drinking
Absolute Favorites
Café de la Nouvelle Mairie [€€ in the 75005] more substantial plates are available, but plenty of people come here just to plow through the impressive wine list and snack on pâté and rillettes. Because they're open early, this is also a great option for coffee and a simple breakfast.
Strongly Recommended
Moncoeur Belleville (€ in the 75020) It's not much more than cheap rosé served at communal picnic tables, but on certain summer evenings, that's really all you need. Open and airy with a great view over the city.
Good for the Neighborhood
Ma Cave Fleury (sidewalk tables)
Rosa Bonheur sur Seine (large terrasse)
Kiez Biergarten (courtyard)
---
Outdoor Options on the Map
Purple hearts for our absolute favorites.
Green for restaurants we strongly recommend.
Yellow for restaurants that are good, but not among the best in their style.
Red for restaurants we don't recommend.