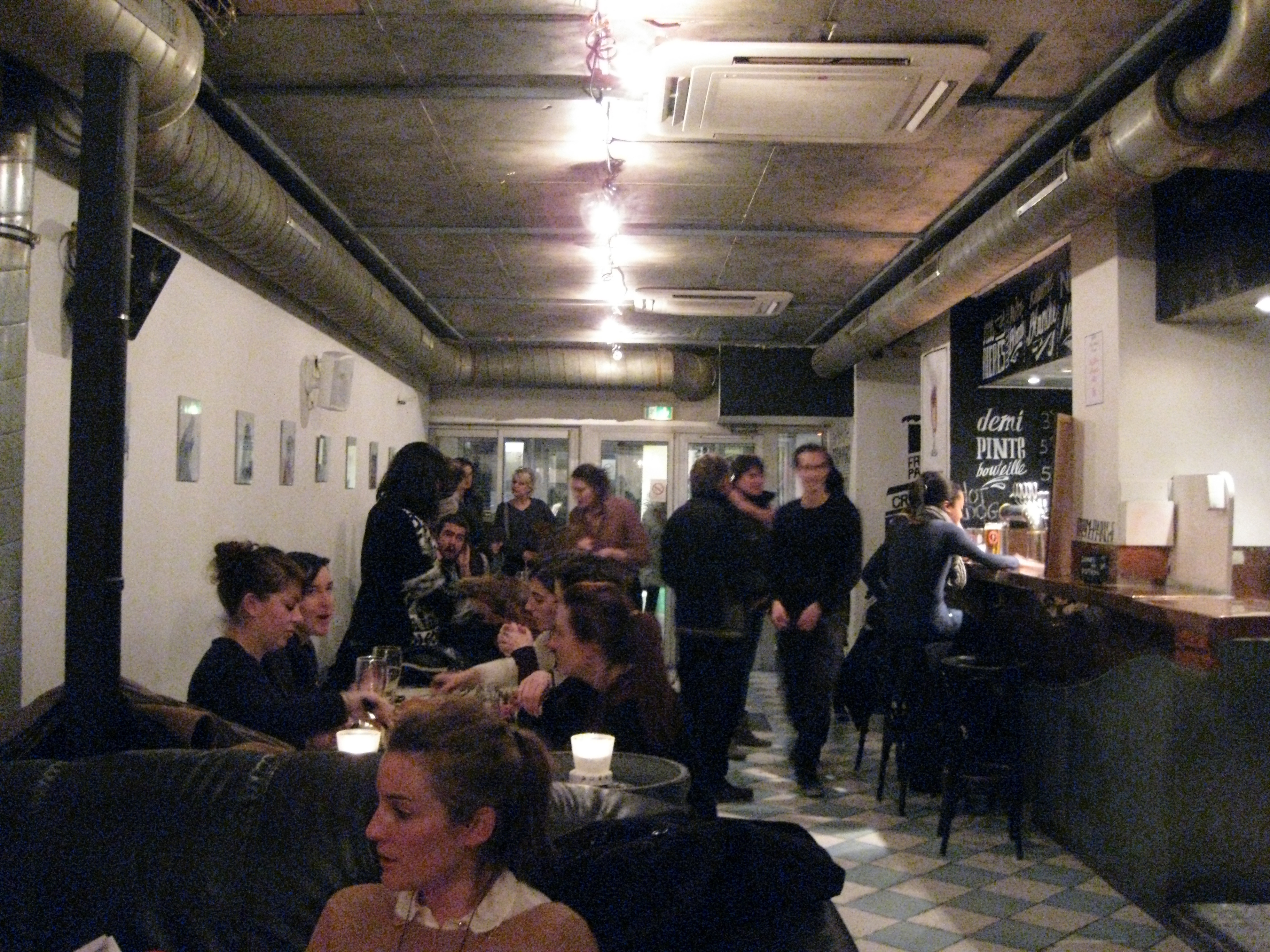 Paris' First Pop-Up Beer Bar
[portfolio_slideshow]
Founded in 1827, bought out in the 1940s, and closed for good in 1953, Bières Demory already had a long history when Kai Lorch succeeded in resurrecting the brand in 2009. Currently brewed in Germany, Demory's Astroblonde and Roquette Blanche beers have already gained a certain popularity in Paris. They're available on tap in several bars and cafés, and in bottles in large supermarket chains such as Monoprix.
In order to increase brand visibility, Demory has more recently launched a pop-up beer bar in Paris. They've teamed up with "culture collective" From Paris to open From Demory Paris on the rue Quincampoix – two steps from beer geek paradise La Cave à Bulles. Considering the hip pedigree, it's a surprisingly laid-back beer hall-type space.
A long bar extends the length of the room, facing a row of whitewashed picnic tables in the front and a couple of cozy couches further in. In back, next to the kitchen, there's a Foosball table in a room lit by chandeliers. Kind of like a cleaned-up college bar, where beer drinkers over the age of 23 can still feel comfortable.
Obviously, the beers on tap are Demory: the blonde, the blanche, and a dark beer that is only available on tap here, and at a few select cafés in town. A demi costs a pretty standard 3€, and pints come in at a wallet-friendly 5€. They have a few beer cocktails on a chalkboard, but why bother when the beer is so drinkable on its own?
Beyond the beer, there are a few food options, including the "Coney Island Dinner" with a hot dog, bagel, or chili for 5€, and a planche of charcuterie for 15€. From Demory Paris has also been playing host to a number of events such as art expos and DJ nights, and a Christmas market featuring vintage and locally made clothes and accessories.
After January 5th, the pop-up will close for renovations and to reflect upon what they've learned from the experience. They hope to reopen a Demory bar in a more permanent capacity 2013, and even have designs on building their own brewery within the Paris city limits.
From Demory Paris
 62 rue Quincampoix, 75004
Open every day through January 5 from 6pm-2am