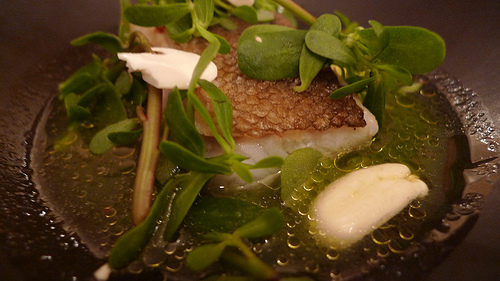 Paris Rankings Among the World's 50 Best Restos

The 2011 Pellegrino World's 50 Best Restaurant Awards
Whether you love them, hate them, or (like Ferran Adrià) just think they need a little reform, the annual rankings were revealed tonight in London. We were nerdy enough to watch the live streaming event in our pyjamas and to post the play-by-play on our Facebook page. Rene Redzepi's restaurant Noma retained the #1 spot, followed by two Spanish restaurants, El Celler De Can Roca and Mugaritz. The highest ranked Paris restaurant was Le Chateaubriand, which broke the the top ten for the first time this year.
Paris Results
Among the Paris rankings, there are some very different stories. Le Chateaubriand, which broke the top ten for the first time this year (and is the only French restaurant to do so) has been rising dramatically since its entry in 2009. Pierre Gagnaire, on the other hand, has steadily slipping ever since its highest point at #3 in 2008. L'Astrance, L'Atelier de Joël Robuchon and L'Arpège are all on a comeback kick, while Alain Ducasse has been tumbling consistently down in the rankings. Anne-Sophie Pic was named as the World's Best Female Chef, but her restaurant (Maison Pic, Valence) didn't make the top 50. Also ranked in the second tier was Le Meurice, squeaking in at #97.
So how do we explain the fact that Le Chateaubriand and L'Arpège are rising while Ducasse and Gagnaire are slipping? And what about all those three-star Michelin chefs (Frechon, Alleno, Savoy) who didn't make the cut? What does it mean that David Chang's noodle bar outranks the founder of the Collège Culinaire de France?
Full Results