Blogger Buzz: La Tête Dans Les Olives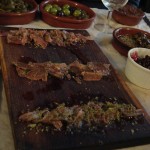 Casanova is an olive oil lover.  Cédric Casanova, that is, the man behind (or with?) La Tête Dans Les Olives, the closet-sized boutique that becomes a table d'hote for five lucky souls at lunch time.
Cédric is a grossiste, or wholesaler, but that's an awfully crass way to describe what he really does, which is cultivate relationships with olive growers in western Sicily who make the dozen or so superb oils on the shop shelves, each one named after its producer: Bianca, Nunzio, Salvatore…
The 30 euro lunch is composed of products available for sale in the boutique: Bread with pungent wild oregano and Trapani sea salt, two kinds of tapenade, sun-dried tomatoes and dishes of olives were waiting on the tiny folding table when we arrived.
> Continue reading at Barbra Austin