For a long time, the prevailing opinion of visitors to the French capital has been that the coffee in Paris is terrible. Well, it may be time to revise this long-running truism to "coffee in Paris was terrible."
This Fall has seen a veritable avalanche of openings (Holybelly, Belleville Brûlerie, Fragments, Fondation, Coutume Lab) that have enriched the city's specialty coffee scene with brews that are crafted by trained baristas using freshly roasted high-quality beans. And the local offer promises to get even better with upcoming launches of Lockwood and Rêves des Abyssines. So why are our cups of good coffee now running over like never before?
While researching this story over the past couple of months, I found myself sipping cup after filtered cup of Belleville Brûlerie coffee in shops with minimalist decor and nibbling anglicized baked goods (typically from Emperor Norton, one of the best purveyors in town). So the curious thought began to percolate in my head that the more the Paris coffee scene has changed, the more it's stayed the same. When asked what made their shops unique, the constant refrain from owners and staff was high-quality filtered coffee, locally roasted Belleville beans (usually paired with a few other well-respected international roasters) and great cookies and/or pound cake. A notable exception was Nico Alary of Holybelly who passionately expounded about the virtues of the osmosis filter he keeps in the basement to purify his water, which makes sense in view of the fact that espresso is 95% water. But is it possible that in their effort to create a seriously good scene, Paris' new coffee masters have ended up creating one that's just as homogenized as the milk they use in their specialty coffees?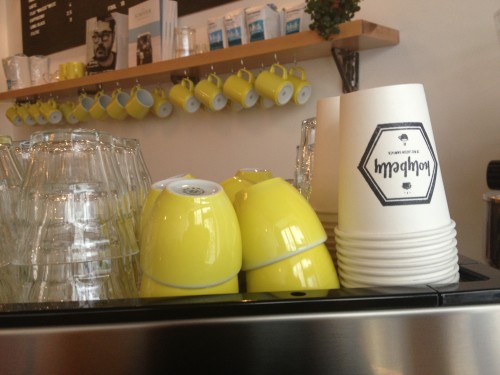 When visiting each of the specialty cafés back to back, these similarities can be slightly tiresome, but when compared to the thousands of corner cafés or brasseries serving up acrid cups of Cafés Richard, this new wave of cafés is still fresh and exciting. Filtered coffee isn't easy to find in Paris overall, much less one of excellent quality, nor are locally roasted, super-fresh beans. So even if there's something slightly repetitive about Paris' emerging coffee scene, there's no doubt we're lucky to have the new options. Uniformly good, after all, is far better than uniformly bad. Uniformly bad, is how most people (as little as three years ago) would describe coffee in Paris.
Why was Parisian Coffee So Terrible?
As New York City based writer Oliver Strand documented in 2010, poor coffee was (and continues to be) prevalent almost everywhere in Paris. Historically, the French served coffee made with poor quality Robusta beans (grown inexpensively and efficiently in former French colonies) rather than Arabica. They roasted their beans too long and continued to use them long after they were no longer fresh. Emmanuelle Bocquier, native-born barista and Sales Manager of L'Arbre à Café, explains that coffee "is a product that [the French] like but don't really know. Most of the time, the roasters in Paris are not very specialized. Their selection of beans is bad, then these bad beans are burned when roasted in very large batches. People don't really know how to use their roasting machines."  Couple these bad beans with shoddy, infrequently cleaned machines, poorly trained baristas, and chalky long-life UHT milk, and you've got the recipe for a seriously lousy cup of coffee.
Bocquier explains that in order to have good coffee, "everything is important. The way the producer is working on the farm, the selection of the beans, the fact that they pick the cherry (as coffee beans are called by the trade) by hand and not with huge machines, and the shipping conditions as well." The quality of the water used to make coffee is also key, as is the education of the barista, and the quality of the machine. Bad machines abound at corner cafés and lack the rotary pumps that create the pressure (bars) that's vital for extracting and properly pulling shots of excellent espresso. By way of contrast, the La Marzocco appears to be the nearly universal machine choice of the Parisian specialty coffee scene.
Local roaster La Caféothèque was the first to buck the dark, bitter and over-roasted bean trend. They were later followed by Café Lomi, Coutume Café, Télescope, Ten Belles, and many others. These roasters and cafés made significant investments in machinery and education both for their staff and for their clientele. Cuppings (ritualized professional tastings to evaluate quality and discern flavor notes) are routine business at Café Lomi, Coutume Café, L'Arbre à Café, and Belleville Brûlerie.
Coutume Café, the roaster and restaurant near Le Bon Marché department store on the Left Bank, has seen those efforts really begin to pay off within the past six months. According to Managing Director Tom Clark, "It's taken us about three years to hit our stride. We began with a market that really hadn't been developed in terms of coffee connoisseurship. So you have to do the cupping, take people behind the espresso machine to show them all of the little elements we are controlling, and just generally educate them to appreciate everything that goes into producing good coffee. Gradually, the Parisian public has become more demanding."
Or, as some have argued, has it been brainwashed?
Coffee as Cultural Imperialism?
Shades of cultural imperialism and the homogenization of good taste echo behind each new article proclaiming that "Finally! Good Coffee Has Come of Age". Good coffee can be subjective, and some have argued that the new roasters and cafés are trumpeting an Anglo-centric definition of quality, while the French palate appreciates another style – espresso that's darkly roasted and bitter. This preference may also explained by the difference between French coffee-drinking habits and those in other countries. In France, coffee is usually served as the capstone to a meal, as a quick pick-me-up consumed while standing at a counter, or sipped as an excuse to linger on a café terrace.
Whatever the reason, it does seem that the French palate is accustomed to a specific flavor profile. Fish (La Boissonnerie), which instituted a new coffee program last year, has seen some French customers send back their Coutume espressos because they say it "tastes funny."
"The taste they want is roundness, with a hint of chocolate. Some even like the roasted flavor," Tom Clark explains. "We refuse to do that. We roast to bring out the flavor of a particular terroir and we don't impose a flavor. We are specifically choosing single origins of exceptional quality." It's taken time and patience for Coutume to get the French palate accustomed to those single origin flavors, too. They did weekly cuppings on Saturdays for the first eighteen months in business and appealed to the deeply rooted Parisian reflex of connoisseurship by regularly bringing in growers to give talks about their beans on-site. "Little by little, the [collective] palate became more attuned and now we've gone from having to give them a taste profile that's chocolate-y, nutty and round, to one where we can really play around with a little bit of acidity. We're in our development phase where we can go to town [in terms of funky flavor profiles]."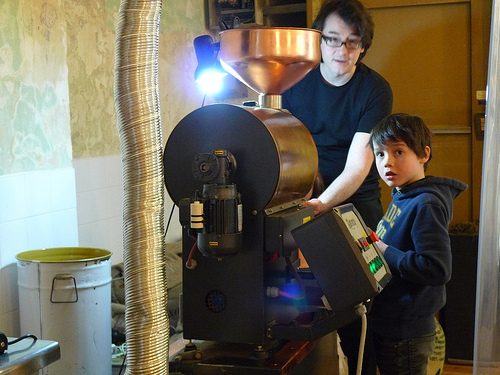 Thomas Lehoux of Ten Belles and Belleville Brûlerie counters that the cultural imperialism argument espoused by some French writers is "bullshit." His business partner David Flynn explains that the traditional French coffee is "not just dark and over-roasted. It's really, really poor quality coffee that ultimately is not sustainable as a commodity. The coffee beans in French cafés are the cheapest of the cheapest coffee that you can find in the world. It's not even a subjective judgment. It's an objective judgment." For the trio of roasters, it's not about bringing a certain flavor profile from the States (they're a 66% French company, they'll have you know). Instead, their goal is "to be a super French roaster. We want to help people outside understand that what's happening in France [with coffee] is different than what's happened elsewhere. That it has its own rules, an identity and palate. It's important to be a part of helping to create that and it's part of why we named ourselves after the neighborhood. There's a certain sense of place… it's the opposite of cultural imperialism… there are a ton of different ways that coffee can be presented and enjoyed. We want to show that range."
That range may still be somewhat limited. Even the geekiest and most specialized of coffee shops tend to have tightly edited menus and the latest batch of openings are all focused on very similar styles of preparation.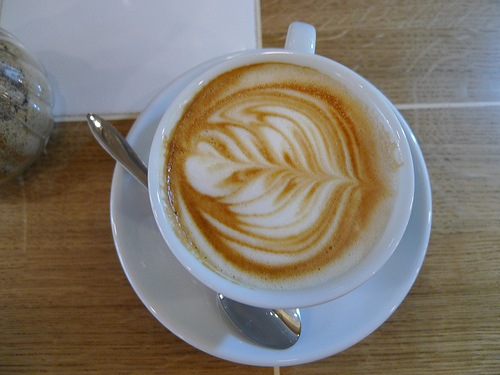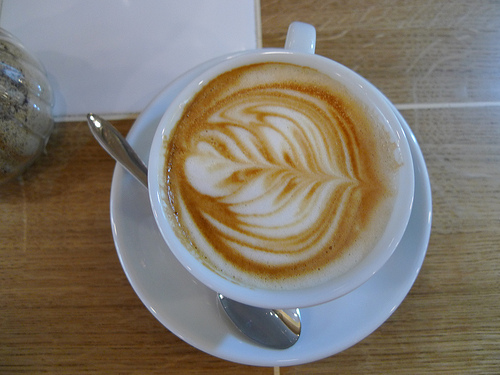 Filter Coffee, So Hot Right Now
Look at any of the menus at the specialty shops and you'll see filtered coffee (filtré, café américain) highlighted. At Holybelly it's in big, bold letters "the real deal!". When I asked at Fondation about what on the menu was particularly unique, the response was "filter, made with Belleville beans." When I posed the same question to Connor from Coutume Lab, he extolled the virtues of their Guatemalan honey blend filter coffee. Filter coffee makes up half of all sales at Ten Belles according to Lehoux. It's not that filtered coffee is particularly new. As Flynn states, filter historically "is the coffee that Grandma was making. Everyone has a piston, a French press sitting around. But it's a way to make people look at coffee in a new way." For Flynn, the benefit of focusing on filter is that it's a cheap and easy method that just about can use to prepare a beautiful cup in home. The main challenge is in getting the French consumer to realize that the freshness of the roast and grind are key; that coffee is a product with an expiration date like milk or vegetables.
The current French love affair with filtered coffee is notable for Flynn in that "In the U.S., filter is just sort of normal and specialty coffee has been built on espresso. This is also true in Australia and England, countries that are very espresso-centric. France is kind of the opposite. It's the first time filter coffee has started taking off in a country that's originally had an espresso-dominated culture. And it's happened during a short period time, the last eight years."
Much of the uniformity can be traced to the growing pains that come with a scene that has matured so rapidly.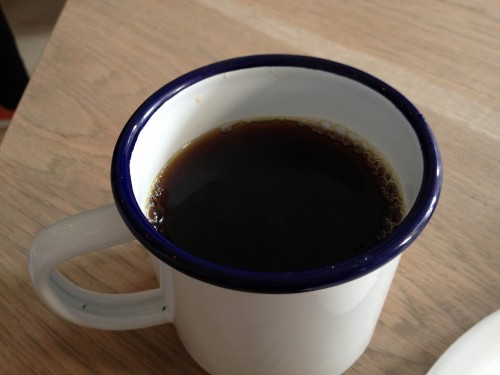 Instant Coffee (Scene)
According to Paris's new coffee mavens, France was ripe for a coffee renaissance. As Clark explains, "Coffee is a product that's so ingrained in the French lifestyle. People drink it all the time, and there's this reflex to say let's prendre un café." It was about the experience, about lingering together on a café terrace for a chat. Flynn explains that espresso allongé, essentially the French espresso version of filtered coffee (a shot of espresso diluted with hot water) was so popular in part because it extended the social opportunities. The concept of terroir, or the idea that the taste of a product is intrinsically linked to where it has been grown, is the much revered backbone of French culinary culture, so the French palate has been trained to be attuned to the subtleties of flavor and texture in cheeses, wines, and other food products. France has hundreds of AOC (Appellation d'Origine Contrôlée) regulated cheeses, meats and even legally protected heirloom strawberries. So when it came to coffee, it was clear to Clark that "the French public has a good, inquisitive palate, wanted transparency and accountability… they understand the notion of terroir and tasting notes. The whole argument came from the wine world and applied to the coffee world." Once roaster and specialty shops were actually on-site to provide an alternative to the ubiquitous Cafés Richard seen at every corner caféand brasserie, the development of the quality coffee scene was extremely rapid. So cities like Melbourne, London and San Francisco might have more developed coffee cultures, but Paris has caught up to their sophistication at a remarkably fast pace.
This Fall has been a watershed moment for coffee in Paris. Destination-worthy coffee shops are no longer a rarity. Restaurants that take great care in sourcing their seafood, produce and meat are now transforming their coffee programs to reflect the same ethos of exigency when it comes to the coffee they serve. Restaurants like Fish (Coutume), Verjus (Coutume), and Le Comptoir du Relais (L'Arbre à Café) are seriously working to source and prepare quality coffee to match their food. Pastry chefs like Pierre Hermé are even getting in on the action as evidenced by the recent collection of coffee-flavored desserts that source exclusive and rare single origin Brazilian coffee beans from L'Arbre à Café.
And for all the ways in which the scene has transformed so rapidly and continues to grow, the baristas aren't likely to rest on their laurels and sit around sipping their coffee. As Clark explains, "specialty coffee is defined by its relentless pursuit of excellence and there's never an endpoint."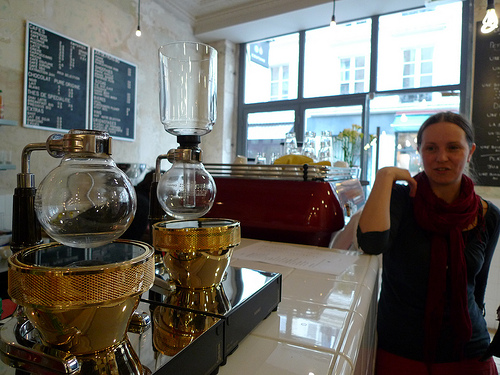 Related Posts: 
Additional Reading