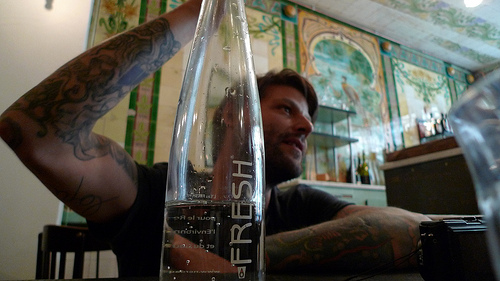 Pierre Jancou to open Heimat in January
Pierre Jancou, the force behind La Cremerie, Racines, Vivant  has signed on to open a new restaurant called Heimat on January 12. 
In contrast to those previous restaurants, which Jancou owned and later sold, Heimat will employ Jancou as gérant or manager with a contractual obligation of 2-3 years. In this role, Jancou has recruited two Italian chefs to produce a menu that straddles the line between Italian and French gastronomy. The kitchen will be led by Michele Farnesi, the former second to Giovanni Passerini at Rino, who also worked for Massimo Bottura in Italy.  Michele's second is currently working in Paris at Caffé Stern but previously worked for Enrico Crippa in Alba. They've also hired a proper pastry chef.
The restaurant located at 37 rue de Montpensier (where Molière lived and died) will have around 42 covers in the beginning but can expand up to 50-55 seats. The interior was designed prior to Jancou's involvement and will feature a lot of exposed stone and mirrors. The name Heimat, which means "home" in German, comes from "the feeling I got upon seeing the space with all of this stone," says the Swiss-born Jancou.
Jancou's wine list, like the food, will be both Italian and French, and we can assume that it will also run heavily to vins naturels. At this time, he plans to offer a relatively inexpensive lunch with 3 courses at 26 euros. Dinner will feature two menus, one with ±6 plates for around 45-50 euros, and a carte blanche offering with ±9 plates for around 70 euros. The planned schedule is to be open for lunch and dinner Monday to Friday, and closed on weekends.