Jancou Sells Vivant, Passerini Sells Rino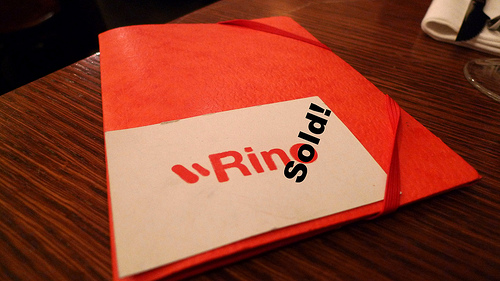 Big news: Pierre Jancou has sold Vivant and Giovanni Passerini has sold Rino. Both chefs plan to return with new restaurants.
Italian chef Giovanni Passerini opened Rino in March 2010 after working with Petter Nilsson at La Gazzetta at the height of that restaurant's popularity. Passerini's handmade pastas and updated "cucina povera" made Rino a darling of the French food media circuit (especially Omnivore) and a favorite of many food industry folks on their nights off. We don't have any solid details yet about who has purchased Rino, who will be cooking, or how much of the staff is staying (sommelier Francesca Tradard left last month). We do know that Passerini plans to return with a "contemporary trattoria" for Paris in the not-too-distant future.
The sale of Vivant should be no surprise to anyone who has been following the resto-hopping Jancou since his days at La Cremerie. Jancou, who has a gift for connecting great spaces, products and talent, opened Vivant in the spring of 2011 with a long list of Italian natural wines, and simple comfort food like risotto and zampone (breaded pigs' feet). He then relaunched in the fall of 2012 showcasing a new chef with fine dining credentials (Sota) and higher prices. It was around two and a half years between the time that Jancou opened and sold Vivant to the same investors who purchased his previous restaurant Racines.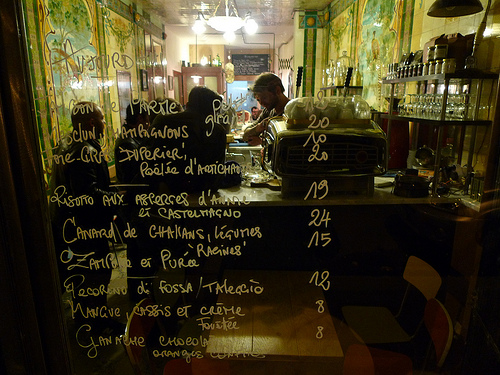 The first iteration of Vivant's menu with à la carte pricing
The rise and sale of his equally hyped Racines followed a similar trajectory, opening in the summer of 2008 with a wine focus and simple pastas before later installing Sven Chartier (who went on to chef at Saturne), raising the prices and selling up – all within two years. For now, it seems that much of Vivant's staff will remain in place: manager David Benichou, chef Sota in the restaurant, and Thomas Legrand in the wine bar next door.
As for Jancou, we wish him well and look forward to whatever he'll be opening next. Because we all know that he'll be back within a year to get us excited about something that he'll later offload. If he's taking requests, we'd like for that to be pizza.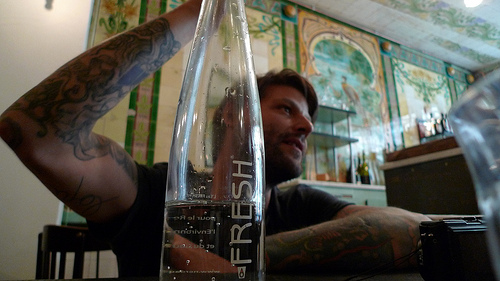 Pierre Jancou at Vivant