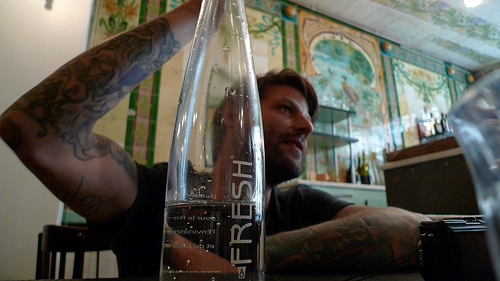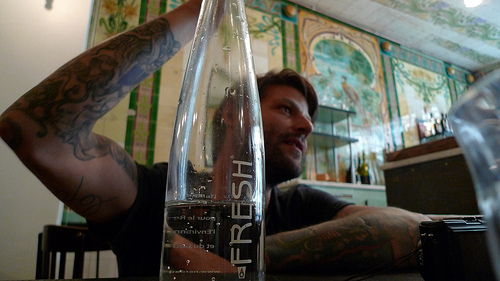 Pierre Jancou is many things: a lover of food, an ambassador of natural wine, and (as we learned this week) a former male model. He is also (as we learned from last year's exchange with F-R Gaudry) a man with a temper.
On October 19, Jancou received an email from the secretary to Jean-Paul Ludot, the Directeur Général of Marie-Claire, announcing that Vivant had been selected to feature as his favorite restaurant of the month. This was paired with a request for the boss man (and a guest) to eat for free.
Jancou replied that he had never in 24 years invited a journalist to eat for free and that he found such a request to be "louche et frauduleuse." Ludot himself responded that this was a "very classic approach to test restaurant menus and write articles." He then cited the number of Marie-Claire readers and told Jancou that he would remove Vivant from their selection. "You are the only one to react this way… and as aggressively," he continued in a follow-up reply. He went on to say that Jancou was "stingy."
How do I know all this? Because Jancou forwarded the email chain to me (and many others) on October 21. I giggled and emailed him my reply, but another recipient, Bruno Verjus, published the entire correspondence on his blog Food Intelligence. That gave rise to stories in Le Monde, Le Nouvel Observateur, Le Figaro, L'Express and other major media outlets.
In response, Marie-Claire has issued an official apology for Ludot's "personal error." Ludot himself has apologized for his "clumsiness" and assured us that his "attitude has been shifted."
The greater shifts, however, are in the balance of power between old and new media, and between restaurants and journalists. Ludot's boast to Jancou that "others have understood that it was an opportunity to put forward their establishment in a major magazine… with 500,000 readers" reveals an (unsurprising) unawareness of the fact that Jancou doesn't need him.
Restaurants, if they are any good, have already been written and written about. Journalists have little to offer in the way of "exposure" to restaurants that are already full every night. The days of free meals, for the writer (and their bosses) are surely coming to an end. Maybe even for Pudlo.