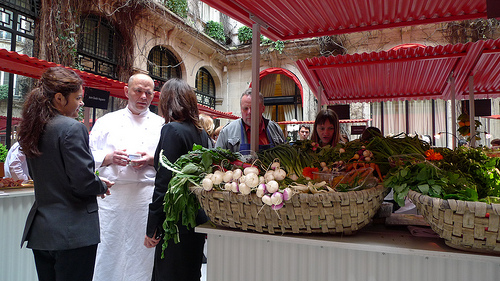 Le Marché d'Alain Ducasse au Plaza Athénée
Alain Ducasse, who is is often described as the "most Michelin starred chef in the world," lost some twinkle when his eponymous restaurant at the Plaza Athénée closed last year for renovations. It will reopen on Monday with a revamped décor by designer Patrick Jouin and a dramatically re-envisioned menu that celebrates fish, cereals and vegetables. No meat, or rather less meat.
The headlines have been rather splashy. The Guardian told us on Friday that "France's top chef bans meat from the menu" after free transport rag Metronews reported on Thursday that "Avec Alain Ducasse, le Plaza Athénée devient végétarien."
The same sort out headlines were trotted out back in 2001 when Alain Passard introduced his first vegetable inspired menu at L'Arpège. It wasn't true then, and of course it isn't true now that either chef has eliminated meat. Still, Ducasse's focus on vegetables is certainly interesting. Is it sincere? Why here and not at any of the other 25+ restaurants in his collection? Is it a way to distinguish the Plaza Athénée from Le Meurice, whose three-star kitchens he is also overseeing?
If it is good, then all this cynicism will melt away (like cholesterol from a newly converted vegetarian's heart).
Read the full article at The Guardian
Practical information and past reviews on our guide page for Alain Ducasse at the Plaza Athénée