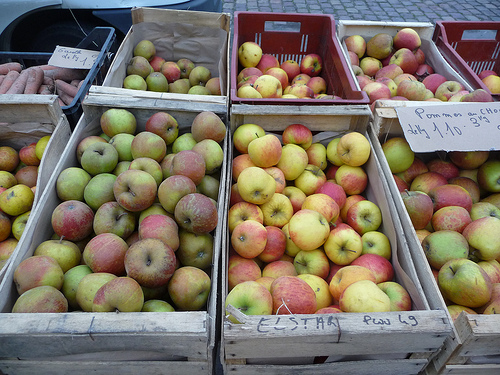 All About Cider & Other Apple & Pear Drinks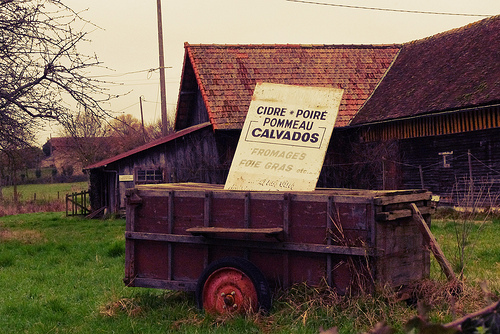 Apple and pear orchards, usually with a cow or two grazing under the trees, are the ubiquitous image of the Norman countryside, and a visit to Normandy wouldn't be complete without sampling the local refreshments – cider, pommeau, poiré and calvados. Here's everything you need to know about the region's quartet of fruity libations.
What to Taste
Cidre de Normandie: Cidre, or cider, is a sparkling, alcoholic beverage made from crushed apples that is fermented for 2-3 months before being bottled. It is produced on farms and in homes all over the region, comes in numerous versions, degrees of sweetness and alcohol contents. About 750 varieties of apples can be used to make Normandy cider, but only 50 of those are allowed in the production of AOC cider from the Pays d'Auge.
Cidre doux – the lightest and sweetest version, about 3% alcohol
Cidre demi-sec – slightly sweet, between 3 -4 % alcohol
Cidre brut – dry and refreshing, between 4 – 5% alcohol
Cidre traditionnel – very dry, slightly bubbly and lightly filtered, around 6% alcohol
Cidre fermier – cider that is produced on the farm on which the apples are grown
Cidre AOC Pays d'Auge – due to its AOC status, this cider can only be produced in a small geographic area and is made from 50 varieties of bitter and bitter sweet Normandy apples that give it a distinctive color and create a balance of sweetness and freshness. It is especially delicious served with cream based dishes and cheese, and has an alcohol content of 4-6%.
Poiré de Normandie: Cider's close cousin, poiré, is a pale yellow, lightly sparkling alcoholic beverage made from pears. It is often referred to as "le Champagne Normand" and although it isn't as popular as cider, it is considered a more delicate, refined beverage. About 30 varieties of pears are used to make poiré.
AOC Poiré de Domfront: this AOC newbie is produced on a handful of farms and is made from a mix of 10 different pear varieties, 40% of which must be the "plant du blanc" variety, a small, juicy, more acidic pear. The making of poiré de Domfront stipulates that the pears used may only be collected after they have fallen from the tree and that the alcohol content remains quite light, about 4%.
AOC Pommeau de Normandie: The tradition of preserving fruity apple juice with apple brandy has taken place on family farms in Normandy for centuries, and that drink, called pommeau, was usually a closely guarded family secret. Then in the 1970's a group of producers got together and decided to market the product. It proved to be very popular, with production increasing tenfold in just two years, and quickly achieved AOC status in 1981. The mixture is a blend of AOC Calvados and the must from bitter and bitter sweet apples grown in selected orchards scattered across Normandy. It must be aged for at least 14 months in oak barrels and has an alcohol content of 16-18%. Pommeau is usually served as an apéritif, but is equally delicious with foie gras or melon.
Calvados: In 1606, several years after apples were first distilled into a brandy-like liqueur, a guild of apple brandy distillers was founded in Normandy. The name, "Calvados," wouldn't appear until almost 200 years later, when Parisians developed a taste for this regional spirit and it grew in popularity. To make Calvados, 48 unique varieties of apples, 70% bitter and bitter sweet varieties (to which pears can be added for sweetness) and 30% acidic varieties, are first pressed into cider, then distilled and aged for a minimum of 2 – 3 years in oak barrels. There are three Calvados AOC's available.
AOC Calvados – produced using a single distillation process and aged in oak for 2 years.
AOC Domfrontais – apples come from around the town of Domfront in the Orne and a few other bordering departments where the soil is harder and contains more granite. This version must contain at least 30% pear juice and is oak barrel aged for at least 3 years.
AOC Calvados Pays d'Auge – considered the finest quality Calvados and produced in a very small geographic area. It goes through a double distillation process and the blend can include up to 30% pear juice. Aged in oak barrels for at least 2 years.
To know how old that bottle of Calvados is, these are the words to look out for:
fine or VS – 2 years of barrel ageing
vieux – at least 3 years of barrel ageing
VO or VSOP – at least 4 years of barrel ageing
Hors d'Age, XO, Extra or Napoléon – at least 6 years of barrel ageing
Key Vocabulary
AOC – Appellation d'origine contrôlée
bio – organic
brut – dry
cidre – cider
cidricole – cider based product
cidre bouché – cider bottle with a cork, much like a champagne bottle
doux – sweet
fermier – a name given to a product that is produced on a farm
Perry – the name for poiré in the UK
poire – pear
pomme -apple
sec – dry